Pioneer Elite PRO-510HD Page 2
At least the onscreen graphics, which are rather plain, stay out of the way when you make video adjustments and provide some welcome flexibility. The fact that you can set picture controls (contrast, brightness, color, tint, sharpness, and color temperature) separately for the individual inputs is a good example. You even get a head start if you begin with one of the three preprogrammed settings and then make adjustments. Your changes are saved in the user mode. It would be nice if you could lock-in the user memory, though.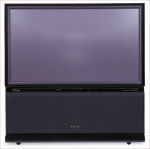 Another flexible feature is the ability to enable or disable the auto fleshtone circuit and scan-velocity modulation. If you like an exaggerated but punchy picture, turn these "enhancements" on. Pioneer excels, though, by offering the consumer an accurate option. With the fleshtone circuit off and the color temperature set to the B&W or film mode (neither is totally accurate, but both are close), the consumer gets a vibrant picture. The color decoder evenly splits NTSC signals into the three hues that feed the display. This means that colors can be as vibrant as possible without pushing one particular color (usually red) more than another. The film setting should bring the color gray closest to the NTSC specification. Unfortunately, it's calibrated a tad blue, especially with dark images. Disabling the scan-velocity modulation eliminates the ghosting or ringing that usually accompanies the exaggerated sharpness. Instead, you'll get a fairly clean and clear picture with great color.
Pioneer also keeps the black level fairly stable (known as good DC restoration to the engineering crowd), although deep blacks never seem to get really deep. This results in a slightly gray picture during dark scenes, which does make darker images easier to see (particularly if you watch TV in a brightly lit room) and is common on many consumer TVs. However, given the more-enthusiastic user that Pioneer is aiming for, I'm disappointed that they don't at least offer a deeper, darker black.
What the PRO-510HD lacks in black level, it makes up for with its comb filter. The user-adjustable feature makes this one of the cleanest and most artifact-free borders between vertical colors that I've seen on a consumer TV. Heck, even the most expensive external consumer processors don't have as good a comb filter as this one, in my opinion. At the second adjustment level, Pioneer's comb filter removed all dot crawl and hanging dots from both static and moving composite video images and eliminated all but the fiercest color moiré from fine details. This TV will make your composite sources look as good as they possibly can.
All of the above traits are evident when you sit back and watch movies. On my staple demo—the opening of Lost in Space—outer space looked a bit gray, and Earth a tad grainy. The latter effect might be due to the constant digital-to-analog-to-digital-to-analog conversion of the typical video signal. The color saturation, detail, and lack of motion artifacts, however, are excellent. The slow pan over the computer-generated space station was smooth and clean, exhibiting few jagged edges or rainbows. Faces were naturally hued, without looking sunburned. The same analysis applies to Armageddon. Buildings that normally look like Mayan pyramids on competing televisions looked solid and smooth on the PRO-510HD. Native HDTV images, broadcast in an ongoing loop by PBS or through our recently acquired Sencore HD hard drive, were clean and natural, although not quite as sharp as I'd like. Then again, you'd probably have to find a rear-projection TV with 9-inch CRTs or a good-quality front projector to get significantly better detail.
In the end, Pioneer has put together an excellent television. While they fall short in a couple of areas, they excel well beyond the competition in others. In particular, the inclusion of a line doubler that recognizes the specific processing needs of film-based sources and a comb filter that's second to none makes it seem like Pioneer's competing on a higher level than the price might indicate. While the PRO-510HD may not replace many front projectors anytime soon, Pioneer has definitely upped the ante in several categories for the high-end rear-projection-television market. If you're looking to buy an HD-ready TV, this model should be near the top of your audition list.
• Excellent comb filter
• The internal line doubler recognizes film sources
<!- ----------------------- Tech Center Ads ----------------------------->
<!- ---------------------336x280 ADS------------------------------->
<!- ---------------------FIXED AD------------------------------->
<!- ---------------------336x80 ADS------------------------------->
<!- --------------------Sponsored Link Ads-------------------------------->
<!- ------------------------Bottom Ads---------------------------->