Pioneer Elite PRO-111FD Plasma TV Measurements
Measurements
Settings
Keep in mind that unit-to-unit variations, viewing environment, source, and screen (in the case of front projectors) might render the settings I used less than optimum on some samples of this display. If you try these settings, I strongly recommend that you do so as a starting point, following up with one of the several display-setup DVDs on the market to make certain that the basic picture settings are correct for your situation. Confirmation of the grayscale settings requires a full professional calibration.
Picture Menu
AV Selection: Pure
Contrast: 38
Brightness: 0
Color: +9
Tint: G4
Sharpness: –15
Pro Adjust
Pure Cinema

Film Mode: Off (progressive) or Advance (interlaced)
Text Optimization: Off
Intelligent Mode: Off
Picture Detail
DRE Picture: Off
Black Level: Off
ACL: Off
Enhancer Mode: 1
Gamma: 2
Color Detail
Color Temp: Manual

R High: -6
G High: -2
B High: 0
R Low: 0
G Low: +1
B Low: +1

CTI: Off
Color Management

R: 0
Y: 0
G: 0
C: 0
B: 0
M: 0

Color Space: 2
Noise Reduction
3DNR: Mid
Field NR: Mid
Block NR: Off
Mosquito: NR On
Others
3DYC: N/A for HDMI & component
I-P Mode: 2
Contrast & Resolution
Peak white level
Full screen: 18.5fL
100 IRE window: 37.8fL
Black level: 0.001fL
Peak contrast ratio: 37,800:1
Overscan
480i/p: 3% (Full)
720p: 1.5% (Full)
1080i/p: 0% (Dot by Dot)
Horizontal bandwidth at 1080i
HDMI/DVI: 37.1MHz
Component: 37.1MHz
When switching from a white field or window to a black field, the black level dropped from its nominal value to literally 0 after about 10 seconds, even with all dynamic functions disabled. This did not seem to affect real-world material, but it was odd.
The high-frequency burst has some noise via component; HDMI was clean.
Grayscale & Color Temperature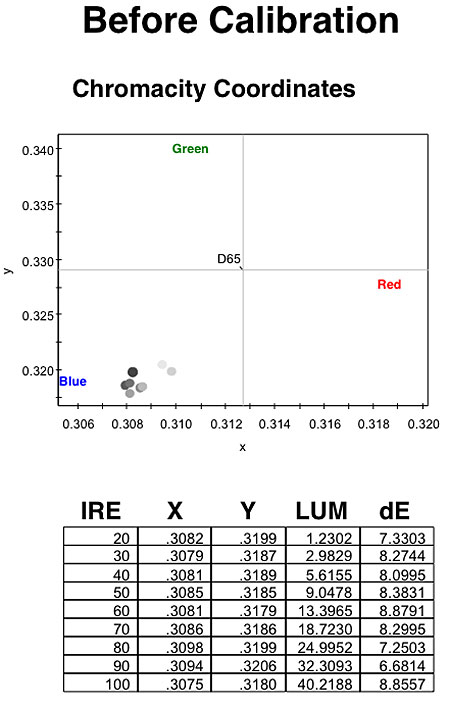 With the AV Mode set to Pure and the color temperature set to Mid-Low, the grayscale tended toward blue.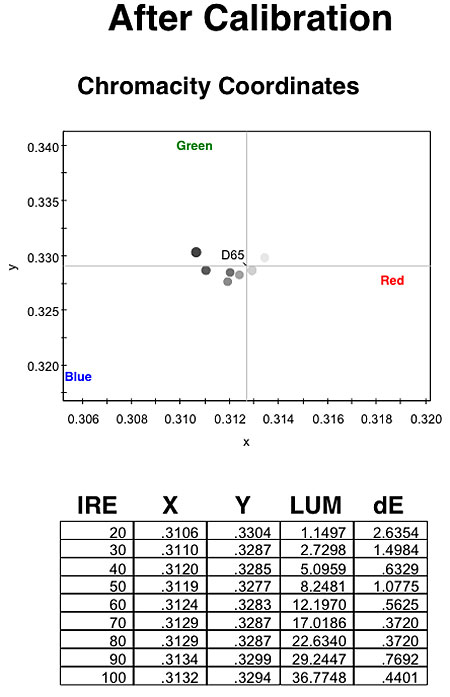 After calibration, the grayscale was much closer to D65, and all points were within the human "just noticeable difference," or JND, so getting them any closer would not be perceived as different.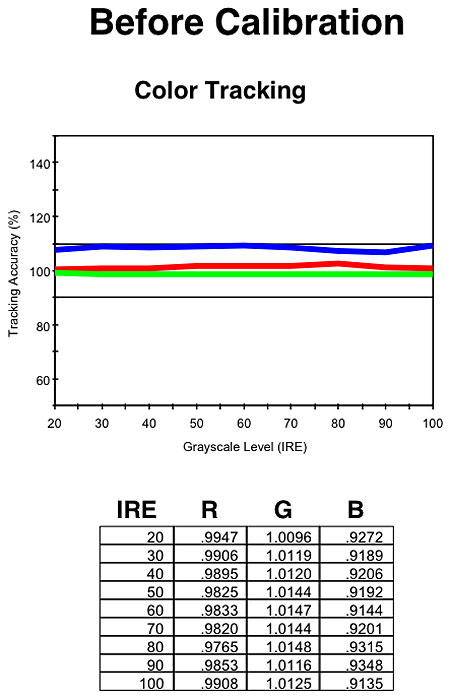 As expected from the pre-cal grayscale measurements, blue was dominant in the color tracking.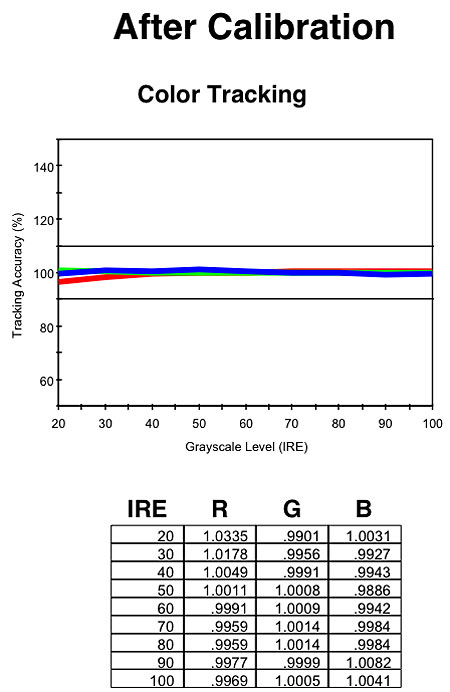 Calibration brought the blue channel in line with green and red.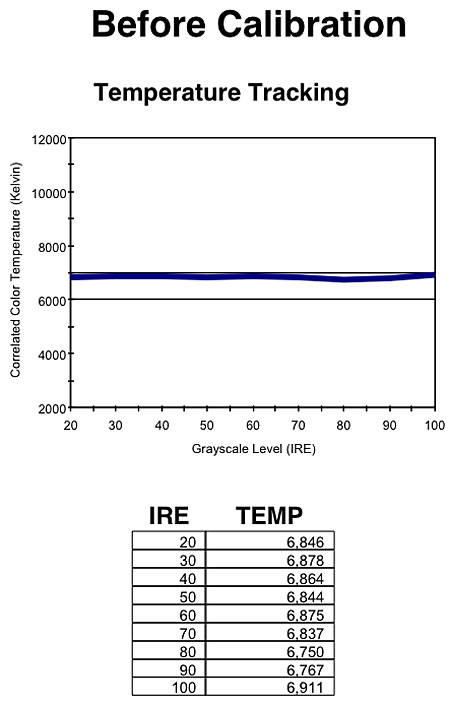 Pre-calibration, the color temperature was slightly high throughout the brightness range.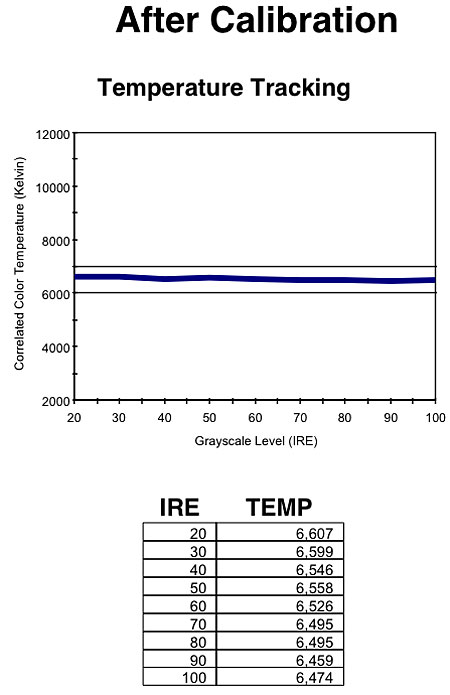 After calibration, the color temp was much closer to 6500K.
Color Accuracy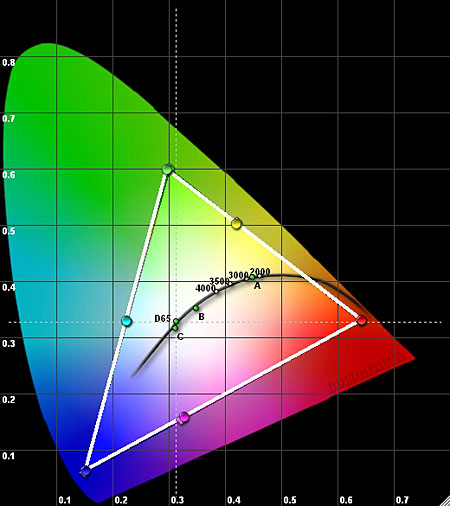 Setting the AV Mode to Pure and Color Space to 2 resulted in nearly perfect color points.
<!- ----------------------- Tech Center Ads ----------------------------->

SPONSORED TECH CENTER
<!- ---------------------336x280 ADS------------------------------->
<!- ---------------------FIXED AD------------------------------->
<!- ---------------------336x80 ADS------------------------------->
<!- --------------------Sponsored Link Ads-------------------------------->
<!- ------------------------Bottom Ads---------------------------->