Phase Technology PC-1.5 Speaker System Page 3
Perhaps I just like strings. In A Single Man, an adaptation of Christopher Isherwood's semiautobiographical novel about gay life in Santa Monica circa the early 1960s, my favorite part of the DTS-HD Master Audio soundtrack was the climactic scene scored for a small string ensemble. It was like listening to a lunchtime concert in a church with excellent acoustics—but with haunting visuals that provided a suitable end to the story.
Steel, Tube, Stone
Chris Whitley's Perfect Day is an album of cover versions dating from 2000 with bassist Billy Martin and drummer Chris Wood from Medeski Martin & Wood. With Whitley on his National Steel acoustic guitar and very little reverb, the feel was similar to Whitley's audiophile classic Dirt Floor—except with rhythm section. I didn't attempt to rechannel the stereo-only SACD/CD. Even with just two speakers, the PC-1.5 imaged like a champion. They precisely positioned the vocal (up front) with respect to the drums (way behind). The sub's delivery of the drums, which have a less prominent place in the mix, was amazingly subtle. I could only tell that the front driver was moving by placing my fingertips on it. (Low-level resolution is an aspect of sub performance that doesn't get enough attention in most surround speaker reviews, including mine.)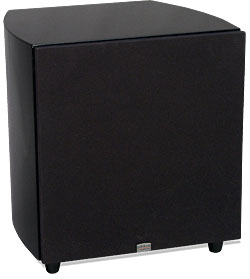 I moved on to the LP version of Joan Armatrading, her untitled 1976 album. Like any Glyn Johns production, it has a big, mellow sound that works in any medium. The vinyl and tube preamp spotlighted the vocal. It didn't sound bad in Dolby Pro Logic II surround, but in stereo, Armatrading's voice had a more tightly focused and corporeal presence. Much as I love hearing what happens to stereo mixes when the voice is routed to the center and ambience nudged toward the surrounds, these speakers would not permit such tampering, at least not with this album. Two-channel was always the better choice.
Except, that is, when the source material was recorded in surround. That was the case with In Nativitate Beatae Mariae Virginis, a Gregorian chant album by the Norwegian choir Schola Sanctae Sunnivae. The packaging labeled the church recording as "5.0 surround plus stereo." Voices were arranged in an arc that lifted free of the speakers (this out-of-speaker effect was also present in both of the previous music demos). They sounded more like one voice than 14 women, in much the same way as a great orchestral string section, bowing together, sometimes sounds like a single instrument. Unlike a lot of surround recordings where reverberant sounds flow from front to rear, this one had ambience in all five channels, and it was fairly static. This did a great job of turning the walls of my room into the fixed stone walls of the church. With two tuned percussionists adding occasional vibraphone and glockenspiel, this was one of the most engaging chant recordings I've heard.
These speakers are designed and made in America by people following long-standing trains of original thought. More important, they are right up there with the most versatile speakers I've ever reviewed; they're effortlessly musical, cinema-worthy, and satisfying on every level. And if you're having trouble running a line-level cable to your room's most favorable subwoofer position, the seemingly minor wireless-sub connection may become significant. This is an easy call for me: The Phase Technology Premiere Collection PC-1.5 speaker and WL12 wireless sub are beautiful performers and deserve a top spot on your must-audition list.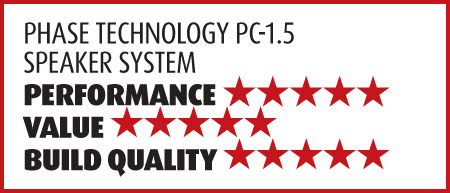 <!- ----------------------- Tech Center Ads ----------------------------->

SPONSORED TECH CENTER
<!- ---------------------336x280 ADS------------------------------->
<!- ---------------------FIXED AD------------------------------->
<!- ---------------------336x80 ADS------------------------------->
<!- --------------------Sponsored Link Ads-------------------------------->
<!- ------------------------Bottom Ads---------------------------->