Panasonic TH-58PZ750U Plasma HDTV Page 2
Testing
You can dial in different settings, including different white-balance adjustments, for each of the Panasonic's inputs. Of the three factory color-temperature choices, Warm was closest to correct. But at approximately 6000K, it was still too warm. The Normal color-temp setting, measuring nearly 8000K, was no better. But with the right measurement tools, an experienced aftermarket calibrator can improve considerably on the factory setup.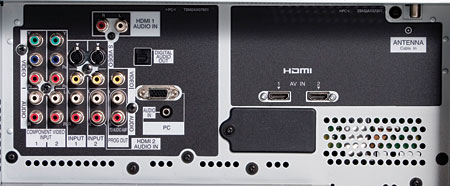 The Panasonic generally provided the smooth, lag-free motion and good off-axis viewing typical of plasmas. Its measured resolution was superb at 1080i in both HDMI and component, where it produced a one-pixel-on line as sharp and clean as any I've yet seen on any display, regardless of price.
The resolution at 720p, however, was a significant step down. I recommend using a 1080i or 1080p input to this set for high-definition viewing. If your HD set-top box, for example, does a good job converting 720p broadcasts (such as those from Fox, ESPN, and ABC) to 1080i, it might just produce a better result than feeding a native 720p source directly into the set.
The set's video processing was generally good, but with a few exceptions. In my 480-to-1080p upconversion tests (evaluated over HDMI), the Panasonic handled 3:2 pulldown properly with the 3:2 pulldown control engaged. In fact, engaging 3:2 pulldown appeared to work best with most sources, whether film- or video-based, suggesting that it's actually an auto-detect setting. It also had no problems with a video scroll over a filmed background, nor with the difficult tests in chapters 12 and 13 of Gladiator or the opening scenes in Star Trek: Insurrection. But on the standard-definition HQV Benchmark test disc, it did not pass the three-bar jaggies test, showed a few (subtle) jaggies on the waving-flag test, and was marginal on the 2:2 cadence test (whether 3:2 pulldown was On or Off).
The Panasonic properly deinterlaced 1080i to 1080p on both film- and video-originated programming but did not recognize 1080i 3:2 pulldown in film-based material.
You'll find additional test details, plus numerical results, in the Measurements box. For an expanded report, including detailed picture settings, go to HomeTheaterMag.com.

Real-World Performance
The Panasonic produced compelling images on the best high- definition program material; and while it did not hide problems in less than the best sources, it was never less than watchable on standard- definition material of at least average quality.
The display's color was impressive. Naturally photographed fleshtones looked right, reds and blues weren't overdone, and overall saturation was good. Given a choice, I tend to prefer slightly subdued colors to oversaturation, and following calibration with test gear and fine-tuning of the user menus, I was delighted by the display's colors.
With one exception. Green foliage in bright sunlight was often so deeply saturated that it looked artificial—a common flaw in today's digital sets. This was particularly true of the jungles in Lost (both on Blu-ray and broadcast HD). But it was not an issue on all material. The green of the English country- side in Becoming Jane (Blu-ray), assisted no doubt by the soft lighting from overcast British skies, was much more natural looking. And the green turf in several daytime NFL playoff games and the Super Bowl (played at night) also looked acceptably real.
I spotted an occasional trace of false contouring on the Panasonic. On at least one of these occasions, I confirmed that the problem was in the set and not in either the program material or disc player. But it was rare and never distracting.
I love a highly detailed picture, as long as it isn't artificially enhanced and edgy. The natural-looking detail of the Panasonic, particularly with a 1080i or 1080p source, was frequently astonishing. I could read the model numbers on some of the microphones in the superb Legends of Jazz release (Blu-ray). And every hair on the stubble-faced actors who populate most HD prime-time television shows was present and accounted for (Gillette and Schick have fallen on hard times in Hollywood).
The Panasonic's crisp picture extended to shadow detail as well. The dimly lit interiors in Sunshine, and in the superstructure that supports the spaceship's heat shield, were all clearly resolved.
If the shadow detail from the Panasonic is good, can the black levels be far behind? Well, almost. The deepest black levels I've seen from video displays in the past year or so have come from the best separate projectors and screens and from Pioneer's new KURO plasmas. If I rate the blacks from these displays at nine out of ten, the Panasonic would come in at seven. In a world full of video displays offering four- and five-level blacks, that's still a very fine showing, and those higher-rated options will cost you more. Sometimes a lot more. But apart from the very dark- est scenes with few bright highlights (see, for example, some of the closing shots in the last episode of Season 3 of Lost), the Panasonic's blacks and shadow detail never disappointed me or, more important, never took me out of the program.
Comparisons
I still had the 58-inch Samsung FP-T5884 plasma on hand that I reviewed for UltimateAVmag.com recently. With both sets fully calibrated, you could be excused for not seeing any obvious differences between them. But differences did emerge. The Panasonic occasionally appeared to produce slightly darker blacks, but this difference was so subtle that it contributed more to the set's outstanding image depth than to blacks that were obviously deeper and richer.
The Panasonic's image depth was further enhanced by its slightly sharper image. Again, this was subtle and not immediately apparent. In no way could the Samsung be called soft.
The color of the two sets was nearly identical as well, but fleshtones on the Panasonic were just a little more neutral and less reddish. The Samsung was also more prone to image retention.
Did I prefer the Panasonic? Yes, by a nose. But it also lists for $1,000 more than the Samsung— not exactly an insignificant piece of change. It isn't always the case that you get more when you pay more, but it is here. Still, I can't imagine anyone being unhappy with either of these excellent sets.
Conclusion
We have yet to discover what Panasonic has in store for us in its 2008 plasma line, scheduled to be introduced this spring. But the company will have to hustle to do better than what I see from this 2007 set. At this price level or below, the TH-58PZ750U equals or exceeds the performance of any other flat-panel display I've yet tested. Highly recommended.
Highlights
Sharp, crisp, natural-looking picture
Excellent overall color
No support for 1080p/24 inputs
720p resolution could be better
<!- ----------------------- Tech Center Ads ----------------------------->

SPONSORED TECH CENTER
<!- ---------------------336x280 ADS------------------------------->
<!- ---------------------FIXED AD------------------------------->
<!- ---------------------336x80 ADS------------------------------->
<!- --------------------Sponsored Link Ads-------------------------------->
<!- ------------------------Bottom Ads---------------------------->