Oppo BDP-83SE Special Edition Blu-ray Player Page 2
To some of you, this stuff is just bells and whistles, so let's get to the goods. The heart of the BDP-83SE's bleeding-edge video performance is its Mediatek decoding chip. This enables its PS3-like loading and response time. Its Anchor Bay video processing provides reference-quality deinterlacing and upconversion performance with DVDs. In addition to allowing source-direct native rate output (what's on the disc is what comes out of the player), you can force a 1080p/24 output with both Blu-rays and DVDs. Unlike other components that upconvert DVDs to 1080p/24 output, the Oppo seldom has cadence issues when doing so.
New and exclusive to the BDP-83SE is an upgraded power-supply board and voltage regulation. It also features improved digital-to-analog conversion. While the original BDP-83 used a Cirrus Logic solution with a single DAC per channel, the BDP-83SE uses an eight-channel, 32-bit ESS Technology solution for the 7.1-channel analog outputs that it claims is superior. And it goes further still. It also uses a dedicated eight-channel ESS Technology DAC for the left- and right-channel analog outputs, which stacks four DACs on each channel. While this kind of configuration could theoretically support a full dual-differential output, the Oppo's output is single-ended. Oppo claims an S/N increase of 7 decibels with the BDP-83SE—that's 117 dB compared with the BDP-83's 110 dB. This is where your $400 goes. To be crystal clear, aside from the improved power supply, the BDP-83SE's aural improvements apply strictly to its analog outputs, and its two-channel analog outputs especially. The BDP-83SE is aimed at two-channel audiophiles or those who aspire to be.

Remote, Setup, and Interface
Oppo's Blu-ray player remote is exceptional. Perhaps my favorite aspect is that it's fully backlit, and the backlight button is at the bottom right and very easy to thumb in the dark. I also often use the remote's "i" (Display) button, which brings up a graphic that shows what you're playing. For Blu-rays, it tells you the video compression codec and data rate, as well as the soundtrack format and movie run time. Those are just the highlights; this remote is one of the best I've ever used, with easy ergonomics and excellent functionality.
Oppo's setup menus remain a model of clarity and functionality. The defaults are smartly chosen, and the Oppo can walk a novice through setup quickly. Tweakability is also there if you want to dig deeper. I set up the player for HDMI connection through an Integra DHC-80.1 surround processor with bitstream output for Dolby TrueHD and DTS-HD Master Audio. There are a number of options for the bit depth and color space over HDMI. I chose 4:4:4 Y/Cb/Cr at 36 bits and set the Integra for passthrough. Lower bit depths didn't have any visible negative results. Since the BDP-83SE's video processing is 10 bit, if you enable 30- or 36-bit output from the player (which requires HDMI 1.3 and Deep Color capability in the surround processor or display it's connected to), it lets the video processor preserve its full bit depth at output. A new feature (rolled out via firmware on the BDP-83 and BDP-83SE) that I didn't get to test allows player-generated subtitles to shift on the screen. This is especially beneficial in constant-height projection setups and masking systems when subtitles appear in the black-bar area at the bottom of the screen.
I've never had any connectivity issues on my home network with either Oppo Blu-ray player. Network firmware updates are really fast and easy, and you can instruct the player to notify you when an update is available.
For the analog audio outputs, the BDP-83SE offers channel levels, distance (delays), and bass management (you can designate your speakers as small and cross them over to a subwoofer at 80 hertz, or large, i.e., full range). It can transmit DSD (SACD's native coding format) over HDMI native or convert it to PCM. It also has a Pure Audio mode, which you can enable with a single button on the remote. This shuts down all the video circuitry for serious music listening. One last, fine touch is that you can set the front-panel display to be completely off, so that it lights up briefly only when it receives remote commands. Every home theater component should offer this feature.
Video Performance
Like its sibling, the BDP-83SE's video performance is very fast in loading and response times with all functions, no matter how Java-intensive the disc. It's beyond reproach in pure video performance with Blu-ray Discs and DVDs. As our Video Test Bench shows, regardless of what you throw at this player, it deinterlaces and processes it flawlessly.

We simply can't trip it up. Its performance in upconverting DVDs is excellent, and Blu-ray's high resolution puts it over the top. Even dark, richly detailed transfers like Harry Potter and the Half-Blood Prince burst with detail and depth. We test using HDMI connections exclusively, and we haven't seen better picture quality with Blu-ray or DVD from any player at any price.
Before I get to the audio performance from the BDP-83SE's analog audio outputs, I want to make another appeal on Blu-ray's behalf to on-the-fence audiophiles. As outstanding as Blu-ray's high-def imagery is, the lossless audio experience with concert videos is absolutely transformative. Lossy Dolby and DTS don't hold a candle to lossless audio like the 24/96 Dolby TrueHD tracks on Where the Light Is: John Mayer Live in Los Angeles or Chris Botti in Boston. My current fave is the DTS-HD Master Audio track on k.d. Lang Live in London. Lang's cover of Leonard Cohen's "Hallelujah" will bring you to your emotional knees. High-resolution lossless audio is breathtaking. It's got all the clarity of digital, but it has big and utterly effortless dynamic swings, silky highs, and tons of low-level detail retrieval. And yet it's relaxed and organic. Blu-ray's lossless audio is not mere evolution; it's revolution.
Pure Audio Performance
I stacked up the BDP-83 and BDP-83SE and ran them over identical sets of AudioQuest Sky interconnects to my two-channel preamp, using the Pure Audio mode on both players. The differences between the two weren't subtle. The BDP-83SE had better detail resolution and overall clarity with CDs and SACDs. In fact, the BDP-83SE sounded so good, I had to look above its price range to nail it down. Denon's $1,999 DBP-4010UDCI was in the house, so I compared the two. With CDs, the BDP-83SE gave up precious little. Its imaging was very convincing and fully realized, creating a credible illusion of instruments and vocals occupying real space. The Denon had a warmer and richer sound, but it still resolved a lot of detail. The Oppo was more matter of fact. It wasn't outright lean, but it wasn't as harmonically rich either. For example, with acoustic guitars, the Denon had more body sound and weight on the lower notes. Still, the two were close enough that your connected system and personal preferences will be bigger factors than outright quality. However, I thought that the Denon revealed a bit more inner detail with SACDs. But it was close. At less than half the price, the Oppo does better than hold its own; it competes.
Conclusion
Oppo clearly has another dominant performer on its hands. It will only appeal to a select group of audiophile-oriented videophiles whose systems can take advantage of this player's two-channel analog outputs. But you know who you are. You also know that it's common for incremental increases in performance to involve exponential cost expenditures. The BDP-83SE is an outright steal at $899. No matter how much money you've got to throw at a BD player, you need to look at an Oppo.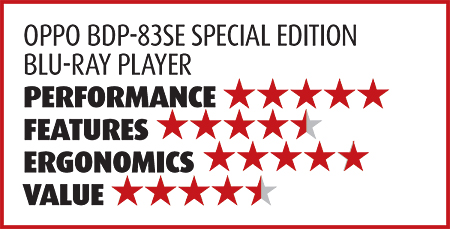 <!- ----------------------- Tech Center Ads ----------------------------->

SPONSORED TECH CENTER
<!- ---------------------336x280 ADS------------------------------->
<!- ---------------------FIXED AD------------------------------->
<!- ---------------------336x80 ADS------------------------------->
<!- --------------------Sponsored Link Ads-------------------------------->
<!- ------------------------Bottom Ads---------------------------->