NuVision 52LEDLP 52-inch 1080p DLP HDTV Page 2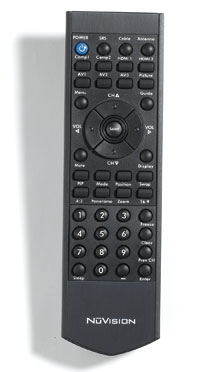 The compact, black remote is an inexpensive, off-the-shelf affair that's too small, has too many similar keys, and lacks backlighting - an overall disappointment, given the TV's price. Things are so tightly packed, it's possible to misassociate labels with neighboring keys above or below, as I frequently did. But NuVision gets kudos for including direct keys for all inputs as well as for the most widely used aspect-ratio display modes. (Among those not directly accessible but reachable with some toggling of the arrow keys is a 1-to-1 mode that passes digital signals with no overscan.)
SETUP Graphically refined and intuitive, the menu on the 52LEDLP is simple to use. But even when it's moved to any corner of the screen (a nice option), it still blocks a chunk of the image during video adjustments. Another nit: The tiny orange number indicators are tough to read.
The 52LEDLP offers four video presets, any of which can be associated with any input and then customized. The default Movie mode engaged the Warm color-temperature and Movie gamma settings and proved most natural out of the box. I turned off the noise reduction for most high-def viewing and, notably, the menu option for NuVision's proprietary Digital Switching Deep Black circuit. This processing, which controls the output of the LEDs on the fly to generate deeper blacks, is on all the time. But while engaging the menu option extends its range for even darker blacks, it also creates subtle halo-like contours (bands) around objects in many dark scenes.
Even so, I was immediately struck by the set's punchy contrast, fine clarity, and especially its extremely natural color. The factory settings for the basic controls were close to perfect, and the grayscale was close to the industry-standard gray. Calibration using the dedicated red, green, and blue controls in the user menu resulted in even more neutral grays.
<!- ----------------------- Tech Center Ads ----------------------------->
<!- ---------------------336x280 ADS------------------------------->
<!- ---------------------FIXED AD------------------------------->
<!- ---------------------336x80 ADS------------------------------->
<!- --------------------Sponsored Link Ads-------------------------------->
<!- ------------------------Bottom Ads---------------------------->