Next-Gen Interactivity: U-Control on Universal's Children of Men HD DVD.
We focus on picture and sound here at
UAV
more often than not, but enhanced interactivity is regarded as a major selling feature of the next-gen formats. And this is unequivocally where HD DVD is a mile ahead of Blu-ray, in spite of the latter's hype machine in favor of Java's superiority in this regard. Blu-ray might eventually catch HD DVD in interactivity, but at this point there isn't a single Blu-ray player in the market that has been verified to me as being spec'd to support the kind of Picture-In-Picture driven features you can find on a lot of HD DVDs in stores now. And these features can be accessed in full on every HD DVD player out there except LG's Multi-Blue.
Universal and Warner have been leading the interactivity parade, Warner calling its PIP feature set In-Movie Experience and Univeral with its U-Control. Warner's IME titles (including Batman Begins and V for Vendetta) are PIP, with behind the sceens footage and cast and crew interviews that run in real time with the movie. This commentary on 'roids is impressive, but more impressive still is Universal's U-Control enabled flicks.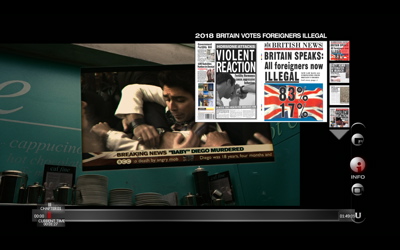 Universal's recently released Children of Men is a perfect U-Control showcase. The 2027 London that director Alfonso Cuaron creates on the screen is rich in detail and familiar as an extension of today's media-centric world. But as COM is that rare character-driven sci-fi flick the layers of production in the special effects remain in the background. But through the U-Control feature set you can wade through a ton of fascinating materials created for the film in real-time, while the movie's playing.
Engaging U-Control in the menu and then starting COM brings up one or more logos when U-Control features are available, and you can click on any to engage the different features available throughout the movie as it runs, or you can ignore them. While some of COM's U-Control material is insightful interviews with the cast and filmmakers, what I enjoyed most was the chance to view the commercials, advertisements and news clippings that are seamlessly layered throughout the film.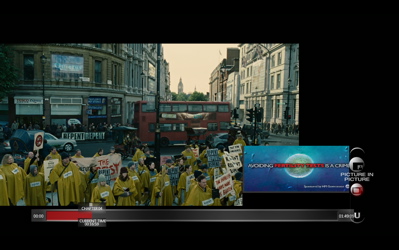 Not only does it offer a chance to appreciate the density of a production like COM, it actually fills in some back story and character elements that aren't spelled out in the film. I found this so engrossing that I probably watched half of the movie again right after the first viewing with U-Control turned on, when I should have been in bed!
And really, that's the key. Children of Men is qualitatively the kind of movie worth knowing more about, and the U-Control feature set here brings that home to movie fans in a far more informative and innovative fashion that has previously been possible. Next-gen interctivity isn't just more "extras," as COM illustrates it's a new and essential experience in movies.
<!- ----------------------- Tech Center Ads ----------------------------->

SPONSORED TECH CENTER
<!- ---------------------336x280 ADS------------------------------->
<!- ---------------------FIXED AD------------------------------->
<!- ---------------------336x80 ADS------------------------------->
<!- --------------------Sponsored Link Ads-------------------------------->
<!- ------------------------Bottom Ads---------------------------->