New Gear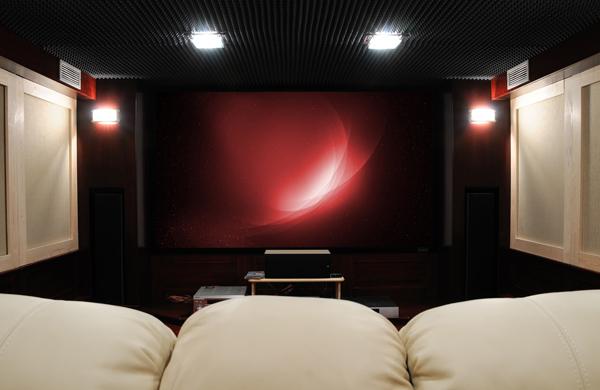 Severtson SeVision 3D GX Curved Projection Screen
Not to be outdone by the curved-screen OLED TVs recently introduced by LG and Samsung, Severtson's SeVision 3D GX projection screen is gently curved to "immerse viewers in their home theater experience." Available in (diagonal) sizes ranging from 87 to 141 inches and with a choice of screen material, the frame is wrapped in light-absorbing black velvet to help sharpen the edges of the image.
Easy to Install: Installation is described as straightforward and involves screwing the screen's metal frame together, rolling the screen material across the frame, sliding a tension bar into each of the screen's edges, and attaching the frame to brackets that mount on the wall. Prices range from $3,724 to $7,800
Severtson • (866) 510-5155 • severtsonscreens.com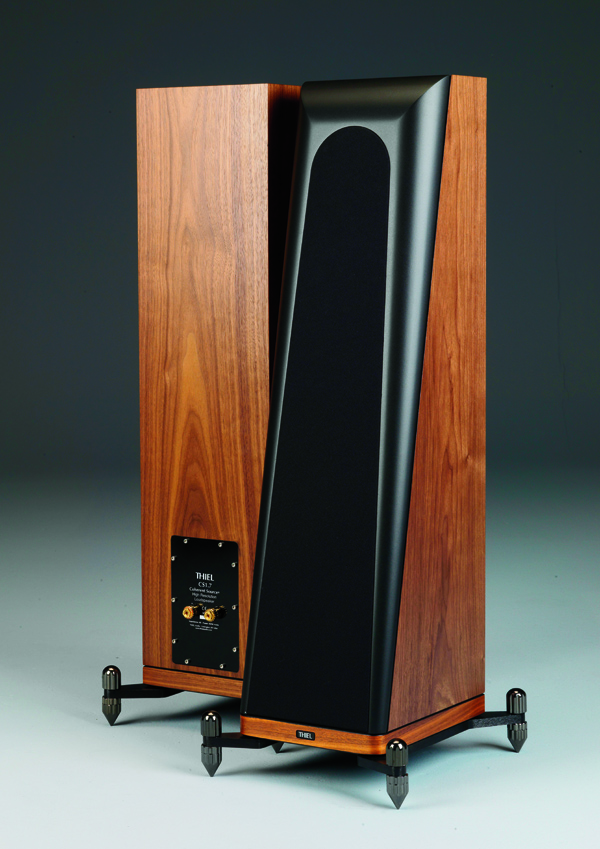 Thiel Audio CS1.7 Speaker
The latest in a long line of slanted-baffle speakers based on the "coherent source" concept embraced by founder Jim Thiel more than 30 years ago, the compact CS1.7 tower leverages principles used in the flagship CS3.7 Thiel designed before his death in 2009. In addition to a highly optimized version of the tweeter used in the popular CS1.6, the CS1.7's woofer is based on the CS3.7's "star" diaphragm.
Curves that Count: Each curve of the woofer's geometry was precisely calculated using finite element analysis and laser interferometry to "ensure minimum resonance and ultra wide bandwidth," which enables the use of a first-order crossover network to achieve uniform phase and time response. The CS1.7 has leveling feet or can be used with the optional base shown. Price: $3,999/pair
Thiel Audio • (888) 978-3029 • thielaudio.com

Pioneer SP-SB23W Speaker Bar
Andrew Jones is at it again. But this time the speaker designer who is known for creating ridiculously affordable home theater packages that compete with systems selling for many times more has tackled the soundbar. Designed for high power handling with increased dynamic headroom and wide off-axis response, the SP-SB23W houses six drivers, each with its own amplifier, an eight-channel digital crossover, and Dolby Digital decoding. Deep bass is off-loaded to a 50-watt subwoofer. Best part: You can put it anywhere because it's wireless.
Hold the Plastic: Jones chose composite wood for the cabinet because it can withstand flexing at high volumes and is more resistant to resonances than plastic. Bluetooth connectivity for streaming from smartphones is the icing on the cake. Read our review here. Price: $399
Pioneer • (866) 441-8208 • pioneerelectronics.com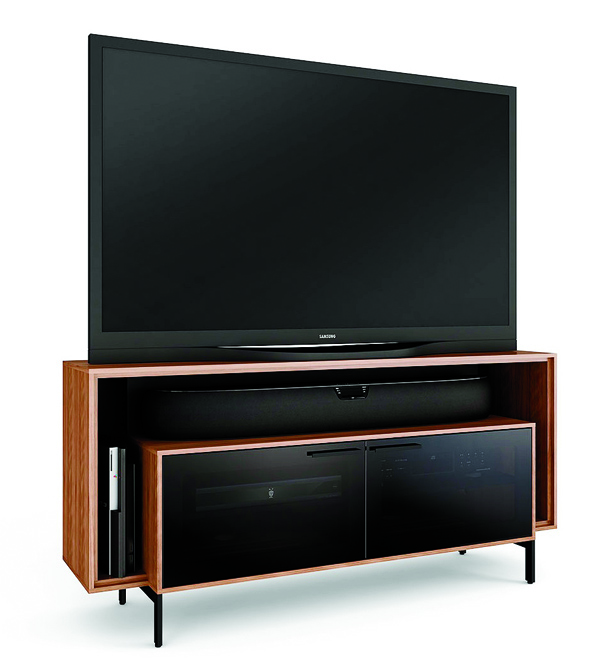 BDI Cavo 8168 Soundbar AV Cabinet
You've been won over by the convenience and simplicity of the new Acme soundbar but you still need a place to put it—a place that won't obscure your TV's infrared eye or interfere with its swiveling base. Enter BDI's CAVO 8168, one of a handful of TV cabinets built to accommodate a soundbar.
Svelte Yet Spacious: At 27 inches tall, 58 inches wide, and only 16 inches deep, the cabinet will hug the wall while supporting a 60-inch flat-panel TV and a soundbar up to 7 inches tall, 46 inches wide, and 11 inches deep. Smoked glass doors below the speaker alcove conceal a compartment with two adjustable component shelves. Finish options include Expresso stained oak, graphite, and natural walnut (shown). Price: $1,299
BDI • (707) 803-6900 • bdiusa.com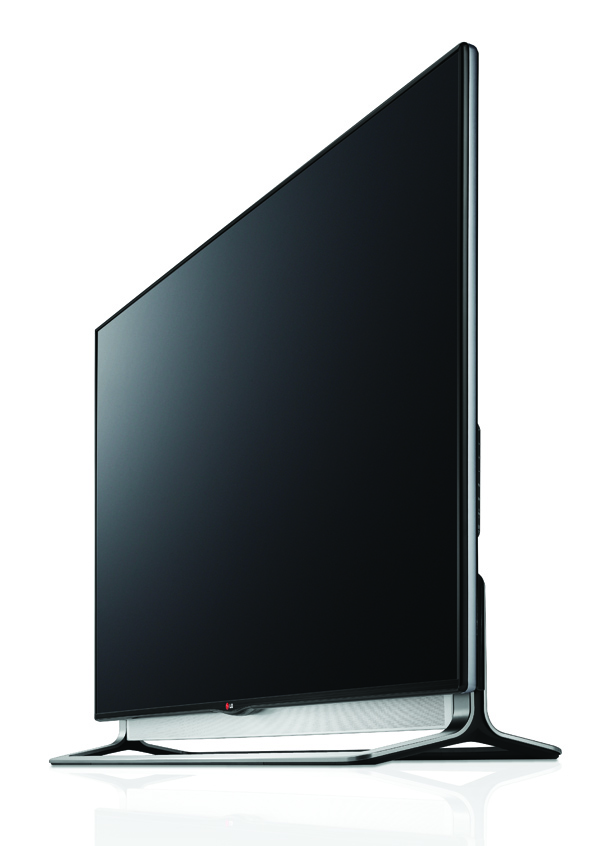 LG LA9700 Series Ultra HD TVs
The latest additions to LG's Ultra HD TV lineup are 55- and 65-inch models capable of 3840 x 2160 picture resolution—four times that of standard HDTV. Central to both models is a four-step image processor that "upscales" high-def and standard-def content to near Ultra HD quality, which will remain an essential feature until programs are readily available in "4K" resolution.
Light It Up: Both models incorporate full array LED backlighting, which produces superior black levels over edge-lit backlighting. Other highlights include a soundbar that slides out when the set is turned on, Wi-Fi connectivity, voice and gesture control via LG's Magic Remote, and quick access to apps and content from Internet services such as Netflix, Hulu Plus, and Rhapsody. Prices: 55LA9700, $7,000; 65LA9700, $9,000
LG • (800) 243-0000 • lg.com

Energy Power Bar Soundbar
It's not edible, but Energy's first soundbar, the Power Bar, embraces simplicity with a two-way setup featuring separate 3-inch midrange drivers and the same tweeters used in the popular Take Classic speaker, all mounted in a 30 x 4.4 x 4-inch enclosure. The soundbar can be placed on a cabinet or shelf below the TV using supplied rubber feet or mounted on the wall (template included). Highlights include a Dolby Digital decoder, a simulated surround-sound mode, optical digital and analog RCA inputs (optical cable included), and a learning remote control to help keep your coffee table clear of clutter.
Wireless Two Ways: In addition to including a separate subwoofer that connects wirelessly to the soundbar, the system supports Bluetooth streaming from smartphones and tablets. Price: $400
Energy • (866) 441-8208 (in U.S.) • energy-speakers.com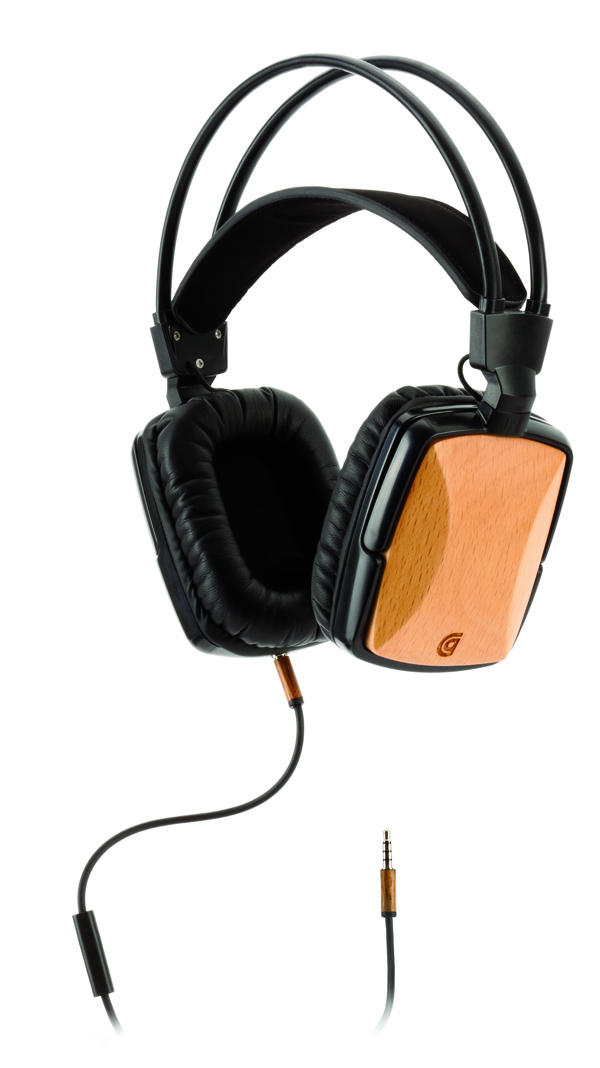 Griffin Technology Woodtones Headphones
Brace for a couple of new wrinkles in a bustling category that has seen tons of variety lately: headphones with earcups that are rectangular and made out of wood. Real wood, not plastic wood. Rectangular because our ears tend to be taller than they are wide, so you get a better fit. Wood because Griffin says it contributes to better sound, pointing to a fine violin as an example (not to mention a sweet Les Paul guitar). The phones are foldable and feature 2-inch drivers, a self-adjusting headband with soft cushions, and a detachable cable with an in-line controller/microphone and a 1/8-inch plug.
Wood Up: The earcups are hand-made and available in light blond beech wood, medium toned (African) sapele, or dark walnut. Price: $100
Griffin Technology • (800) 208-5996 • griffintechnology.com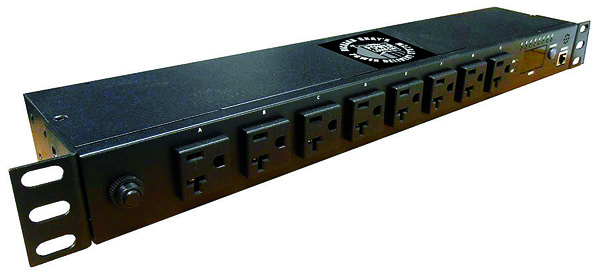 Richard Gray IPAC 8 Power Manager
Yeah, it looks like an ordinary (if not high-end) power strip, but the IPAC 8 sets itself apart with eight IP-addressable outlets, meaning system power can be remotely monitored and turned on and off via the Internet. An easy-to-read front-panel display provides a quick visual indication of the load to reduce the risk of electrical overloads and the tripped breakers that follow.
Remote Monitoring: In addition to being able to define automated turn-on/-off sequences and keep an eye on power status via the Web (using supplied software), you can set up warning thresholds and have alerts delivered by email if there's problem—before smoke starts billowing. IPAC 8 is backed by a three-year warranty. Price: $1,000
Richard Gray's Power Company • (800) 880-3474 • richardgrayspowercompany.com
<!- ----------------------- Tech Center Ads ----------------------------->
<!- ---------------------336x280 ADS------------------------------->
<!- ---------------------FIXED AD------------------------------->
<!- ---------------------336x80 ADS------------------------------->
<!- --------------------Sponsored Link Ads-------------------------------->
<!- ------------------------Bottom Ads---------------------------->