The Mummy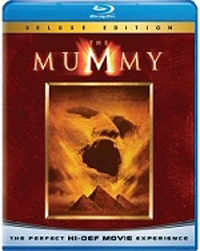 About a thousand years before the birth of Christ, high priest Imhotep (Arnold Vosloo) had a forbidden relationship with Anck Su Namun (Patricia Velasquez), the mistress to Pharaoh Seti I (Aharon Ipale). As punishment, he was mummified alive in the city of Hamunaptra and cursed with a living death.
Fast forward to 1923—while searching for the Book of the Living with Evelyn Carnahan (Rachel Weisz) and her wisecracking brother, Jonathan (John Hannah), Rick O'Connell (Brendan Fraser) mistakenly breaks the curse. Released from his eternal doom, Imhotep has world domination on his mind.
Loosely based on the 1932 film of the same name, The Mummy is a CGI-laden popcorn flick that's a lot of fun. Fraser plays the action hero well, although he is no Harrison Ford, and his onscreen chemistry with Weisz is genuine. But the star of the show is John Hannah with his well-timed one-liners.
I never got a chance to see this movie when it was released on HD DVD, so my comparison is limited to the DVD. As you would expect, Blu-ray trumps the DVD in every way. The VC-1 encode far surpasses the compressed-looking MPEG-2 DVD with sharper detail, vibrant colors, and deeper blacks. The print is in fantastic shape as it nears its tenth anniversary, but there are a couple of issues. Banding is apparent in backgrounds, especially the skylines, and the CGI effects are poor by today's standards—much softer than the rest of the picture.
Universal wasn't a big supporter of lossless audio soundtracks on HD DVD, but with the debut of its Blu-ray titles, the studio has chosen DTS-HD Master Audio. The sound design is extremely active, especially in the surround speakers. Many intense action sequences envelop the room and bombard you from every direction. Imaging is seamless throughout the soundstage, and dynamics are to die for. The plethora of low-frequency effects in the third act are stupendous, although the dialog has some intelligibility issues during these sequences, which keep the audio from earning a reference score.
Making its debut on Blu-ray is Universal's "U-Control" featuring a Profile 1.1 PIP inset. Also available is a variety of behind-the-scenes featurettes ported over from the DVD in standard definition. Rounding out the supplements is an SD sneak peek at the upcoming theatrical release of The Mummy: Tomb of the Dragon Emperor, as well as a free movie ticket.
My wife is a huge fan of The Mummy franchise, and for once, she didn't complain about watching a movie we have seen many times. The presentation is enjoyable, especially the active DTS-HD MA soundtrack, and a free movie ticket to see the next film is a nice bonus. Recommended.
Release Date: July 22, 2008
Film: 7 out of 10
Picture: 8 out of 10
Sound: 9 out of 10

Review System
Source
Panasonic DMP-BD30
Display
JVC DLA-RS1 projector
Stewart FireHawk screen (76.5" wide, 16:9)
Electronics
Onkyo PR-SC885 pre/pro
Anthem PVA-7 Amplifier
Belkin PF60 power conditioner
Speakers
M&K S-150s (L, C, R)
M&K SS-150s (LS, RS, SBL, SBR)
SVS PC-Ultra subwoofer
Cables
Monoprice HDMI cables (source to pre/pro)
Best Deal analog-audio cables
PureLink HDC Fiber Optic HDMI Cable System (15 meters) from pre/pro to projector
<!- ----------------------- Tech Center Ads ----------------------------->

SPONSORED TECH CENTER
<!- ---------------------336x280 ADS------------------------------->
<!- ---------------------FIXED AD------------------------------->
<!- ---------------------336x80 ADS------------------------------->
<!- --------------------Sponsored Link Ads-------------------------------->
<!- ------------------------Bottom Ads---------------------------->