MP3 Portables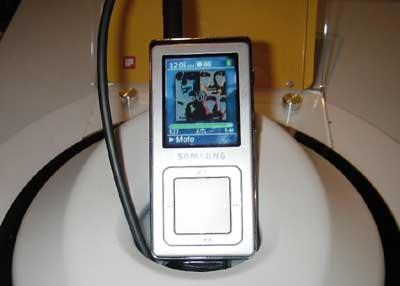 Samsung YP-Z5 flash-memory MP3 player
You will be surprised to hear that there weren't any new MP3 players at CES. Just kidding - checking to make sure you were paying attention. There were a few players on display - like maybe ten zillion. And they were all pretty desirable, naturally with the higher-priced models sporting the highest capacities.
One super-heavyweight (figuratively speaking - it actually weighs 2 ounces) is the Samsung YP-Z5 ($249). This ultra-slim player, housed in an aluminum body, has 4 gigabytes of flash memory and 1.8-inch color screen. It plays MP3, WMA, WMA DRM10, and JPEG (with slideshow and pan and zoom) files. It also supports Microsoft PlaysForSure music-to-go subscription services such as Rhapsody, Napster, Yahoo, and MTV's Urge, so you can play DRM music downloaded from a PC. Possibly the best part is that the battery is said to last for almost 24 hours of continuous playback. The YP-Z5 will be available in February in silver or black and will also be available in a 2-GB version for $199.
Creative says its Zen Nano Plus ($139) is so small that "it gets lost in your pocket" - which may be true if you have really big pockets. The Nano is about the size of two fingers (but with less alcohol content), has 1 GB of flash-memory storage, and throws in an FM radio as well. You can also rip songs directly from a CD player or other audio source, no PC needed. Playback time is a tidy 18 hours from an AAA battery. The Nano Plus also comes in a 512-MB version for $109. The Nano Plus is available now in ten colors.
The Sansa e270 (MSRP $300) is Sandisk's flagship MP3 player and is pretty cool looking, too. Its titanium-alloy case holds a mighty 6 GB of flash memory, a 1.8-inch color screen, and an FM radio for on-the-go listening and recording. The Sansa plays MP3 and WMA music files and personal videos and displays photos as a slideshow. It also supports Microsoft's PlaysForSure for compatibility with music subscription services such as Rhapsody, Yahoo, Napster, and Urge. Interestingly, it has a microSD expansion slot for additional memory capacity. The slot also supports Sandisk's TrustedFlash and "gruvi" content cards, which also work in some cell phones. Moreover, you can buy albums (such as the Rolling Stones' latest, A Bigger Bang) on microSD cards and play those as well. The Sansa e series also includes the 2-GB e250 ($200) and 4-GB e260 ($250). All will be available in March.
The bottom line is that the latest MP3 players hold more songs, are smaller and lighter, and are more music-subscription friendly than ever before. At last, the iPod is getting some competition.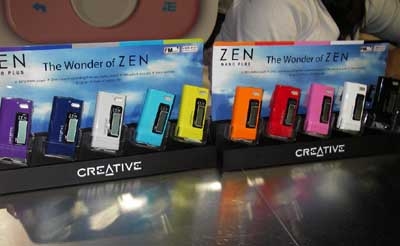 Creative's extremely slim Zen Nano Plus flash-memory MP3 player
Check out more CES news. Back to Homepage What's New on S&V
<!- ----------------------- Tech Center Ads ----------------------------->

SPONSORED TECH CENTER
<!- ---------------------336x280 ADS------------------------------->
<!- ---------------------FIXED AD------------------------------->
<!- ---------------------336x80 ADS------------------------------->
<!- --------------------Sponsored Link Ads-------------------------------->
<!- ------------------------Bottom Ads---------------------------->