Mitsubishi WD-57731 DLP Rear Projection TV Tests and Calibration
Tests and Calibration
The Mits did exhibit some video noise, but it's often hard to distinguish between this and the noise in the source. Since the noise reduction control was effective when needed, that means that the noise originated before the control circuits, a chain that includes the program material. There was no visible noise in stationary, solid color test patterns from a test pattern generator, nor in computer animated programming that was derived directly from digital source files with no film intermediary.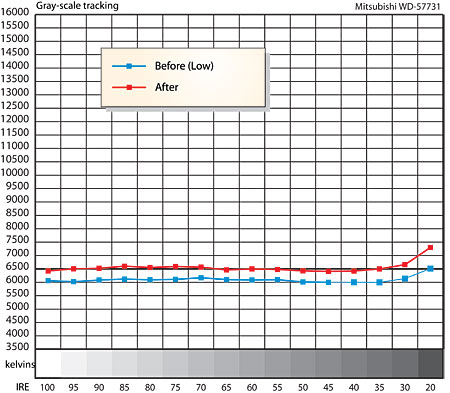 It is also true that noise in the source is more evident when the image is brighter, and even in the Natural mode, with the contrast control turned down as much as possible without destroying the image's punch, the Mits produced a hefty 75 foot-Lamberts of peak light output. That's actually a bit too bright for my taste, but it's not as bright as some digital sets I've measured. If you want to see what 137fL looks like, switch the Mitsubishi's Picture Mode to Brilliant!
At 480i and 480p, with either a component or HDMI input, both the Mitsubishi's luminance (black and white) and chroma (color) responses held up to the maximum multiburst frequencies of my Accupel HDG-3000 test pattern generator (6.75MHz at 480i, 13.5MHz at 480p). However, both 480p and especially 480i had clearly evident sharpness enhancement, particularly on horizontal lines but also visible on vertical lines, that could not be defeated by the Sharpness control.
In 720p the luminance response held up cleanly to the highest 37.1MHz burst. The highest frequencies in the burst were stronger in HDMI but still present in component. However, neither HDMI nor component showed any visible response at this maximum burst frequency at 1080i. This limitation did not appear to visibly affect the subjective viewing observations with real program material—which perhaps suggests that program providers are not producing material that contains any information at this high frequency.
As noted in the review, there is also some non-defeatable sharpness enhancement of horizontal (but not vertical) lines at 720p and 1080i. Again, this produced no consistent, obvious image degradation or etched detail in normal viewing.
Overscan averaged roughly 3.5% on all sides in both component and HDMI regardless of resolution.
The RGB color points on the Mitsubishi, while not precisely correct, were as close to the correct values as the competitive sets I've measured. The cyan, magenta, and yellow secondaries, however, were off significantly—odd considering the claims made for the set's 6-Primary Color System. This did not result in unpleasant or unnatural looking color—quite the opposite, in fact, as the colors on the Mits, when properly set up and calibrated, were vivid and rich without looking garish. But more accurate YCM values could only make the set better and more true to the source material.
The Mitsubishi's pre-calibration gray scale, in Natural mode, Color Temperature set to Low, was roughly 500K lower than the standard across most of the brightness range. In the High setting the color temperature was over 14,000K! After calibration the Low setting measured much closer to D6500 with a maximum x/y deviation of no more that 0.003 across the measured range from 30IRE to 100IRE. This fine result was broken only in the darkest scenes.
The Mitsubishi displayed above white but not below black at its HDMI input. I obtained a peak contrast ratio of 545:1 (75.1fL peak white, 0.138fL video black) at a Contrast setting of 41, Brightness at 35 (Natural mode)—the settings that produced the most accurate-looking image on most programming. This is a relatively poor result by today's standards, though it affected the image less than expected on most source material. But other sets we have reviewed of equivalent size in the past several months have turned in black levels below 0.050fL, and in some cases less than half that, with peak contrast ratios ranging from just over 1000:1 to over 6000:1. The sets that turned in the highest readings were equipped with dynamic irises.
<!- ----------------------- Tech Center Ads ----------------------------->

SPONSORED TECH CENTER
<!- ---------------------336x280 ADS------------------------------->
<!- ---------------------FIXED AD------------------------------->
<!- ---------------------336x80 ADS------------------------------->
<!- --------------------Sponsored Link Ads-------------------------------->
<!- ------------------------Bottom Ads---------------------------->