Mitsubishi PD-5030 & HD-5000 plasma monitor & HDTV receiver controller Calibration
Calibration
Using a Progressive Labs CA-1 color analyzer, my AccuPel HDG-2000 test generator, and Video Essentials, I was able to get the monitor to track a "neutral" gray scale across a wide range of brightness levels. However, a precise match to D6500 was difficult because of the Bias and Gain controls' large adjustment steps.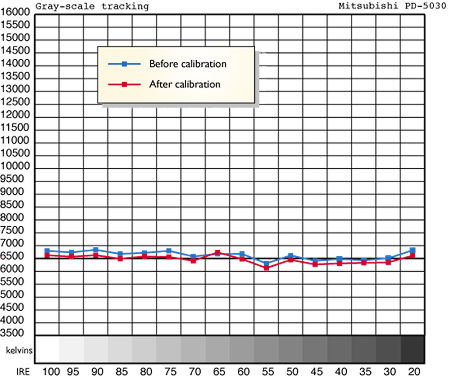 After calibration, a 50% gray field measured 6480 kelvins, with a total swing in color temperature of +/-250K from 30 to 100 IRE. This is quite respectable for a plasma monitor—some have color-temperature shifts of more than 1000K. After adjusting for best gray scale, I measured the average contrast at 197:1 and the peak contrast at 342:1. These numbers are competitive with most current plasma displays.
Brightness in plasma panels is subject to so many constraints that it's almost not worth mea-suring. To protect the screens from burn-in, automatic picture limiting (APL) circuits reduce brightness with high-luminance signals. To give you an example of how well the PD-5030's APL worked, I measured brightness at 58 nits/16.9 footlamberts with a full white screen.
Changing to a split screen (black and white) produced a brightness measurement of 100.7 nits/29.4fL in the white area—almost double the full-screen reading. And a smallarea full-white reading kicked up even higher, to 177.8 nits/52fL. The PD-5030 behaved very much like a CRT direct-view TV in this respect.
My last measurement was a sweep of the panel for HD frequency response. With a 1080i multiburst pattern, I saw some noise above 20MHz, but signal quality was acceptable. However, with a 720p multiburst, there was no response at 37.5MHz. The PD-5030 had a little bit of a high-frequency rolloff problem.—PP
<!- ----------------------- Tech Center Ads ----------------------------->

SPONSORED TECH CENTER
<!- ---------------------336x280 ADS------------------------------->
<!- ---------------------FIXED AD------------------------------->
<!- ---------------------336x80 ADS------------------------------->
<!- --------------------Sponsored Link Ads-------------------------------->
<!- ------------------------Bottom Ads---------------------------->