Mitsubishi HC7000 LCD Projector Page 2
I did run into a hiccup during my setup. For some reason, this projector does not display below-black information in the video signal. While it does preserve head room information (above white), it clipped black values below digital 16. I could still dial in the projector's brightness using some custom test patterns, but the below-black clipping is an unnecessary design drawback. It makes calibration with traditional test discs difficult.
Out of the box, the HC7000's gray-scale tracking was quite good, but its color balance was off. I used the setup menu's gray-scale adjustments to dial in the projector to near perfection throughout the useful brightness range. Unfortunately, the color gamut is skewed, with oversaturated greens and reds and a general hue shift toward yellow (see HT Labs Measures). This made greens look a bit unnatural and reds a bit pumped. Some users may like the effect, but I found it distracting with certain content.

The remote control is simple to use and lights up with any button push. You can directly access most of the main controls for image tweaks from the remote, including lens operation, iris control, and standard image controls like brightness and contrast. Mitsubishi even includes discrete On and Off buttons if you plan to program your own universal remote with macros.
Video Processing
The HC7000 incorporates Silicon Optix's HQV Reon video processor for its standard- and high-definition video processing and image enhancements. It performed the best of this bunch in my video-processing tests and did a spectacular job with all material. I used a battery of deinterlacing and scaling tests to put the projector through the ringer, and it didn't disappoint. This projector properly deinterlaces HD and SD signals with both film and video sources. This alleviates the need for a video processor for outboard signals that may need this type of processing, such as HD cable signals or SD sources.
In Use
The projector didn't show any loss of resolution with full 1080p signals. Although this is a three-chip design, it resolved each pixel with stunning clarity. I was impressed by how well the HC7000 rendered some of the harder test patterns I threw at it, including full-frequency bursts at 1080p. Three-chip designs typically show obvious discoloration with these types of tests, but the Mitsubishi held up quite well, with no obvious distortion or discoloration. The company obviously put some work into its new polarizer.
While the HC7000 wasn't the most feature-laden projector in this group, it definitely threw the sharpest image. This projector reminded me more of a single-chip DLP than an LCD in terms of image sharpness. I was blown away by how clean the image was. The HC7000 delivered one of the smoothest gray-scale ramps I've ever seen from a projector, and this translated directly to the screen. Animation looked incredibly clean and detailed, and I didn't see any of the harsh banding I've seen with other designs.
I use a couple of Pixar films including Cars to test for banding, and the Mitsubishi did an amazing job with the highly detailed image.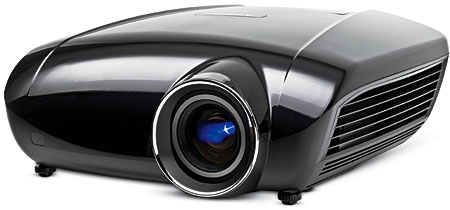 One of the complaints I've heard about previous Mitsubishi projectors is about their dynamic iris performance. Dynamic irises make a big difference in contrast. The benefits are readily apparent with darker images, but there's usually a tradeoff, such as noticeable image pumping or obviously visible iris adjustments. I noticed some brightness compression, but image pumping was never an issue. I never saw any truly annoying jumps in overall brightness. Black levels have come a long way with LCDs, and this projector delivered the best blacks I've seen from this technology. Shadow detail was also good. Subjectively, blacks were in line with what I've seen from higher-end DLP offerings and just a bit short of some of the best LCOS designs. Compared with the other LCD in this roundup, the Panasonic PT-AE3000U, the Mitsubishi was a bit better in this department, although it wasn't by a huge margin.
LCD panels don't have an overly high native contrast ratio. The dynamic iris did help the Mitsubishi with deep blacks during dark sequences. However, on material that mixes light and dark areas on the screen, it lacked the punchiness that more expensive projectors provide. On scenes with a lot of black but an average overall picture level and few really bright highlights, white levels were a bit bland. Compared with the other two projectors in this roundup, the Mitsubishi was about the same in this respect (the Sony was slightly better).
Conclusion
Mitsubishi really impressed me with the HC7000. I haven't had a lot of experience with the company's previous designs, but this one delivered a razor-sharp image with exceptional video processing capabilities. I didn't care for its inaccurate colorimetry, but its ultra-quiet design and great creature features make it one to add to your short list in this price range.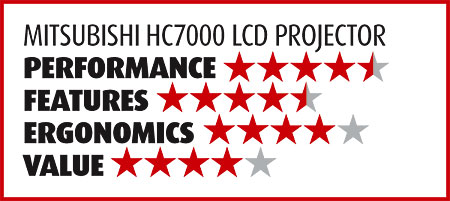 <!- ----------------------- Tech Center Ads ----------------------------->

SPONSORED TECH CENTER
<!- ---------------------336x280 ADS------------------------------->
<!- ---------------------FIXED AD------------------------------->
<!- ---------------------336x80 ADS------------------------------->
<!- --------------------Sponsored Link Ads-------------------------------->
<!- ------------------------Bottom Ads---------------------------->