Mitsubishi Big On DLP And LCD
Mitsubishi announced its 2007 lineup of DLP rear projection and LCD flat panel TVs before the gathered press Monday in New York. The message was clear- Mits is hanging its TV hat on premium LCD and large screen DLP rear projectors.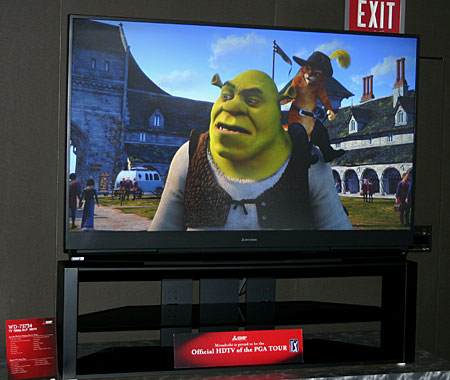 Mits is releasing no fewer than nine new DLP sets at screen sizes of 57," 65," and 73," and eight new LCDs of 40," 46," and 52." The entire lineup is 1080p in both form factors, and all the sets are loaded with HDMI 1.3a connectivity and a wealth of other features, both convenience and performance oriented. Touted prominently (as in hyped) among the features of these sets were x.v. Color and Deep Color, in spite of the fact that there are no current broadcast or consumer sources that support them (Mits' reps suggested that the gaming industry will take the lead here).
Mits made much of the viability of large screen microdisplays, in spite of the ascent of the flat panel, and touted the slim new form factors and small footprints of its new designs. "Larger screens, not larger spaces" is the rallying cry. According to Mits a 60" plasma TV on a table stand is typically at a depth of 18", while the new Mits 73" DLP RPTV comes in at a depth of just 17.5." And talk about being on a diet, the new 73" set weighs just 90 lbs., less than half of the 190 lbs. of its predecessor.
The DLP line is broken into the standard Mitsubishi branded 733 series TVs, with step ups to 734 Medallion series followed by the top of the line 833 Diamond series.
The 733 series sets use six-color light engines and have three HDMI inputs. The 734 series adds a fourth HDMI input on the front of the sets and a bevy of image enhancing features including Dark Detailer, which seems to be a dynamic iris system for deeper blacks and superior contrast. The 833 Diamond series includes all the features of the 734 series and adds to it a 120Hz refresh rate, IEEE1394 connectivity, and Game-FX 3D game capability.
A couple of these choices are curious. For one, Mits no longer offers an external hard drive for 1394 recording, so I guess the 1394 connections are for the remaining D-VHS machine owners out there? Can't imagine that's a big market, Also, as far as the Game-FX feature is concerned, is this of more interest to the performance oriented enthusiasts who are looking for the high-end set or would it perhaps be more of an enticement to those looking at the lower priced sets?
The LCD lineup starts with the 133 series, which features Easy Command and three HDMI inputs on sets at 40," 46," and 52." The 134 "series" currently consists of one 40" set that knocks things up a notch with Net Command and an additional side HDMI input for a total of four HDMI 1.3 inputs. The 144 series has a 46" and a 52" set. To the above these sets add a 120Hz refresh rate. The Diamond series also has a 46" and 52" model, and steps up with a CableCARD HD tuner and TV Guide Daly.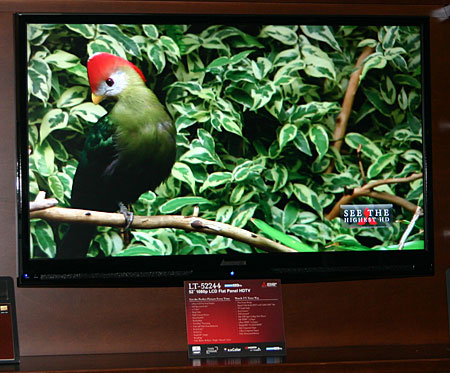 Pricing info will be summarized below, but it was striking to see that Mits intends to make a splash while competing solely in the premium LCD category. LCD is notorious for being price-driven, or "commoditized," to put it another way,
2007 DLP RPTVs
733 Series
WD-57733- $2,499
WD-65733- $2,999
WD-73733- $4,699

734 Series
WD-57734- $2,799
WD-65734- $3,299
WD-73734- $5,099

833 Series
WD-57833- $3,399
WD-65833- $3,999
WD-73833- $5,899

2007 LCDs
133 Series
LT-40133- $2,699
LT-46133- $3,399
LT-52133- $4,499

134 Series
LT-40134- $2,899

144 Series
LT-46144- $3,899
LT-52144- $5,099

Diamond
LT-46244- $4,499
LT-52244- $5,699
<!- ----------------------- Tech Center Ads ----------------------------->

SPONSORED TECH CENTER
<!- ---------------------336x280 ADS------------------------------->
<!- ---------------------FIXED AD------------------------------->
<!- ---------------------336x80 ADS------------------------------->
<!- --------------------Sponsored Link Ads-------------------------------->
<!- ------------------------Bottom Ads---------------------------->