Marantz VP-11S1 Single-chip DLP Projector Measurements
Measurements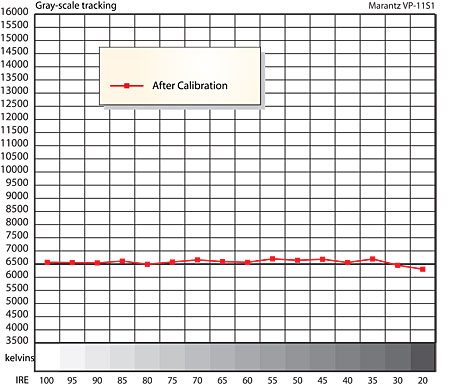 In nearly all respects the VP-11S1 offers technical/measured performance that could serve as a clinic in how a front projector should perform. "Overscan" was mostly 1% or less on all sides, and never went more than 3% with any input source or format. Geometry was excellent, and a crosshatch pattern revealed that there was practically no misalignment or chromatic aberration from the lenses visible anywhere on screen. The only thing visible (about one foot from the screen) was very light color fringing at the sides of the image, and never more than a single pixel in width. Focus was also good from edge to edge, with only a few, slightly softer areas well away from the center of the screen. Marantz's optics by Konica-Minolta are, for all appearances, the proverbial bomb.
Grayscale tracking is important, because among other things, it's a measure of whether colors remain pure, without unwanted tint, at all brightness levels. For example, if we say a projector tints red below 30 IRE this could mean that when a character walks on screen in a tuxedo or black suit, the black will have a red tinge to it that's not supposed to be there. Marantz's VP-11S1 is one of the best I've seen in this regard. In addition to tracking the standard 6500K color temperature extraordinarily well across the brightness range, I was able to adjust the VP-11S1 to track within .003 of the reference x/y coordinates of the D65 point from 30IRE all he way up to 100IRE. The bottom line is that the Marantz is excellent at displaying pure colors from the top to the bottom of the brightness range.
Now for the money shot: our resolution tests. Via HDMI, with a 1920x1080 test signal from my Accupel signal generator, the VP-11S1 offered the strongest, most rock solid resolution at the highest frequency luma bursts, which are a single pixel in width at 37MHz. These lines were so fine, I had to walk up to the screen to see them, but there they were, with no visible adding or softening. This projector's resolution is better than my eyes at the seating position! The chroma burst performance was equally excellent, right out to the limits of the test signals. This spectacular performance was repeated with both 480p and 720p signals-which must contribute something to the mind-bending performance with 720p broadcasts on ABC. This is as close to perfection as I've yet seen from any display.
Moving to component video, 1080i was nearly as good as the HDMI signal, with just a very slight softening of the very top frequencies in the luma and chroma bursts. The single pixel lines at 37MHz were still visible, just down in amplitude. The performance with program material at 1080i component with HD DVD's from Toshiba's HD-XA1 was similarly excellent, if just a diopter of clarity away from the HDMI feed. 720p component, however, was noticeably softer and very faded at 37MHz. Experimentation is always best, so if you're using this projector and component video from and HD set-top box, try converting 720p native signals to 1080i and see if the image quality improves.
The only discernible glitch with the VP-11S1's measured performance is with 480i/p component video. At the top frequencies on luma and chroma bursts with 480i there was more visible noise than I wanted to see, a ragged, uneven nature to the response, and some faint ringing that couldn't be tuned out of the image with the sharpness control. At 480p the ringing was gone, and there was visible noise in the two highest luma bursts from the Accupel. This was confirmed with program material, as I could clearly see a much softer picture than with the HDMI feed. Of course, if you buy this projector and use 480i component video you're committing a crime anyway.
TJN Adds
The VP-11S1's color points are reasonably accurate, though greens are slightly too saturated—typical for digital displays.
I was able to verify that the Standard gamma setting is 2.2 across most of the brightness range, with some minor deviations. It does increase to above 2.6 at 20IRE (becoming darker than a 2.2 value would.
The color temperature measurements are shown in the diagram. Note that there is no "Before" curve, as the readings were taken after Shane performed his calibration. And it would certainly be false economy to spend this much on a projector and not have it properly calibrated.
The results here are excellent, and differ only slightly from Shane's results because I took my readings using test patterns from the Digital Video Essentials DVD instead of the Avia Guide to Home Theater that Shane used. I also performed the measurements with the Contrast control set on +10 rather than Shane's setting of zero.
That increase in the Contrast setting is worth discussing. With the Contrast set to zero, I measured a peak white level of 9.69 foot-Lamberts from my 78" wide, 16:9 Stewart Studiotek 130 screen (gain 1.3) and a black level of 0.004FL, for a peak contrast ratio of 2423:1. I've recently become accustomed to a peak white level of around 15fL (for projectors), so this setting looked a bit dim to me, though many viewers (Shane included) will find it perfectly satisfactory. And the blacks are truly superb at this setting, exceeded in my experience only by the blacks in the Sony VPL-VW100 SXRD with its auto iris engaged, and then not by much. (Shane's screen, incidentally, is virtually the same as mine, but 80" wide rather than 78".) By increasing the contrast setting to +10, however, I was able to increase the peak white level to 11.76fL with no visible adverse effects—no clipped whites and no increase in the black level. This change increased the peak contrast ratio to 2940:1.
While I could live comfortably with the latter setting, and it did look superb, I actually preferred to go a bit further, though at a sacrifice in black level and contrast ratio. Opening the iris up to f3.0 and reducing the lamp setting to Economy gave me 14.35fL/0.007/2050:1 (peak white/video black/peak contrast ratio). But this did require a recalibration of the color temperature, and an increase in the Contrast control to +12 to recover a bit of the brightness lost in the settings of the color temperature controls. With this setup, the slightest trace of a pink discoloration, not present before, was visible at the peak white levels of a gray scale pattern, but this was not reflected in the new color temperature measurements. The latter are not shown here, but if anything were actually very slightly better than the result shown in the chart, with no deviation in the x/y coordinates greater than 0.003 at any point from 20-100IRE.
The only downside to the latter setup is that it offers little reserve for increasing the light output as the lamp ages, apart from switching the lamp out of Economy mode. But bit over 14fL, with 235 hours on the lamp (at the time of measurement), is a respectable output. And you'll need every bit of it should you go larger in screen size. Like Shane, however, I don't recommend going much larger than the screens we used with this projector, or perhaps a maximum of 84" wide at most (about 96" diagonal for a 16:9 screen). This will reduce the peak light output in the brightest setup described above to about 12.6fL.
For an interesting comparison, my sample of the 720p Yamaha DPX-1300 DLP projector, with its iris wide open and lamp brightness set to 87%, currently puts out 14.98fL, video black 0.008, peak contrast 1873:1. It now has about 400 hours on its lamp, and has dimmed enough over that time to reduce the peak light output with the iris in its middle setting to a rather dim 8.24fL. When new, it put out 13.7fL in the middle setting, and now puts out only slightly more than that (with marginally poorer blacks) with the iris wide open. This is not, in my experience, an unusual loss of output over time for a projection lamp, which is only one reason why you never want to choose an excessively large screen.
<!- ----------------------- Tech Center Ads ----------------------------->

SPONSORED TECH CENTER
<!- ---------------------336x280 ADS------------------------------->
<!- ---------------------FIXED AD------------------------------->
<!- ---------------------336x80 ADS------------------------------->
<!- --------------------Sponsored Link Ads-------------------------------->
<!- ------------------------Bottom Ads---------------------------->