The Marantz SR9600 THX Ultra 2 AV Surround Receiver Page 2
The SR9600 has every feature I've ever found on other well-equipped AV receivers, including "source direct," which bypasses tone and bass management circuitry, and "pure direct," which blocks noise-causing video outputs and even turns off the fluorescent display. I didn't test the multi-room or custom install functionality. However, with the purchase of additional equipment, the same or different source material can be displayed and listened to in two rooms other than the one in which the receiver is located.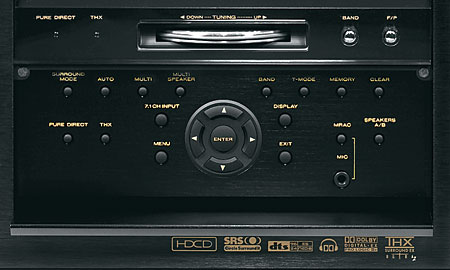 While no one is buying a receiver these days for the AM/FM tuner, the SR9600 includes two independent ones, a useful feature only for multi-room installations (The SR9600 is also available in a package called the SR9600XM – it includes one AM/FM tuner and one XM tuner instead to two AM/FM tuners). Older audio/videophiles will appreciate Marantz's retention of its "retro" Gyro tuning dial, found on its receivers from the "golden age" of audio. Programming the tuners was particularly efficient and easy to accomplish. Broadcast radio content, however, continues to deteriorate, thanks in part to 20 minutes of commercials an hour, and idiotic "indecency" legislation overseen by the FCC Mullahs and passed by the advocates of censorship rampant in both political parties. End of sermon.
It's All About The Sound
Once everything was configured I begin by listening to familiar multichannel SACDs via my Sony player's analog outputs. Comparing JVC's featured-packed RX-D702B $880 receiver, which I just reviewed and claims similar power output (with asterisks) to the Marantz, proved to be an ear opener.
The JVC and other budget priced, full feature receivers remain tremendous values, and are major technological achievements for the money. But sonically, it was no contest. With the Marantz installed, it was like moving up from a mid-fi system to a genuine high performance audio rig. What does that mean? It means the removal of layers of sonic gauze. It means a vast improvement in transient speed and clarity. It means a notable reduction in sibilant smear and a near total absence of the metallic overlay so prevalent in the sonic character of lesser electronics. And it means a notable improvement in delicacy and subtlety. A feather replaces a sledgehammer at the low end of the musical scale, and a sledgehammer replaces a ballpeen at the top end.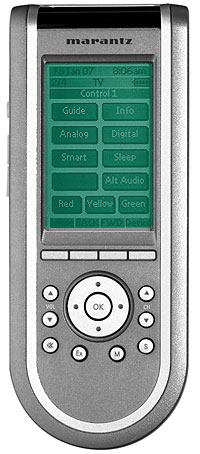 In the early days of SACD (as opposed to today's death throes of the underappreciated format), Philips distributed a demo disc called Jerry Goldsmith/Movie Medleys, which was eventually issued commercially by Telarc. The hybrid multichannel disc, recorded at Abbey Road in 2000 and engineered by Bruce Botnick, offers a gorgeous orchestral picture, though of course, the spatial qualities must have been enhanced with artificial reverb. Nonetheless, the harmonic and textural rendering of the orchestra is simply stunning.
Musically, it's a film fan's catalog of great Goldsmith themes, including "Star Trek," "China Town," "Sand Pebbles," and many others, as well as some of his best known television themes such as "The Man From UNCLE," "Doctor Kildare," and "The Waltons."
When played back on an accomplished audio or AV system, it provides a richly burnished, yet transparent and majestic-sounding orchestra, slightly on the laid-back side of the acoustic divide. The fabric of the coherent golden glow tears apart through lesser gear.
The Marantz SR9600's rendering of the disc, while not in the same league as my downstairs two-channel system, was harmonically and dynamically impressive, especially at the microdynamic end of the scale, where the system's subjectively low noise allowed the smallest musical nuances to breath believably. The absence of metallic colorations gave the strings and brass the rich sonority and expressive textures only found in high performance gear. Not having an IEEE 1394-equipped SACD player, I was unable to test the SR9600's SACD decoding abilities. Auditioning the Marantz's DACs with CD playback was easier. A recently installed upgrade to my reference Camelot Technology Round Table Mk.2 CD/DVD player that retrofitted the machine with Swiss Anagram Technology 24-bit/192kHz upsampling technology using custom algorithms programmed into an Analog Devices SHARC DSP chip. This turned a good sounding CD player into an outstanding one. Of course, since the upgraded Round Table's introduction, similar upsampling technology has made its way into other components, including the SR9600 receiver. I A/B'd the two-channel CD layer of the Jerry Goldsmith/Movie Medleys hybrid SACD, switching between the Round Table's upsampling DAC (via analog) and the SR9600's (via digital connection) and I found it difficult to distinguish one from the other (this is assuming the "source direct" and "pure direct" settings bypass all DSP processing, passing analog without converting it to digital, which is not made clear in the instructions). If I had to find a difference, I'd say the Round Table's presentation was somewhat warmer, the SR9600's slightly more "pristine." Other well-recorded CDs yielded similar results, which indicates to me the high quality of the SR9600's upsampling/DAC facilities. When I used my mother in law's inexpensive DVD player and ran the same test, the SR9600's conversion clobbered the cardboard-thin sound of the player's analog outs.
When an audio system is really firing on all cylinders, the music appears to be coming from well behind the loudspeakers, while producing images that also float well in front of them. The SR9600 produced this sensation and it translated to the dialogue track as well. Vocal intelligibility, especially in softly spoken passages, was noticeably superior to the inexpensive JVC receiver, and the absence of grain and hash combined with natural, non-etchy focus produced believable dialogue on well-recorded, minimally processed tracks.
In short, if you're going to pay $4,000+ for an AV receiver at a time when most of the same features can be had in one costing less than half, it had better deliver the sonic goods. The Marantz SR9600 does that and then some.
As for Dolby Digital and DTS playback, I can't say the Marantz was any better or worse than any of the other receivers I've reviewed over the years. This aspect of receiver performance has also become "commoditized." That, or perhaps I don't really pay that much attention to how convincingly bullets fly around my room. I admit to not taking notes. However, the high quality DACs combined with the excellence of the amplifiers, produced top tier movie sound, on par with my reference Lexicon RV8, which costs almost twice as much, though Lexicon's Logic7 processing remains an enhancement worth paying extra for in my opinion.
I consider the video switching on my Lexicon RV8 to be the reference standard among receivers. Subjectively at least, the SR9600 matched the RV8's transparency and freedom from noise via the component video outputs. I don't have HDMI equipped gear so I was unable to try out the SR9600's HDMI switching performance.
Conclusion
Were it not for pricing pressures and receiver "commoditization," Marantz would be entitled to charge $6000 or $8000 for this truly exceptional receiver. Build quality is exemplary, sound quality is unassailable (for a receiver), and with 7 x 140-Watts of clean power, the SR9600 should be sufficiently powerful to drive most loudspeakers in medium sized home theater environments.
With home theater receivers becoming more feature-laden and complex, the machine-human interface has become more critical. You have to live with and like your home theater receiver, not just in terms of how it sounds and performs, but also in terms of how pleasurable it is to use. What good is having a feature-laden receiver, if you're intimidated by it and afraid to make use of all that it offers for fear that you'll get lost in a complex nest and end up with no way out, and worse, no sound! It's happened to me before, but not with the SR9600.
To my way of thinking, it's worth paying extra for a pleasing operating experience and in the SR9600, aside from outstanding sonics, you have an AV receiver that offers the full range of sound enhancing features in an easy to use, non-threatening environment.
Thanks to a first class instruction manual, operating system and remote control, the SR9600 proved to be the most enjoyable and impressive AV receiver I've yet reviewed. It's a product I believe Marantz' founder himself, the late Saul Marantz, would be proud to have his name on, and that's saying a lot!
Highs and Lows
Highs
• Superb sonics
• Ergonomic brilliance
• Outstanding build quality, including copper plated chassis
Lows
• None that I could find. Even the price is low considering the package.
<!- ----------------------- Tech Center Ads ----------------------------->

SPONSORED TECH CENTER
<!- ---------------------336x280 ADS------------------------------->
<!- ---------------------FIXED AD------------------------------->
<!- ---------------------336x80 ADS------------------------------->
<!- --------------------Sponsored Link Ads-------------------------------->
<!- ------------------------Bottom Ads---------------------------->