Marantz SR6004 A/V Receiver Page 2
Marantz uses a mixture of styles for the graphic user interface (GUI). When you choose a new input, a very utilitarian and old-fashioned-looking white-on-blue status display flashes briefly on the screen. The rest of the control menus use the same color scheme, but with a more attractive font. As you delve deeper into the menus—for instance, speaker setup—there are some full-color diagrams. It's not the fanciest GUI around, but it's one of the least intimidating and most efficient ones. I could always find what I needed and adjust it quickly.
The remote is a fully backlit unit with a small LCD mode-status display at top. Control layout is just OK, and Marantz predictably gives special prominence to the volume, channel, and menu navigation keys. Like the GUI, the remote is not intimidating. One senses this as part of the Marantz sensibility: Don't frighten the consumer.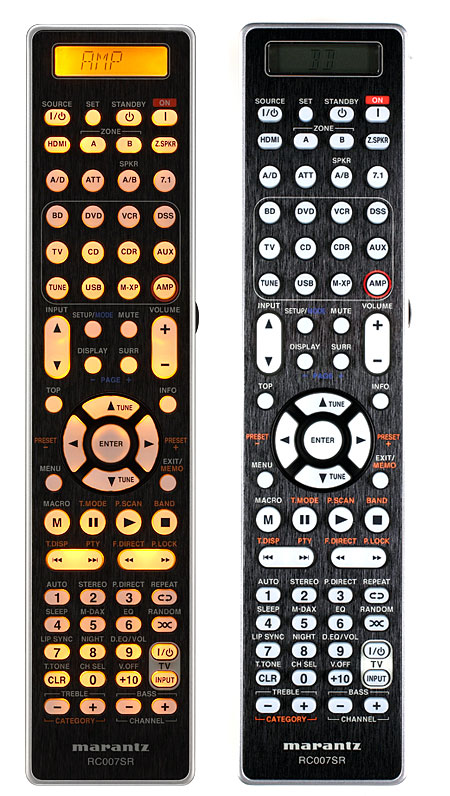 Associated equipment included five Paradigm Reference Studio 20 v4 speakers run full range, Panasonic DMP-BD35 Blu-ray player, Integra DPS-10.5 universal player, Luxman PD-289 turntable, Shure V97xE cartridge, and Bellari VP530 tube phono preamp. All movie selections were on Blu-ray Disc, but regrettably, only one had a lossless soundtrack. All of the music selections were on SACD and vinyl.
Kickin' It Old School
Sahara, in old-school lossy DTS, sends Matthew McConaughey and Penélope Cruz on a treasure hunt in the deserts of Nigeria as they look for a Civil War battleship that went notably astray in an ancient river. The baddies are very bad, treating our heroes to a boat- borne shootout and other loud misfortunes. I turned on Audyssey Dynamic Volume and EQ, and I noted that they can only be in- voked together in this AVR (as Audyssey recommends). With three Dynamic Volume settings to choose from in addition to Off, I picked Medium. As always, it didn't disappoint. I got a just about perfect compromise between aggressive effects, intelligible dialogue, and listening comfort. The score's songs alternate Boomer classics like Dr. John's "Right Place Wrong Time" and the Faces' "Stay with Me" with African worldbeat. Even in lossy surround, the songs sounded great—Marantz AVRs have always been dependable in their musicality.
Black Rain is also in old-school DTS. This was not an unreasonable move given the movie's 1989 vintage, the soundtrack's original Dolby SR analog source material, and the limitations of its dynamic envelope and panning patterns. Michael Douglas is a hot-tempered cop who escorts a Japanese gang member back to Tokyo. Naturally, the prisoner breaks loose, and cross-cultural havoc ensues. I had no need for the low-volume listening modes. This is fairly gentle material, despite all the action.
I Now Pronounce You Chuck & Larry brought my movie sessions up to date with a DTS-HD Master Audio soundtrack. Adam Sandler and Kevin James are New York firemen who enter into a phony domestic-partner relationship to secure pension benefits for the first guy's kids. The comedy is crude but effective, and the sentiments are heartwarming. Several fire-scene action episodes were loud enough to bring back Audyssey Dynamic Volume/EQ. Since I conducted this demo unusually late in the evening, I used the Heavy setting to spare my neighbors. Even maxed, Dynamic Volume/EQ still produced a surprisingly natural result. I was rarely aware of the algorithm's careful and surgical alterations to the soundtrack.
Kinder/Children
Claudio Arrau's performances of Schumann's Kinderszenen and Brahms' Paganini Variations are available on a single PentaTone SACD. The original 1974 recording was made in quad, so the center channel was silent. Arrau mined the Brahms for brilliance and the Schumann for atmosphere and charm. It would be hard to overstate the purity and clarity of this combination of well-recorded source material, high-resolution surround delivery medium, and clean amplification. This no-barriers transparency abetted the performer's refinement, sonorities, and dynamic subtleties. Surround was used conservatively, just for ambience, which allowed the piano to lift slightly forward of the speakers, producing greater depth than stereo would allow.
<!- ----------------------- Tech Center Ads ----------------------------->

SPONSORED TECH CENTER
<!- ---------------------336x280 ADS------------------------------->
<!- ---------------------FIXED AD------------------------------->
<!- ---------------------336x80 ADS------------------------------->
<!- --------------------Sponsored Link Ads-------------------------------->
<!- ------------------------Bottom Ads---------------------------->