Marantz SR5003 A/V Receiver Page 2
The Marantz provides both XM and Sirius. For compressed audio, the receiver offers M-DAX. That stands for Marantz Dynamic Audio eXpander. The receiver offers a second zone and can repurpose the back-surround channels for biamplifying the front left and right.
Associated gear for this review included my usual stalwarts—Paradigm's Reference Studio 20 v4 speakers running full range, along with the Pioneer BDP-HD1 Blu-ray player, Integra DPS-10.5 universal player, Rega Planar 25 turntable, Shure V97xE phono cartridge, and NAD PP-1 phono preamp. All movie selections were Blu-ray Discs.
TrulyHD
Watching action movies is part of my job. Sometimes I get a kick out of them, sometimes I demo them as dispassionately as I'd take an aspirin, and occasionally they can be bitter medicine. I didn't go into the Steven Seagal-at-Alcatraz vehicle Half Past Dead with high hopes, despite a well-honed bad-guy performance by Morris Chestnut and rapper Ja Rule as an ingratiating sidekick. But the soundtrack arrived via Dolby TrueHD, which gave the source material the best possible chance. The mixer did an outstanding job of balancing loud effects (explosions, gunplay, etc.), dialogue, music that spans the spectrum from hip hop to hardcore, and occasional rainfall with the softly percussive pitter-patter sound of fat raindrops hitting concrete. I set the volume once, set my expectation meter to "Seagal," and enjoyed the movie. With good source material and a lossless signal, this receiver could handle potentially abrasive material slickly. If only life could be this good all the time.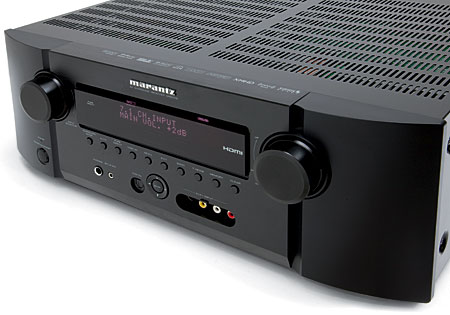 Interview with the Vampire, starring Brad Pitt and Tom Cruise as lead bloodsuckers, still has taboo-breakingly perverse overtones. Even more perverse is the fact that the Blu-ray release is in plain old Dolby Digital, as the packaging, disc menu, and receiver's front-panel display all confirmed. What gives, Warner? If you wanted to go lossy, why not use Dolby Digital Plus? Do you really think repurposing a DVD soundtrack is acceptable to people who pay a premium for Blu-ray? Yet the orchestral soundtrack was magnificent, the trombones swooping low to signify doom and sliding vertiginously to signify horror. Only when all of the channels filled at high volumes did I detect a trace of old-school lossy hardness. Since the previous movie's steroidal effects had been painless, the hardness I heard could well be attributed to the outdated codec.
What Happens in Vegas is an intentionally dumb movie that rides on the charm of Cameron Diaz and Ashton Kutcher and comes with a mildly assaultive soundtrack in DTS-HD Master Audio. Even if my Pioneer player hadn't fallen back to the DTS core signal, the in-your-face loudness-maxed pop music probably still would have been abrasive and crunching. I had been wondering if this receiver would ever muster a single prominent bass effect (primarily a side effect of my going sub-less) when "We Are the Champions" suddenly bounded out of the speakers. Instead of the Queen version, it was a more cheaply licensed substitute, but the bass was still impressive.
On a Different Island
Having already looted the treasure trove that is David Gilmour's Live in Gdask for its DVD concert footage, I came back for more. This time I listened to the bonus DVD's audio-only surround remix of "On an Island" in both DTS and Dolby Digital 5.1. Here a slightly clinical quality became an asset as it helped me parse the fine distinctions between different versions of music I know and love obsessively.
If you know "On an Island" only through its digitally glazed and cluttered CD mix, hearing it in surround can be a revelation. The glaze was still there, but the surround mix spaced out the many layers of instrumentation, producing a finer balance and a more Pink Floyd–like ambience. Not all mixing decisions were ideal—the floating middle section of "Take a Breath" did not need all that ping-ponging in the surround channels. But on the whole, this surround remix was so transformative that I never need to hear the stereo CD again. Oh, and when I compared the DTS and Dolby Digital mixes, DTS came out slightly ahead. But the difference was so subtle, I could have imagined it. I hope the Blu-ray release will let me hear the album again in lossless surround.
When I switched to SACD, the format laid bare one of the receiver's ergonomic quirks. You can't access the 7.1-channel analog input from the front panel. You can only access it via the remote's 7.1 button. If you switch to another input, you have to hit the 7.1 button again to switch off the multichannel analog interface.
That distraction aside, Vintage Cinema is another brilliant Telarc surround mix that features Erich Kunzel and the Cincinnati Pops Orchestra. This time the orchestra showcases brief, dazzling snatches from films from the 1930s to the '60s. My favorite was the excerpt from Miklós Rózsa's score for Hitchcock's Spellbound, which features a quavering female vocal that's not unlike the one from the original Star Trek TV series theme. Marantz's approach to the Telarc/Cincinnati strings—the best string sound current technology affords—was detailed enough to distinguish this SACD material from CD. But it was also clinical enough to deny it that extra increment of warmth and ease that makes the best SACDs sound so un-digital.
The vinyl selection was the Dave Brubeck Quartet's Jazz Impressions of Japan, or as I call it, The Dave Brubeck Album Title Most Likely to Make People Say Huh, What? Despite its lack of a phono input, the receiver greeted the LP like an old friend, gushing warmth and a spacious soundstage in either stereo or derived surround. I used this album to fool around with the receiver's wealth of stereo-to-surround modes, including the omnipresent Dolby Pro Logic II music mode, my longstanding preference, plus DTS Neo:6, SRS Circle Surround II, and THX Neural. To do this, I repeatedly pressed the remote's Surround button, which cycled through a half-dozen movie modes, returned to stereo, then cycled among a half-dozen music modes and returned to stereo again.
The main distinction was that Neo:6 and Circle both diffused the instrumental images, especially Paul Desmond's sax, and floated them in a larger but more artificial soundfield. DPLII and Neural maintained more of the feel of the original stereo mix. They added surround fullness but with less effect on the instruments' timbre and spatial relationship to the front soundstage. I grew to like Neural and resolved to give it more attention in the future. Incidentally, the presence of Neural doesn't signify THX certification. It sometimes appears in non-certified receivers like this one.
Strong Fundamentals, Multiple Modes
The Marantz SR5003 reflects the historical strengths of Marantz's receiver line. Among the audio fundamentals, it has a better sense of dynamics than the power spec suggests. Feature pluses include the auto-setup smarts of Audyssey MultEQ, the now requisite HDMI 1.3, and onboard decoding for the latest in lossless surround. And Marantz ladles on the surround-adaptive modes with a generous hand. It's one of the few receiver brands to license THX Neural and one of even fewer brands to license SRS Circle Surround II. If you have a large music library and an experimental disposition, you will have hours of wholesome fun with these listening-mode alternatives. For less than a thousand bucks, this receiver has a few aces up its sleeve.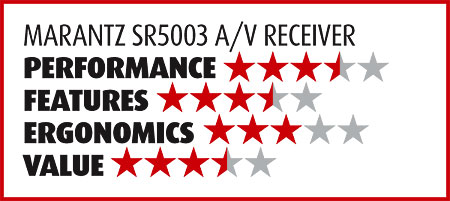 <!- ----------------------- Tech Center Ads ----------------------------->

SPONSORED TECH CENTER
<!- ---------------------336x280 ADS------------------------------->
<!- ---------------------FIXED AD------------------------------->
<!- ---------------------336x80 ADS------------------------------->
<!- --------------------Sponsored Link Ads-------------------------------->
<!- ------------------------Bottom Ads---------------------------->