Marantz SR-7000 A/V Receiver Page 2
The SR-7000 displayed a warmth that's more characteristic of a tube-type amplifier. This was by far the most musical A/V receiver I've ever heard. Track after track, I noted a very open and transparent soundstage. The SR-7000 didn't seem to taint the sound like other integrated receivers do.
I particularly enjoyed the five-channel stereo mode. I personally would never listen to music in anything but two-channel; however, it's nice to have the ability to make your $1,500 rear speakers do more than just complement the mains from time to time.
Before I get in to theater performance, I'd also like to comment about one part of this receiver that we rarely ever discuss in our reviews—the AM/FM tuner. Typically, we don't review this particular aspect of a receiver because, to be honest, we've never seen one that's above-average—one that blows wind up our skirts. However, the AM/FM tuner on the SR-7000 could very well be one of the nicest tuners integrated into an A/V receiver. Sure, having 50 presets is something to brag about, but only if you can actually tune in to 50 stations, right? I live in an area of Orange County, California, known for poor reception. With the SR-7000, I was able to pull in stations I never knew existed. This is a very nice touch.
Finally, the moment of truth . . . it was time to find out what this evil receiver is really made of. I popped a copy of The Matrix into my DVD player and began the theater performance evaluation. Right out of the gate, the amp showed some guts and was able to punch through action-packed scenes with ease. At no point was there a need to back off the volume—this receiver delivered an enormous soundstage, complete with width, depth, and detail. To be honest, I was shocked at the performance. Not only were the details exceptional, but the midbass from my power-hungry Mirage speakers kicked me straight in the wedding tackle.
I noted that the vocals and onscreen information were precise and uncolored, even at higher volume levels. Sounds were placed accurately in the room with virtually no audible crosstalk.
For years, I've preached the importance of pre/pro and amp separates because there has never been an A/V receiver capable of both the detail and awesome processing capabilities of a preamp/ amp combination. I won't go so far as to say the SR-7000 is better than separates, but it sure as heck raises my expectation of what other receivers ($799 or otherwise) should be capable of.
The SR-7000 is very shagadelic indeed, leaving me with thoughts that the perfect A/V receiver does exist.
Highlights
• Great bargain at only $799
• Loaded with features
• The most musical receiver Clint has ever heard

HT Labs Measures: Marantz SR-7000 A/V Receiver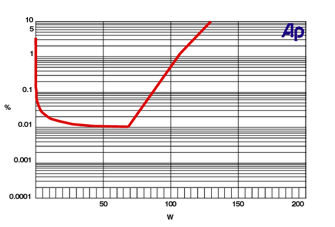 The above measurement shows that the SR-7000's left amplifier channel, with two channels driving 8-ohm loads, began clipping at 0.01% distortion and 68.4 watts. The amp reaches 0.1% distortion at 86.6 watts and 1% distortion at 105.1 watts, as shown above. Into 4 ohms, the amplifier began clipping at 131.3 watts and reaches 0.1% distortion at 165.5 watts and 1% distortion at 189.5 watts.
The analog frequency response was +/-0.57 decibels from 20 hertz to 20 kHz. The response dropped to -1.04 dB at 10 Hz and to -51.3 dB at 50 kHz. THD+N from the amplifier was less than 0.042% at 1 kHz while producing 2.83 volts into an 8-ohm load.
From the Dolby Digital input to the loudspeaker outputs, the left, center, and surround channels are all flat, +/-0.74 dB from 20 Hz to 20 kHz.
From the Dolby Digital input to line-level output, the LFE channel is +0.02 dB at 20 Hz when normalized to 40 Hz and reaches the 6-dB down point at 118 Hz.—AJ
<!- ----------------------- Tech Center Ads ----------------------------->

SPONSORED TECH CENTER
<!- ---------------------336x280 ADS------------------------------->
<!- ---------------------FIXED AD------------------------------->
<!- ---------------------336x80 ADS------------------------------->
<!- --------------------Sponsored Link Ads-------------------------------->
<!- ------------------------Bottom Ads---------------------------->