Logitech Squeezebox Duet Digital Audio Receiver Page 2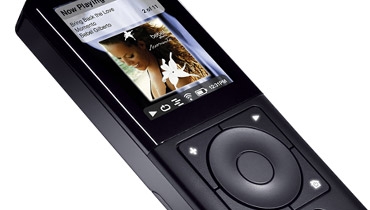 The Live Music Archive offers free access to thousands of performances, including hundreds of Grateful Dead concerts arranged by date and location. I found several I'd attended in Northern California. The quality of these live selections varied from terrible to terrific. And the listed bit rate for each performance doesn't tell the whole story, since some of the "160 kbps" recordings sounded like they had been originally made with a microcassette recorder used for dictation.
As an NPR junkie, I had a field day adding multiple public-radio stations from New York State and California, giving me the ability to listen to my favorite shows at a variety of times without being confined to the finite program choices of a particular station. Popular podcasts can be streamed but not downloaded. Alternatively, you could use your computer to download a greater variety of podcasts and then use the Duet to play them.
Using the Duet to stream local stations you can already receive on a transistor radio may seem superfluous, but in fact I'm now able to receive AM stations that my A/V receiver seems incapable of tuning. I've discovered some terrific Internet music stations, including the self-explanatory Secret Agent: The Soundtrack for a Stylish, Mysterious, Dangerous Life. It makes me feel stirred, not shaken.
I was able to leverage a Rhapsody subscription ($12.99 a month) that I already use on both a computer and my TiVo. Rhapsody is a music-on-demand service that offers immediate access to more than 4 million tunes that stream in at 128 kbps. I quickly assembled a library that I could sort by artist, album, genre, playlist, and channel. (Channel offers customizable radio stations that emphasize a particular artist, interspersed by similar artists.) I found myself coming home from the office and regularly visiting Rhapsody on the Squeezebox Duet to hear more of an artist whom I initially heard streaming over my computer at work. That's how, for example, I started listening to KT Tunstall and George Strait. I found scroll-wheel entry a respectable compromise between the obtrusiveness of a keyboard and the slowness of TiVo-style word entry. As with TiVo, Rhapsody suggests ways to complete a search phrase as you enter characters.
The Duet has free Internet-sourced audio extras, including a variety of musical effects (bongo tech, cool cats, etc.), natural sounds (babbling brook, crickets, shore and seagulls), and sound effects (ambulance, wind chimes). You can use the controller as a timer to fall asleep to music, as well as an alarm clock to wake up. I came close to setting the Squeezebox to sound off with a crowing rooster at 5:15 a.m. on the Bose by my bed, but I soon realized it would annoy the dog. Other extras include an information browser that provides real-time headlines from such outlets as the BBC, CNET, and The New York Times. You can also access a Flickr account and view photos.
Others may disagree, but I found streaming music stored on my networked computer to be the least interesting of the Squeezebox Duet's capabilities. The main reason is that the Squeezebox won't play content protected by digital rights management (DRM), whether purchased through Apple iTunes or other sources. Then again, how many times can I listen to my own collection when there's a plethora of new possibilities available from Internet radio or on-demand services like Rhapsody?
One advantage you do have when playing music stored on your home network is that you can fast-forward through a song and resume play from any point, whereas music streamed from the Internet restricts you to skipping to the next track or starting the song again. Also, with local music, you can play uncompressed (WAV) files or choose your encoding rate if you happen to rip your own CDs. With Internet-streamed music, you're typically limited to 64-, 96-, or 128 kbps; with news and talk, 32 kbps.
I found that the controller maintained a charge for about 8 hours when removed from its cradle. You can see the percentage of power left via a dynamic battery icon. I was able to move more than 100 feet from the receiver, in an area separated by two walls, and still maintain control. (As with other 802.11b/g Wi-Fi devices, you may be able to get up to 300 feet away.) When the controller is idle, a moving clock face inhabits the screen - a charming analog touch in a thoroughly digital device.
BOTTOM LINE
The Squeezebox Duet's breakthrough is putting the display on a very usable Wi-Fi remote - an advancement that lets you navigate and enjoy streamed audio from the comfort of your home theater's couch. And it's also a comprehensive portal to the global pleasures of Internet radio. The more you use the Duet, the more you discover how much music, news, and more is out there. As the hours pass, you just may forget your TV.
<!- ----------------------- Tech Center Ads ----------------------------->

SPONSORED TECH CENTER
<!- ---------------------336x280 ADS------------------------------->
<!- ---------------------FIXED AD------------------------------->
<!- ---------------------336x80 ADS------------------------------->
<!- --------------------Sponsored Link Ads-------------------------------->
<!- ------------------------Bottom Ads---------------------------->