LG 47LH90 LCD HDTV Page 3
I started my test suite with the Spears & Munsil HD Benchmark Blu-ray test disc played at 1080i. The 47LH90 never picked up the 3:2 or 2:2 cadences in material captured at 1080p/24 and 30, respectively, and stored on the disc as 1080i. On the material that was captured and stored at 1080i, jaggies were minimal, but there was a lot of flickering in the one-line-on/one-line-off circle.
On the 480i test, there were a few jaggies in the edge of the hockey safety glass and only a few more in the bridge rigging, but there were none in the waving flag. The scrolling video text over film showed no breakup, but the vertical scroll was somewhat jittery.
Next, I turned to the FPD Benchmark Blu-ray. This disc isn't available to the pub- lic, but it's wonderful for evaluating the efficacy of frame interpolation. The 47LH90's TruMotion 240Hz did an excellent job of sharpening motion blur without introducing untoward artifacts, so I left it on.

Real-World Performance
Cars on Blu-ray has another great test of frame interpolation. Near the beginning of the film, a shot shows the three race leaders being profiled. When the announcers focus on Lightning McQueen, he appears for a few seconds in a picture inset in front of an array of bright blue lights.
Frame interpolation can induce obvious smudging in this array, but the LG handled it beautifully. TruMotion 240Hz also sharpened other motion, such as pans across the stadium and the cars whizzing around the track. In addition, the blackouts at the very beginning of the movie were very black.
For another test of black performance, I turned to Stargate: Continuum on Blu-ray, which opens with a star field in outer space. It was plenty black, but like almost all LCDs I've seen so far, fewer stars were visible than you can see on a good plasma. Again, Tru-Motion 240Hz sharpened motion detail considerably, and the color was excellent. However, shadow detail in dark scenes was only so-so.
Master and Commander: The Far Side of the World (Blu-ray) has some great shadow detail tests, including the watchman's belowdecks walk at the beginning of the film. As I expected, the LG's performance in this regard wasn't great, but it was also inconsistent. Some dark scenes looked quite good, while others had large areas of solid gray. On the plus side, color and detail were superb.
As I was watching Master and Commander, I noticed something odd—the letterbox bars weren't as black as they should have been. Instead, they were a dark gray, and not even a uniform gray at that. They seemed to be slightly lighter when they were next to bright areas of the image. This probably occurred because the local dimming was bleeding into the bar area.
I saw the same issue on Hidalgo, although in both cases, it was less obvious on very bright shots. The detail was sharp and crisp, and the color was outstanding. However, the shadow detail wasn't up to the same standard.
To test the 47LH90's standard-def performance, I watched some of Star Wars Episode VI: A New Hope on DVD at 480p. The black of space was nice and deep, and there was no sign of frame-interpolation artifacts. The shadow detail in Darth Vader's shuttle was mediocre, and the overall detail wasn't quite as sharp as I've seen on other 1080p sets displaying SD material. On the plus side, color was excellent.
The 47LH90's off-axis performance was pretty good, probably because LG uses in-plane switching (IPS) LCD panels. These panels are better in this regard but have higher black levels than vertical alignment (VA) panels. Even so, I wouldn't want to watch this LCD at more than 20 degrees or so off axis. Beyond this, the apparent contrast goes to hell. On the plus side, LED local dimming takes care of the higher black levels in IPS panels.
Conclusion
LG got many things right with the 47LH90, including deep blacks, gorgeous color, superb detail, and great frame interpolation. The feature set includes some welcome items, such as the Picture Wizard, Blue-only mode, and 10-point calibration. The remote is easy to use, and the menu is well organized, even if it takes an extra unnecessary step to enter.
On the downside, shadow detail isn't all that good. Black letterbox bars can appear dark gray and uneven depending on the image brightness in different areas. Also, the THX Cinema mode isn't as close to correct as it should be, so this set will need a professional calibration to look its best. Finally, it failed some important video processing tests, and SD content didn't look quite as sharp as I've seen on other sets.
At $2,400, the 47LH90 costs far less than last year's LCDs with LED local dimming, which is certainly a move in the right direction. Can I recommend this TV? Yes, but not without a few reservations. If you think you can live with its shortcomings, its strengths are well worth a closer look.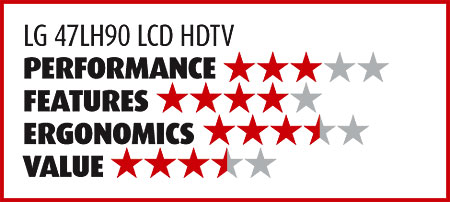 <!- ----------------------- Tech Center Ads ----------------------------->

SPONSORED TECH CENTER
<!- ---------------------336x280 ADS------------------------------->
<!- ---------------------FIXED AD------------------------------->
<!- ---------------------336x80 ADS------------------------------->
<!- --------------------Sponsored Link Ads-------------------------------->
<!- ------------------------Bottom Ads---------------------------->