Lexicon RV-8 A/V Receiver Page 2
Instead, the congregation will please skip over these 29 pages of potential confusion and turn to the first important configuration and setup job, Speakers. The basic procedure for setting size and distance is typical so I won't go through it. However, Lexicon adds a layer of extra flexibility by allowing you to configure the crossover points in 10Hz increments from 30-120Hz (with a 24dB/octave slope). If you select the THX setting, the processor applies the standard 80Hz crossover point all around (at 12dB/octave for the main speakers, 24dB/octave for the subwoofer).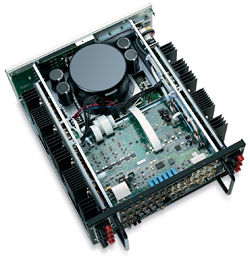 There's a THX Ultra2 Sub option if your sub is so certified. A BGC (Boundary Gain Compensation) setting applies a 55Hz highpass filter to all listening modes and audio outputs should your speakers be placed close to bass-boosting walls and corners. THX's ASA (Advanced Speaker Array) option optimizes THX rear-speaker performance and requires the rear speakers be placed close together.
Speaker-distance settings can be adjusted from 0 to 30 feet (or up to 12 meters for metric-centrics). You can set levels using the built-in test tones, or you can use a test disc containing your choice of tones at a level from -18dB to +12dB.
The eight sets of 2-channel analog inputs can be configured as such, or as five 2-channel inputs and one 5.1-channel input (for SACD or DVD-Audio), or as two sets of 5.1-channel inputs and two 2-channel inputs. You can configure the RV-8 for a 7.1-channel setup, in which case all the amplifiers function in the main zone, or you can set up a 5.1-channel system and assign the remaining two channels to zone 2 or 3.
There are pages of setup options for the onscreen display that I won't go into, and an A/V sync delay lets you delay the audio to achieve sync with video delayed by processing. A sliding bar graph allows continuous delay setting from 1 to 60 milliseconds.
You can easily apply custom names to all inputs and set default volume and mute settings for all three zones as well as for the headphone jack. I'll spare you the tuner setup procedure, except to say it offers maximum flexibility, including 40 presets that can switch seamlessly between AM and FM, tune/seek scanning, and direct access to a particular frequency.
Modal analysis
Listening modes can be selected for 2-channel, Dolby Digital, DTS, and 5.1-channel analog sources, and there are a few for use with headphones. When you're setting up a specific input (DVD1, for example), the you can choose the listening mode to which the receiver will automatically default when the DVD's audio track is stereo, Dolby Digital, DTS, or 5.1-channel (decoded) analog. If you're a purist, you can select Bypass for a 5.1-channel music source and pass the analog signal all the way through. Should you choose to try a different listening mode while watching a DVD movie, for instance, switching among the available modes for a given source is easy.
Within each of the many listening modes are yet more options you can adjust to suit your listening preferences and tastes. You can spend days or a lifetime adjusting these electronic servants to do your bidding. For example, an entire page of the manual is devoted to explaining how the RV-8 handles Dolby Digital EX decoding on "flagged" and "non-flagged" EX discs, depending upon how you set that listening mode.
Some of the useful enhancements within each listening mode require further explanation. For instance, Auto Azimuth monitors and adjusts the matrix steering when 2-channel sources are enhanced for multichannel sound. Panorama, another Lexicon algorithm designed for stereo and matrix-encoded sources that requires its own calibration, moves the stereo image outward from the front speakers. It's especially useful if your front speakers are parked close to either side of your display device. Another control lets you compensate for the primary listening position if it is not centered between the front speakers. So if your wife likes to sit in the middle, you can set the "sweetest spot" to be where you're relegated to sit, without her knowing about it!
A particularly useful adjustment is Soundstage, which controls relative front-to-rear balance. It's good for switching between movies and surround music if your side and rear speakers are positioned close to your listening position (ideal for films, incorrect for surround music where a central seating position is optimum). There is even a control that lets you instantly compare the factory default listening mode with the one you've custom-configured.
Another "fun for A/V nerds" menu is Status, which, when used in conjunction with the onscreen display, monitors the chosen input, the listening mode, its settings, the channel levels on a bar graph, the sampling rate, and bit depth.

Within the Audio Controls menu are standard bass and treble controls with up to 6dB of boost and cut. Lexicon provides a useful graph showing what frequencies are affected. There's also a +/-3dB Tilt EQ control with a hinge point at 1kHz. Increase the control and frequencies above 1kHz are boosted, while those below 1kHz are simultaneously cut. There's a graph showing the effect in detail, along with one showing the Loudness Contour control's effect. Very useful L/R balance and front/rear fader controls are also within the Audio Control menu.
I will now stop describing the possible operating adjustments, but rest assured I haven't come close to describing them all, and the ones I have covered only received surface treatment. That's how versatile this receiver is. The learning remote's configuration and operation would require a separate full-length review, as would the multi-zone options.
Firing it up
Once you've configured the RV-8 to your liking (which could take months if you're finicky, or half an hour if you're content with the factory default settings), you'll find this receiver makes a nice physical sound when powered up, the heavy-duty relays clicking with a muscular assurance. The front panel is easily read, revealing what you're listening to and in what mode. The only time confusion might reign is if you leave the remote's main page and start pushing buttons, so be sure you're fingers are on the same page as your brain. Other than that, the RV-8 operates and switches with the precise feel and responsiveness you are entitled to when you spend $7000 on an A/V receiver.
When the Linn Kisto pre-pro ($12,995), twin 5125 5-channel amplifiers, and Akurate 5.1-channel speaker system were boxed up and shipped off, I moved on to a relatively inexpensive, but ambitious Infinity Beta system (full review to come), driving it with the Integra DTR 9.1 receiver and still using the Linn Unidisk player as a video source. Picture and sound degradation was immediately noticeable, which was no surprise given the huge price differential between the two assemblages. The DTR 9.1's video-switching facilities were not capable of passing the Unidisk's pristine, low-noise video signal with the same level of overall clarity, stability, brightness, and focus as the Kisto over the 30-foot run of component video cable required to bring the signal to my 65-inch Hitachi RPTV. I knew that when I first installed the Kisto. The $3600 Integra, among the best receivers I'd heard up to that point, was surely good enough to draw the most from the moderately priced Infinity system, I thought, but when the RV-8 was installed, I discovered how wrong I was.
There's been a debate raging for years among audiophiles about whether one should devote more system money to speakers or amplifiers. I've been inclined to say speakers, but when I drove the (approximately) $3000 Infinity Betas using the Lexicon RV-8, it was transformed from a pleasant-sounding system to one that stepped up to almost top-shelf performance. The bass produced by the floor standing Beta 50s, which had been impressively deep but undistinguished and soft sounding, firmed up and gripped the music with a new-found rhythmic authority. The slightly metallic top end became sweeter, airier, and more extended, and most importantly, the entire sonic picture cohered, delivering overall sonic performance one usually expects from far more expensive speakers.
The C360 is a large, ambitious, 35-pound center-channel speaker, featuring dual 6.5-inch mid-woofers, a 4-inch midrange, and a 1-inch tweeter—all fabricated using Infinity's CMMD ceramic metal matrix cone material. Priced at around $300, my expectations were muted, and through the DTR 9.1, voices sounded reasonably good, but not convincingly "organic" or transparent. Driven by the RV-8, the C360 proved to be a startlingly good center-channel speaker, capable of producing the kind of unforced, colorless, and coherent male and female voices one expects to hear from far more expensive center-channel speakers.
Together with the Lexicon receiver, the Beta system produced an effortless, effervescent, full-bodied, transparent, three-dimensional soundstage one usually associates with speaker systems costing tens of thousands of dollars—and I'm not exaggerating. The pricey Linn Akurate system—a gorgeous looking and sounding system—was gone, but the sound it produced remained in my head, and when the Beta system was driven by the RV-8, a close version of that impressive sound returned to my home theater listening space.
I'm not suggesting that the Beta system's transparency, microdynamic clarity, or resolution of low-level detail—or its cosmetic appeal—were in the same league as the Akurate system, but it was closer than I thought possible for about a sixth of the price. That's something I would not have discovered had I not driven the reasonably priced speaker system with what some might consider an unreasonably priced A/V receiver.
I can't say the RV-8's decoding of Dolby Digital and DTS DVDs was startlingly (or even noticeably) superior to that of the Linn Kisto—or the DTR 9.1 for that matter—but Lexicon's Logic7 algorithm for deriving 7.1 channels from 5.1 sources was startlingly good. As advertised in the instruction manual, it provided "remarkable improvement compared to other decoders." Also as advertised, it ". . .increases the perceived length and sense of envelopment of the listening space." For the first time in my space, a pair of ES/EX rear speakers actually provided a worthwhile sonic enhancement instead of a distraction. The rear stage coherence was remarkable, with a smooth curtain of sound wrapping seamlessly around from the side speakers to the rears. Individual images appeared convincingly and with pinpoint precision in that space, and when the source material was good enough, the sensation of being in another space altogether became almost disorienting.
Combine that level of spatial performance with the timbral accuracy and muscular rhythmic grip of the RV-8's 7x140 watts of amplification, and you have sound that makes you sit up and notice. You can get more powerful amplification with separates, but the RV-8 might be all you need and more. If you combine your music listening and movie watching in one system, the RV-8 will get both jobs done equally well.
Well-recorded 5.1-channel SACDs, such as those from Linn and Chesky, are rendered with a spatial and tonal effortlessness one associates with expensive 2-channel audiophile music systems—though, of course, with greater three-dimensionality mixed in 5.1. One Linn disc that I recommend for its tonal splendor is called The Trumpets That Time Forgot (Linn CDK242), featuring brass and the magnificent sounding Hereford Cathedral pipe organ. While the relatively inexpensive speakers lacked the supple sophistication and overall believability of what lurks in my downstairs 2-channel lair, they demonstrated an admirable subjective tonal flatness and an overall coherence one associates with far more expensive speakers. The brass, the lowest organ notes, and the sense of cathedral space were delivered by the expensive receiver and inexpensive speakers with admirable aplomb, even when I pushed the volume beyond sonic realism.
Another disc that demonstrated the quality of the receiver's amplifier section was Chesky's Area 31 SACD, featuring three intensely original compositions written by David Chesky and played by the Area 31 ensemble. There's a concerto for violin and orchestra, one for flute and orchestra, and a vocal piece, all of which were delivered with the rhythmic drive, transient clarity, and tonal sophistication of a credible music system.
I recently reviewed a double-LP set featuring Dylan songs remade as reggae called Is it Rolling Bob? on my music review Web site, and when a DualDisc version arrived the other day (Silverline 284603-2) featuring a 5.1-channel DVD-Audio mix of the album, I popped it in the player and was pleasantly surprised by the taut, muscular bass; the shimmering, non-sizzly cymbals; and the convincing physicality of the vocals. Hearing instruments coming from the sides is not my idea of a sonic thrill, but this mix made it more fun than faux.
The powerful analog amplifiers driven by a conventional (and heavy) power supply produced the kind of full-bodied, weighty physical sound I crave, on both movies and music, and their grip on the speakers was as good as any separate 5.1-channel amplifier I've heard.
On the video side, the "broadcast quality" component video circuitry (>150MHz bandwidth) appeared to be the equal of that in the Kisto, and it produced bright, noise-free, finely focused, stable, and transparent images on my 65-inch Hitachi CRT RPTV. The design goal was to pass the video signal without alteration or degradation, so aside from the ability to upconvert composite and S-video (NTSC, PAL, and SECAM) to 480i component, the RV-8 features no video processing. I'm far more comfortable with that than a design that forces the signal through a scaler or video processor.
I watched lots of familiar DVDs and HD (from D-VHS) using the RV-8. Without running you through a boring list of exactly what they were, I'd put it up against most pre-pro/amplifier combos and I'd bet you'd be hard pressed to hear (or see) much of a difference unless you were using monoblocks on each channel.
Conclusion
Lexicon has taken its preamp/processor expertise and combined it with equally impressive amplification to create what is clearly one of the most versatile and finest performing A/V receivers currently available. Build quality, fit 'n' finish, cosmetics, and the way the receiver crisply executes the commands you give it are all first class. It lacks the Linn Kisto's simplicity, compactness, design elegance, and ease of use, but the Lexicon RV-8 offers more features, more sophisticated configurability and surround processing, and a very good MM phono section and AM/FM tuner. It's THX Ultra2-certified, costs around $6000 less, and includes 7x140 watts of amplification.
Comparing the RV-8 with the Kisto is a bit unfair since these products are aimed at somewhat different market segments. Both will appeal to high-performance enthusiasts, but one is meant for the "set it and forget it" segment (Kisto), while the other will appeal more to the A/V hobbyist—though I'm sure Lexicon will be quick to point out that their receiver is custom-install friendly and, once configured, can be used with ease.
The Lexicon RV-8 is, by a wide margin, the best-sounding A/V receiver I have ever heard, and it's surround processing acumen is singular in my experience. So it was a no-brainer for me: I bought the review sample. It is a genuine reference against which I can measure the performance of both A/V receivers and separates. It's a splendid piece that I can recommend with great enthusiasm. If you can drop $7000 on an A/V receiver, get this one. You won't be disappointed.
Highs and Lows
Highs
• Sound quality competitive with the best available
• Exceptional (if sometimes intimidating) flexibility
• Top-grade fit, finish, and build quality
Lows
• The most expensive receiver on the market
• Sometimes intimidating in its capabilities
• Owner's manual thorough but could be better organized
<!- ----------------------- Tech Center Ads ----------------------------->

SPONSORED TECH CENTER
<!- ---------------------336x280 ADS------------------------------->
<!- ---------------------FIXED AD------------------------------->
<!- ---------------------336x80 ADS------------------------------->
<!- --------------------Sponsored Link Ads-------------------------------->
<!- ------------------------Bottom Ads---------------------------->