Lawless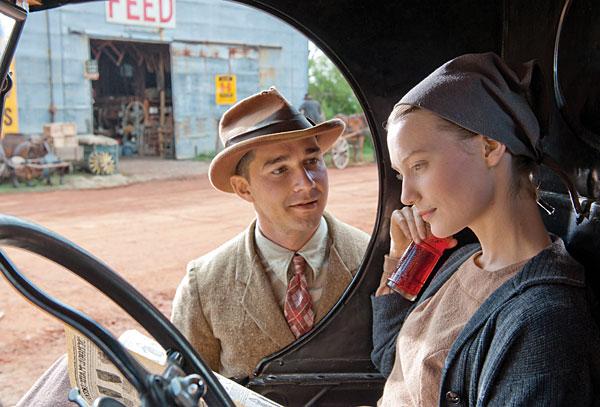 Cinematically speaking, good ol' boys living in the backwoods during the Prohibition era means plenty of fiddle music, chewin' tobacky, and Tommy guns. And when Old Bessie runs out of gas, just pour some of that pure grain alcohol in the tank, and you're off like blazes. Moonshine, Pop Skull, Everclear, White Lightning, or whatever you want to call it, if what you're drinking is flammable and can double as gasoline, it might not be fit for human consumption. Just a layman's perspective, I could be wrong. Shia LaBeouf leads a superb cast as the youngest brother, and Tom Hardy is the eldest sibling full of sage advice but is almost as unintelligible as he was in The Dark Knight Rises. Guy Pearce and Gary Oldman lend much credibility and pizzazz to the proceedings as ruthless and psychotic mobsters.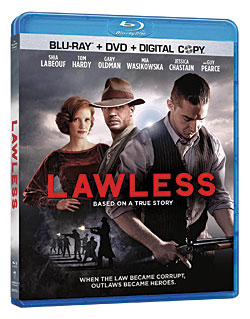 It's a marvelous picture all around. The scenic vistas of Virginia look superb in HD. Period detail is sharp and clear inside and out. Textured surfaces of wood and metal are crisp and vivid, as are the period costumes. There's only the slightest soft focus and image blur in instances of brisk camera movement. The DTS-HD Master Audio 5.1 offers a consistently full surround mix filled with subtle and effective background ambience. The lively chatter of a speakeasy, the chug-chug of a Model T engine, and machine gun fire all impress the senses without overwhelming the dialogue track or vice versa.
Extras include a feature-length audio commentary, deleted scenes, a music video, and three featurettes that cover the making of the film. A bonus DVD and Digital Copy are also included. Lawless features an excellent cast, top-notch production design and cinematography, and produces a believable and authentic universe.
Blu-Ray
Studio: Starz/Anchor Bay, 2012
Aspect Ratio: 2.35:1
Audio Format: DTS-HD Master Audio 5.1
Length: 116 mins.
MPAA Rating: R
Director: John Hillcoat
Starring: Shia LaBeouf, Tom Hardy, Jessica Chastain
Making a living during the Great Depression carried with it certain necessities. For three orphaned brothers living in the backwoods of rural Virginia in the early 1930s, making moonshine and selling it to the locals was a very profitable but dangerous business. The fundamental rule of mob warfare applied there, too: If you want to live to enjoy the spoils, you have to have the balls and the will to do what the other guy won't. When the Chicago mob tries to muscle in on their territory, the proverbial fecal matter hits the fan and through all the violence and brutality, somehow these bootleggers become folk heroes in the process. Based on the true story of the Bondurant brothers, Lawless is an appropriate title.
<!- ----------------------- Tech Center Ads ----------------------------->

SPONSORED TECH CENTER
<!- ---------------------336x280 ADS------------------------------->
<!- ---------------------FIXED AD------------------------------->
<!- ---------------------336x80 ADS------------------------------->
<!- --------------------Sponsored Link Ads-------------------------------->
<!- ------------------------Bottom Ads---------------------------->