Kenwood Sovereign DV-5700 DVD-audio/video player
Kenwood's new Sovereign line features three DVD players. The DV-5700, a 5-disc carousel model, is compatible with most consumer-format 5-inch optical discs: DVD-Video, DVD-Audio, CD, and MP3. SACD is the most obvious omission, but not much else is left out. There are onboard Dolby Digital and DTS decoders for that shrinking group of consumers without such decoders in their surround processors or A/V receivers.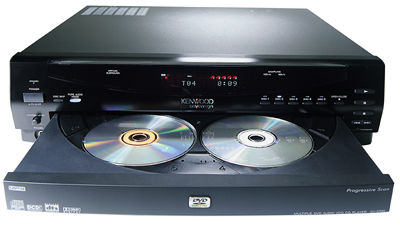 While all three Sovereign DVD players can output a progressive-scan signal, only this one and the 400-disc DV5900M include video processing and deinterlacing technology by Faroudja.
All the Pretty Horses
I found the DV-5700's carousel feature more of a nuisance than a help, but my experience with carousel changers of any stripe, CD or DVD, is severely limited. I've always been a one-disc-at-a-time kind of guy. And while I can't imagine anyone who needs to load five films at once (CDs are a different matter), I can see some advantages to a carousel for video. You could, for example, load up your cartoon disc, short-subject disc, and two feature films for a long movie night. Or, if your movie sessions always begin with some riveting test patterns, you could keep copies of the Video Essentials and/or Avia test discs in the player at all times for easy access.
My main gripe with the DV-5700's carousel—and this may well apply to all carousel-type multi-disc players—was that when I wanted to remove a disc, I had to rotate the drawer until the disc was front and center (only two of the five disc trays are visible at any one time). Sometimes the disc would rotate out of sight again before the tray stopped; I then had to engage the merry-go-round two or three more times before the disc would stop in front. Once I grew so impatient that I plucked the DVD from its tray as it went flying past. But I'm a professional; don't try that at home.
Furthermore, as with most DVD players, one push of the DV-5700's Stop button stops the disc but leaves it in a standby mode, ready to resume from the same point if you subsequently push Play. With a single-disc player, when you then open the drawer the disc comes out with it. But with a carousel, if you open the drawer while a disc is in this standby status, the disc you just stopped is no longer on the tray but is being held in the laser/read mechanism and you won't find it no matter how many times you rotate the open tray. You have to close the drawer, push Stop twice, open the drawer, and rotate the tray using the Skip Disc button to retrieve it. That's not a problem after you learn the drill, but until you do, it could leave you scratching your head.
All the usual DVD/CD playback features are here: a variety of search modes, programmed play, repeat, resume play, parental control, etc. There's also a Pure Audio Mode that shuts off the video circuits to minimize the possibility of video interference affecting the quality of audio-only playback.
Saddle Up
Setting up the Sovereign DV-5700 is straightforward for anyone experienced with DVD players, and not all that difficult for anyone else. All setup functions are available from onscreen menus, but only with the player stopped. Some DVD players allow you to access the setup menu with the player running, which is preferable: it allows you to observe the effect of a change immediately. For example, one of the Kenwood's setup options, TV Monitor Type, provides a choice of settings for five different types of display: Standard (CRT direct view), CRT Projector, LCD Projector, Projection TV (presumably, a CRT rear projector), and PDP (plasma display panel). From what I could see, there were no significant differences among these settings. But fast, direct comparisons among them was impossible; to make a change, you have to stop the disc, go into the setup menu, change the setting, exit setup, then restart the disc.
One problem with DVD-Audio is that bass management—the option to direct bass from some or all of the main speakers to a subwoofer—is not available on most current DVD-A players, A/V receivers, or surround processors. The bass management used for other modes in these devices does not function with DVD-A. The Kenwood provides DVD-A bass management, configurable via its Sound setup menu. The bass management also serves the player's internal Dolby Digital and DTS decoders—if you choose to use them. But apart from possibly better sound, you might opt to use the DD and DTS decoders in your A/V receiver or surround preamp-processor for greater crossover flexibility. The Kenwood provides only one frequency: a slightly high but adequate 100Hz.
<!- ----------------------- Tech Center Ads ----------------------------->

SPONSORED TECH CENTER
<!- ---------------------336x280 ADS------------------------------->
<!- ---------------------FIXED AD------------------------------->
<!- ---------------------336x80 ADS------------------------------->
<!- --------------------Sponsored Link Ads-------------------------------->
<!- ------------------------Bottom Ads---------------------------->