James Bond Blu-ray Volume One & Two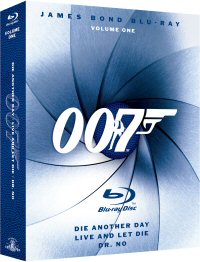 His name is Bond, James Bond, Ian Flemming's immortal action hero who has graced the silver screen for over 45 years. Everyone has their favorite Bond—is it Sean Connery, Roger Moore, Timothy Dalton, Pierce Brosnan, George Lazenby, or Daniel Craig, the latest actor to prefer his martinis shaken, not stirred?
Six classic Bond films make their debut on Blu-ray, available in two separate box sets or for individual purchase. Volume One includes Dr. No, Die Another Day, and Live and Let Die, while Volume Two has For Your Eyes Only, From Russia With Love, and Thunderball. Connery, Moore, and Brosnan star in the title role, but Sean Connery is my favorite of the bunch.
All six films boast AVC/1080p transfers and have never looked better. Each of the prints has been meticulously cleaned up—I rarely found any print damage to speak of. Grain is suspiciously absent, pointing to some DNR (digital noise reduction), although this was probably a necessary evil given the advanced age of Dr. No, From Russia with Love, and Thunderball. Detail is pretty good, although much of the principal photography has always had a soft, filtered look. The black levels are acceptable, and color saturation varies by movie but never disappoints.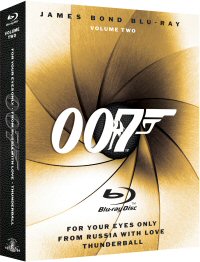 Each movie includes a DTS-HD Master Audio 5.1 soundtrack with varying degrees of quality. As expected, the newer the film, the more dynamic the presentation, but the older titles don't sound bad by any means. Dr. No, From Russia with Love, and Thunderball have the least to offer in terms of a "wow" factor—they are true to their mono roots with a collapsed soundstage and very little surround activity. The best of the bunch in terms of audio is Die Another Day, which happens to be the newest, but it's also the worst film in either collection. I guess you have to take the bad with the good, right?
Each disc sports its own variety of HD and SD bonus features with trivia tracks, behind-the-scenes featurettes, music videos, and much more. In addition, each film contains an e-Movie coupon for a free ticket to the next Bond film, Quantum of Solace, which hits theaters next month.
Bond made his debut on Blu-ray with the release of Casino Royale, which I think is the best Bond movie ever. But I still enjoy the older classics, especially Dr. No and From Russia with Love. Recommended for fans.
Release Date: October 21, 2008
Dr. No
Movie: 9/10
Video: 8/10
Audio: 7/10

Live and Let Die
Movie: 7/10
Video: 8/10
Audio: 8/10

Die Another Day
Movie: 6/10
Video: 8/10
Audio: 9/10

For Your Eyes Only
Movie: 7/10
Video: 8/10
Audio: 8/10

From Russia with Love
Movie: 9/10
Video: 8/10
Audio: 7/10

Thunderball
Movie: 7/10
Video: 8/10
Audio: 7/10

Review System
Source
Panasonic DMP-BD30

Display
JVC DLA-RS1 projector
Stewart FireHawk screen (76.5" wide, 16:9)
Electronics
Pioneer Elite SC-05 AVR
Belkin PF60 power conditioner
Speakers
M&K S-150s (L, C, R)
M&K SS-150s (LS, RS, SBL, SBR)
SVS PC-Ultra subwoofer
Cables
Monoprice HDMI cables (source to pre/pro)
Best Deal analog-audio cables
PureLink HDC Fiber Optic HDMI Cable System (15 meters) from pre/pro to projector
<!- ----------------------- Tech Center Ads ----------------------------->

SPONSORED TECH CENTER
<!- ---------------------336x280 ADS------------------------------->
<!- ---------------------FIXED AD------------------------------->
<!- ---------------------336x80 ADS------------------------------->
<!- --------------------Sponsored Link Ads-------------------------------->
<!- ------------------------Bottom Ads---------------------------->