Walk Hard: The Dewey Cox Story—Columbia Pictures (Blu-ray)
Video: 5/5
Audio: 4/5
Extras: 4/5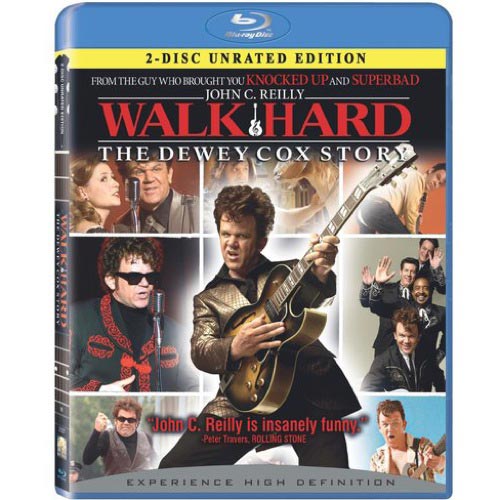 Parodies are always really hit or miss with me. The trailers for this one didn't do anything for me but Judd Apatow has been delivering some great comedies lately (Knocked Up and Superbad) so I was curious to give this one a spin. Unfortunately this wasn't the movie for me. I like comedies, but this one was just too silly for its own good. The longer director's cut didn't help either. Don't get me wrong, there are some incredibly funny moments in this film, but it gets bogged down by some of the over the top moments similar to Apatow's other disappointment, Talladega Nights. Fans of that film will probably find this one appealing in all areas, but I can't say I was much of a fan.
Sony has delivered an interesting presentation with this one. This film was shot with the Genesis HD camera, which has had varying results in terms of quality. I'd say this one is one of the better results. The image is completely devoid of any film grain and noise. This makes for a very "through the window" quality that I think most people love to see when watching HD presentations. Detail is phenomenal and fine object detail is as good as anything I've seen. There is a subtle "glow" to the image at times, which gives lighting and characters a bit of a stylized look at times, but it never distracts and actually adds a bit to the look of the film. Colors are gorgeous and hues are deep and eye popping. This is by far one of the best HD transfers I've seen lately and anyone looking for that pristine HD look will want to check this one out.
The audio is presented in Dolby TrueHD 5.1. Unfortunately I had a lot of issues with this soundtrack. I used a Panasonic DMP-BD30 sending the TrueHD soundtrack out to a Onkyo Pro audio processor for decoding. I got A LOT of audio dropouts during this presentation. This seems to be an ongoing issue with TrueHD soundtracks and the BD30 so I've added a Playstation 3 to my reference home theater and will be moving to it for most Blu-ray reviews. Aside from the technical issues the rest of the soundtrack sounded great. Any comedy about the music industry is probably going to feature a lot of silly songs and this was probably the saving grace of the film for me. The soundtrack is very enveloping with nice use of the surround soundstage and a nice open front soundstage. Imaging was seamless across the main channels and I was surprised at how good even the low end was presented. Dialogue is balanced nicely with the rest of the soundtrack and timbre is dead on.
Sony has delivered no less than a 2-disc set for this release, which is surprising given the rather lackluster appearance at the box office. Most of the extras are in HD, which is always a plus and Sony has gone out of their way to make this a special release. The first disc has two cuts of the film, the theatrical and the unrated extended cut which ups the run time by about 25 minutes. That is a LOT of new footage for a film like this. The second disc is where you'll find the majority of the extras though. This includes full performances of the film's songs, outtakes, deleted scenes, parody commercials and gag interviews with the characters. There is also a full commentary and a look at the production of the film with onset interviews and behind the scenes footage.
The biggest supplement has to be the "BD-Live" feature. This is the first Sony release to take advantage of the Blu-ray 2.0 profile, which is supported by the PS3. The user simply selects this from the menus and the PS3 downloads a couple extras features and some trailers for upcoming Blu-ray releases. While I won't say this wowed me in any big way, it is nice to see that the new profile is up and running.
This is an extensive special edition for a less than compelling film. The movie has its moments, but overall I was watching the clock a lot hoping for the end to come soon. Not a good sign for a comedy. The video presentation is spectacular though and Sony has gone out of their way to make this a feature rich 2-disc edition.
<!- ----------------------- Tech Center Ads ----------------------------->

SPONSORED TECH CENTER
<!- ---------------------336x280 ADS------------------------------->
<!- ---------------------FIXED AD------------------------------->
<!- ---------------------336x80 ADS------------------------------->
<!- --------------------Sponsored Link Ads-------------------------------->
<!- ------------------------Bottom Ads---------------------------->