The Town—Warner Bros. (Blu-ray)
Video: 5/5
Audio: 5/5
Extras: 3.5/5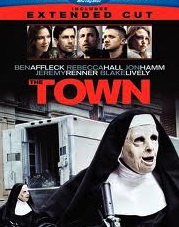 There are over 300 bank robberies in Boston every year. And a one-square-mile neighborhood in Boston, called Charlestown, has produced more bank and armored car robbers than anywhere else in the U.S. One of them is Doug MacRay, but he is not cut from the same cloth as his fellow thieves. Unlike them, Doug had a chance at success, a chance to escape following in his father's criminal footsteps. Instead he became the leader of a crew of ruthless bank robbers, who pride themselves on taking what they want and getting out clean. The only family Doug has are his partners in crime, especially Jem, who, despite his dangerous, hair-trigger temper, is the closest thing Doug ever had to a brother. Everything changes on the gang's last job when Jem briefly took a hostage: bank manager Claire Keesey. When they discover she lives in Charlestown, Jem gets nervous and wants to check out what she might have seen. Doug takes charge and seeks out Claire, who has no idea that their encounter is not by chance or that this charming stranger is one of the men who terrorized her only days before. As his relationship with Claire deepens into a passionate romance, Doug wants out of this life and the town. But with the Feds, led by Agent Frawley, closing in and Jem questioning his loyalty, Doug realizes that getting out will not be easy, and worse, may put Claire in the line of fire. Any choices he once had have boiled down to one: betray his friends or lose the woman he loves.
Warner serves up a great looking Blu-ray for this tight bank heist thriller. Contrast levels are impressive with inky blacks that lend to a very dimensional looking film. Fine object detail is also impressive with even longer shots looking crisp. Colors are bold without any signs of crush or exaggeration. The DTS-HD Master Audio mix is aggressive with plenty of low end and surround activity. Dynamic range is quite impressive, especially in the shootout sequences, and offer up some impressive low end activity that creeps into the infrasonic range.
Director Ben Affleck gives you the full tour for the extras package. Not only does he add commentary tracks for both cuts of the film, he gives you plenty of behind the scenes stuff at key locales throughout the film. Of course the package also includes a DVD copy of the film and a digital copy as well.
While it doesn't quite live up to the bar set by Mann's spectacular "Heat", The Town delivers a solid bank heist thriller with outstanding performances and production. Affleck is proving he is not to be underestimated as a director with this follow up to the outstanding, "Gone Baby, Gone". Highly recommended.
<!- ----------------------- Tech Center Ads ----------------------------->

SPONSORED TECH CENTER
<!- ---------------------336x280 ADS------------------------------->
<!- ---------------------FIXED AD------------------------------->
<!- ---------------------336x80 ADS------------------------------->
<!- --------------------Sponsored Link Ads-------------------------------->
<!- ------------------------Bottom Ads---------------------------->