The Lost Boys—Warner Bros. (Blu-ray)
Video: 4.25/5
Audio: 4/5
Extras: 3.25/5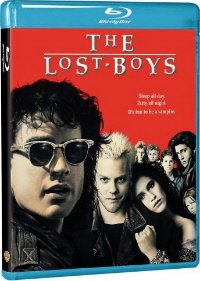 Sam and his older brother Michael are average, everyday teens. But after they move with their mother to peaceful Santa Clara, California, things mysteriously begin to change. Michael's not himself lately. And Mom's not going to like what he's turning into. The Lost Boys reshapes the vampire tradition, deftly mixing heart-pounding terror, rib-tickling laughs and a body-gyrating rock soundtrack.
The Lost Boys was a film that changed my perspectives on a lot of different things. First, it was definitely the first film that portrayed the "cool" side of being a vampire. This led to the fascination with the lore and the idea of being one. It was also one of the first MTV style films. Yeah there were a lot more of these films around this time but The Lost Boys really owed a lot of its tempo to the music that accompanied it. And damn did it have one of the best soundtracks of that decade. The story is a play on the popular Peter Pan story, hence the title. But roles are changed a bit. You still have the eternal youth and search for a mother, your just missing the Pan characterization. Schumacher does an elaborate job with the film despite its simplicity.
The HD presentation on this one was quite a bit better than I was expecting from an 80's catalog release. The master seems to be in impeccable shape and the image has an incredible amount of detail and depth. Colors can be a bit distracting in typical 80's fashion, but they aren't as washed out as most of the photography from that decade. There is some minor print wear here and there but film grain is never intrusive and adds to the film-like presentation. Contrast levels are far better than I was expecting and add a lot to the dimensionality of the darker sequences of the movie. Even longer shots show plenty of detail regardless of how bright the image is. I did notice some minor smearing effects in some motion but it was hardly distracting. Overall this is one of the better looking catalog releases I've seen recently and a clear step up from the previous DVD releases.
The Lost Boys has always had one of my favorite soundtracks from the 80's and I was overjoyed to see Warner include a lossless Dolby TrueHD 5.1 mix on this Blu-ray release. Warner continues to be the most inconsistent studio out there for audio so I was relieved to see this one get the treatment it deserves. This mix has a very open quality to it with nice imaging in the main soundstage. The film's soundtrack is very dynamic and sounds just as good, if not better, than before. Surrounds do a great job with the ambience in the track and there are a few discrete effects. Dialogue can sound a bit boxed in from time to time, but it was hardly a distraction. Like the video presentation, this is a great job for a catalog release.
Extras are similar to the 2-disc special edition DVD released awhile back and include an extensive amount of behind the scenes and production features. There is also a feature commentary, photo gallery, music video and trailer. Some other cool features include a look at the Corey's and an interactive vampire map.
While not the best vampire movie to ever make it to the big screen, The Lost Boys is still a fun ride and holds up well. Warner has done a remarkable job with the presentation here and I hope to see this level of quality continue with their catalog titles going forward. Recommended!
<!- ----------------------- Tech Center Ads ----------------------------->

SPONSORED TECH CENTER
<!- ---------------------336x280 ADS------------------------------->
<!- ---------------------FIXED AD------------------------------->
<!- ---------------------336x80 ADS------------------------------->
<!- --------------------Sponsored Link Ads-------------------------------->
<!- ------------------------Bottom Ads---------------------------->