The Exorcism of Emily Rose—Columbia Pictures (Blu-ray)
Video: 4/5
Audio: 4.25/5
Extras: 2.5/5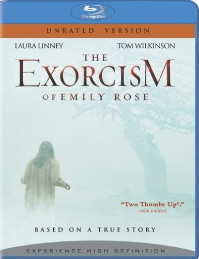 A thrilling horror film based on a true story about a single lawyer who takes on the church and the state when she fights for the life of a priest who has performed a deadly exorcism on a young woman. She must battle the cocky state lawyer as well as her own demons as she realizes that her career so far has not led her to fulfillment.
This film ended up being a refreshing surprise. Good horror films are so hit or miss but Sony has managed to create a compelling legal drama with a pretty creepy possession story that revolves loosely around real events that actually happened in Germany. The story provides different prospective on the events based on the points of contention in the trial, but regardless of the possibilities, the imagery and execution is creepy enough to hold the mood.
Sony continues their consistent output of strong catalog titles and delivers an exceptional transfer for this one. Depth and fine object detail is incredible and contrast levels are strong from beginning to end. Shadow detail is excellent and contributes to the strong dimensional quality of the darker imagery. I noticed some minor ringing near hard transitions (solid black/white transitions) but it was hardly distracting. Overall this is a great looking catalog release with little to fault.
The Dolby TrueHD soundtrack is full of surprises and does a great job of engaging the audience with solid dynamics and a rather intense lower end. Spatial qualities are also a highlight with ample use of the surrounds and a nice open sense of environment in the mix. Dialogue is nicely balanced within the mix and the tone and timbre of the dialogue stays natural throughout. Like most of the better soundtracks in this genre, this one will keep you on your toes.
Extras include a feature commentary with the direct and a look at the "real" events that inspired the film. There is also a casting feature along with a visual design short. A deleted scene is also included. The packaging mentions that this is a BD-Live enabled title but I didn't see any selection for this feature in the extras menus.
This is a great mix of supernatural horror and court room drama. Sony has once again delivered a solid A/V experience for a great catalog release. Recommended.
<!- ----------------------- Tech Center Ads ----------------------------->
<!- ---------------------336x280 ADS------------------------------->
<!- ---------------------FIXED AD------------------------------->
<!- ---------------------336x80 ADS------------------------------->
<!- --------------------Sponsored Link Ads-------------------------------->
<!- ------------------------Bottom Ads---------------------------->