The Counterfeiters—Sony Pictures Classics (Blu-ray)
Video: 3.75/5
Audio: 4.25/5
Extras: 3.5/5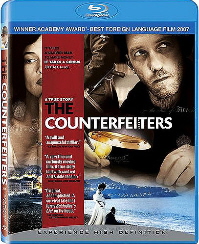 The Counterfeiters is the true story of the largest counterfeiting operation in history, set up by the Nazis in 1936. Salomon "Sally" Sorowitsch is the king of counterfeiters. When thrown into a concentration camp, Salomon must decide whether his actions, which could prolong the war and risk the lives of fellow prisoners, are ultimately the right ones.
Winner of last year's "Best Foreign Film" Academy Award, The Counterfeiters is a jaunting look at a German plan to undermine the war by flooding the English and American market with fake money. This would also fund the war effort. This also provides an insight into life in the concentration camps and the stark contrasts for the Jews that provided a precious service for the German army. A very powerful film.
This film was shot in 16mm but shown in 35mm and this Blu-ray does a great job of preserving the extremely grainy look of the source print. Detail never suffers though. The image has a nice sense of dimension and close ups reveal great fine object detail and texture. The image has a very stark contrast to it with deep blacks that almost look a bit clipped at times. This only adds to the cold atmosphere of the film. Colors are slightly stylized but, like the contrast, add to the mood and power of the imagery.
The audio is presented in German Dolby TrueHD 5.1. Sony has included a French dub as well but not an English one. The soundtrack has a haunting score that goes a long way in preserving the mood of the film. Dynamics are impressive right from the start with great extension in the low end and a very open soundstage. Surrounds are used for slight environmental cues at times and to fill in the score. Dialogue sounds natural in timbre and imaging across all channels is virtually seamless.
Extras include a feature commentary with the film's director along with a collection of deleted scenes. The best feature is the interview with the one of the real counterfeiters featured in the film along with the lead actor and director. There is also a behind the scenes feature on the production, a Q&A session with the director and some trailers for upcoming Blu-ray releases.
Another great foreign release title for Sony who continues to be the most impressive studio for foreign cinema support. This was a haunting look at events that to my knowledge haven't been very well known and the Blu-ray presentation is a great example of preserving the director's vision. Highly Recommended.
<!- ----------------------- Tech Center Ads ----------------------------->

SPONSORED TECH CENTER
<!- ---------------------336x280 ADS------------------------------->
<!- ---------------------FIXED AD------------------------------->
<!- ---------------------336x80 ADS------------------------------->
<!- --------------------Sponsored Link Ads-------------------------------->
<!- ------------------------Bottom Ads---------------------------->