Tell No One—Europa (Blu-ray Import)
Video: 4.25/5
Audio: 4/5
Extras: 2.5/5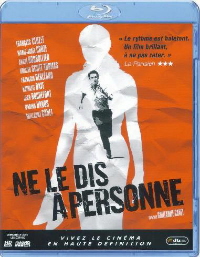 Pediatrician Alexandre Beck still grieves the murder of his beloved wife, Margot, eight years earlier. When two bodies are found near the scene of the crime, the police reopen the case and Alex becomes a suspect again. The mystery deepens when Alex receives an anonymous e-mail with a link to a video clip that seems to suggest Margot is somehow still alive and a message to "Tell No One."
This is a great mystery thriller that kept us on the edge of our seat from beginning to end. The film is chocked full of great performances and the storyline has so many twists and turns that you'll be guessing all the way through it. I wouldn't be surprised if we see a remake of this one here stateside in the near future. Unfortunately we won't be seeing this one on Blu-ray anytime soon stateside (it is in limited release in theaters right now) but it is available as an import and is region free with English subtitles.
This HD presentation is outstanding with rich detail and great definition. The photography in this film is outstanding with lush countryside backdrops and plenty of rich color. Depth of image is incredible at times and fine detail is solid throughout. While the Blu-ray is encoded at 1080p24 I did see a few frame drops from time to time creating a subtle jump in the image on occasion. While not a huge distraction it is the first disc I've seen that does this. Contrast is superb in this film and lends a lot to the depth and dimension and I didn't see any traces of compression problems. One of the best looking imports I've reviewed yet.
The audio is presented in full 24 bit uncompressed PCM or a DTS-HD Master Audio mix. Both are in French and this disc has optional English subtitles. The soundtrack is a great mix of sound design and atmosphere and takes full advantage of the surround soundstage. The mix has a very open quality and the elements are balanced together wonderfully. Dynamic range is outstanding and there are some great moments that will make you jump. The only complaint I had was the musical selections. While great songs are peppered throughout, they didn't always seem to fit the context. Oh well.
Extras include a making of featurette, deleted scenes, interviews and the trailer. The extras are in PAL so some players may have issues with playing them back.
This is one of the most satisfying imports I've purchased yet. This is a great thriller coupled with a great A/V presentation. If you don't mind importing, this one is definitely worth picking up.
<!- ----------------------- Tech Center Ads ----------------------------->

SPONSORED TECH CENTER
<!- ---------------------336x280 ADS------------------------------->
<!- ---------------------FIXED AD------------------------------->
<!- ---------------------336x80 ADS------------------------------->
<!- --------------------Sponsored Link Ads-------------------------------->
<!- ------------------------Bottom Ads---------------------------->