Taken
Aspect ratio: 1.78:1 (anamorphic). Dolby Digital 5.1 (English, French). DreamWorks Home Entertainment 90555. NR. $119.99.
Picture***
Sound***
Film** 1/2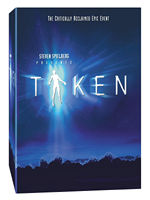 This 6-disc release of the Sci-Fi channel's miniseries about alien abductions, produced by Steven Spielberg, is by turns exhilarating and maddening. It begins with the famous 1947 Roswell Incident, which has become a touchstone for believers in interstellar alien visitations and abductions, and attempts to answer the questions "Why are They here?" and "What do They want with/from us?" It's maddening because the answers provided never fully satisfy (how could they?), exhilarating because the series is absorbing enough to keep you watching through the entire 15-hour, multigenerational saga, which carries us right up to the present day. Along the way we meet ridiculous caricatures of evil military and civilian government officials, special effects that range from the believable to the hokey (CGI aliens), and a plot that feels padded to the hilt. But I admit to having stayed up far too late several nights in a row to find out what would happen next.
The video transfer is good, if a little variable in quality from episode to episode: sometimes sharp and crisp, other times a bit soft, though the lapses were never distractions. The 5.1-channel sound never quite rises to the height of that of even a modest action-adventure feature film, but the bass is impressive, the dialog uncolored, the sound gener- ally quite clean. Like the picture, the audio is always good enough—and often a bit more—to keep you involved in the story.
The first five discs contain the series' ten 90-minute episodes. Disc 6 has a few special making-of features, some of them interesting, none compelling.
This boxed set is expensive; many will prefer to rent rather than buy. But renting could involve several trips to the video store (my local Blockbuster rents each disc separately). Only the truly obsessed will watch all of Taken in a day or two. You know who you are.—TJN
<!- ----------------------- Tech Center Ads ----------------------------->

SPONSORED TECH CENTER
<!- ---------------------336x280 ADS------------------------------->
<!- ---------------------FIXED AD------------------------------->
<!- ---------------------336x80 ADS------------------------------->
<!- --------------------Sponsored Link Ads-------------------------------->
<!- ------------------------Bottom Ads---------------------------->