Step Into Liquid—Lionsgate (Blu-ray)
Video: 3.5/5
Audio: 4/5
Extras: 2.5/5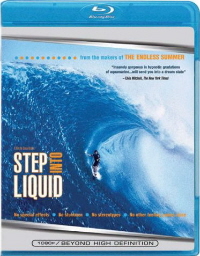 Step into Liquid is one of those films that can just blow you away with the things that people can do. To me surfing is one of those sports that is full of breathtaking beauty and awe. The film is basically a documentary on what surfing is and the way it is done by those around the world. You see big wave surfing (and I mean BIG waves), pipeline surfing and creative surfing (take the Great Lakes for example). But the underlying theme is that the experience is really the same no matter where you're from or how you do it.
This documentary was shot using several types of cameras but the principal photography was captured with a Sony digital HD camera. Since this is older, the quality of this digital photography isn't quite as good as we've seen with some of the newer models, but it is still quite good. Some of the photography is stunning with superb detail and amazing depth. I was consistently blown away with the quality of the underwater photography and the utter lack of banding in even the most difficult scenes. Some of the video shots are a bit on the soft side, but otherwise the majority of this Blu-ray looks great. Some of the colors are a bit more "vivid" than what I think is realistic, but it only adds to the gorgeous look of the locales.
This movie sounded great back when it was released on DVD but this DTS-HD Master Audio mix brings things up just a little with a tighter low end and a more immersive soundstage. You don't just get to listen to these big waves, you get to FEEL them. The tactile response of this soundtrack is incredible at times with deep, deep bass that really clues you in to the power of the bigger waves. Since most of this feature is narrated it is important that the dialogue sounds natural in both timbre and balance. Thankfully this track excels at both. For a documentary, this is a great sounding presentation.
Extras appear to be largely the same as the previous DVD release. For the film lover there is a feature commentary with the director and a collection of deleted/alternate footage. A few themed features are also included. Last up are some interviews and a music montage that showcases some of the more intense footage.
It's rare that a documentary will take hold of you like this one does. I don't even surf or follow surfing but I was totally enthralled with this film. Fans of extreme sports should put this on the must see list and anyone who loves a look at the wilder side of life should also check it out. Highly recommended.
<!- ----------------------- Tech Center Ads ----------------------------->

SPONSORED TECH CENTER
<!- ---------------------336x280 ADS------------------------------->
<!- ---------------------FIXED AD------------------------------->
<!- ---------------------336x80 ADS------------------------------->
<!- --------------------Sponsored Link Ads-------------------------------->
<!- ------------------------Bottom Ads---------------------------->