Sky Captain and the World of Tomorrow
Gwyneth Paltrow, Jude Law, Angelina Jolie. Directed by Kerry Conran. Aspect ratio: 1.85:1(anamorphic). 106 minutes. 2004. Dolby Digital 5.1 (English), Dolby Digital 2.0 Surround (French). Paramount Home Entertainment 34341. PG. $29.99.
Picture ****
Sound ****
Film ***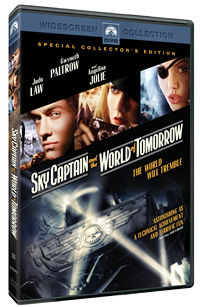 Minutes into Sky Captain and the World of Tomorrow, New York City is threatened yet again with destruction. This time it's from mysterious giant robots who fly overhead, land, and begin marching down Broadway in tight formation, apparently auditioning for Macy's Thanksgiving Parade. They're thwarted by Joe "Sky Captain" Sullivan, only to be followed by hoards of enemy flying machines. Sky Captain comes to the rescue yet again, this time aided by his one-time paramour, the pretty, perky Polly Perkins, a star reporter for the New York Chronicle. Together they set out to save the world from another of those mad scientists who are perennially bent on its destruction.
We've seen this all before, of course, but never in quite the same way. Director Kerry Conran combines live action with computer-animated props, sets, and special effects to evoke the look and feel of an old 1930's B-movie. Drenching everything in dark, sepia tones and using heavily stylized video processing (the movie was apparently shot in black and white and later colorized to suit the filmmakers' vision), it's remarkably effective on a technical level. Yes, you could complain that in an era of almost photo-realistic CGI much of the film has a near-antique look. But that was clearly an artistic choice; there's nothing antique about the film's high production values.
On the other hand, the story is straight out of old serials and comic books. That isn't necessarily a bad thing—done right, as in the Indiana Jones films, it can provide a rich source of entertainment. This effort comes nowhere near that level. There is, of course, the usual helping of dubious science and other oddities. Sky Captain and Polly fly half way around the world in a single engine fighter, for example, and two characters refer to World War I, a term no one would have used in 1939. But such things are easily forgiven in an action/fantasy/comic-book adventure, though the surreal nature of the film does work against an easy suspension of disbelief. More important, the film lacks an emotional hook; we never develop any real empathy for these characters.
But the story does provide a solid framework for those striking visuals: Sky Captain navigating the canyons of New York in his fighter plane (and coached into some impossibly sharp turns by backseat Polly); the landing on a sky-based British aircraft carrier, where we first meet Captain Franky Cook (Angelina Jolie, in a fetching eye-patch); a thrilling underwater sequence with submarine airplanes (!); the villain's hidden base; Laurence Olivier in a creepy posthumous appearance that parallels the film's plot; and more.
The cast does yeoman work—they had to perform almost entirely in front of blue screens where the backgrounds and effects would later be added. Jude Law, in particular, should be commended for his stamina; from all appearances he seems to have starred in something like 15 other movies this year.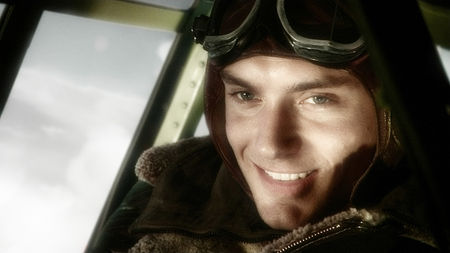 Within the bounds set by the highly stylized look of the film, the video transfer is superb. The colors are clean, the shadow detail is well-defined, the images are sharp without looking artificially enhanced, and artifacts are never intrusive. That underwater battle (chapter 12) is only one of many demo-worthy sequences, though probably the most difficult for a digital projector to navigate. It's also worth noting that the live action was shot on digital video, in 1080p/24fps using Sony HDTV cameras. That should make for an even more interesting viewing experience when (or if) we ever get a 1080p/24 release of the film in a high-definition packaged format like HD DVD or Blu-ray.
The sound is spectacular, with the bass particularly notable. It chimes in early (with those stomping robots) and often. The surrounds are active, the dialog is clean and natural-sounding, and the music score is appropriately majestic.
The extensive extras include two commentary tracks (one from producer Jon Avnet, the other from writer and director Kerry Conran and the special effects team), deleted scenes, a gag real, a superb two-part "Making of" featurette. Perhaps most interesting is Kerry Conran's original 6-minute short, the first "chapter" of the story. That short had taken Conran four years to produce, but the result inspired Avnet to pull the strings needed to get the whole movie made with the polish of a major Hollywood production, round up established actors to star in it, and allow Conran to helm it as a first-time director.
If Paramount, the studio that distributed the finished film, were thinking "franchise" for Sky Captain, the movie's sluggish box office likely killed any such notions. But it's a far more interesting film than most box office disappointments—as intriguing a disappointment as you're ever likely to see.
<!- ----------------------- Tech Center Ads ----------------------------->

SPONSORED TECH CENTER
<!- ---------------------336x280 ADS------------------------------->
<!- ---------------------FIXED AD------------------------------->
<!- ---------------------336x80 ADS------------------------------->
<!- --------------------Sponsored Link Ads-------------------------------->
<!- ------------------------Bottom Ads---------------------------->