Signs—Touchstone Pictures (Blu-ray)
Video: 4.25/5
Audio: 4.75/5
Extras: 2.5/5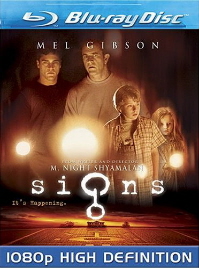 Just in time for the upcoming theatrical release of Shyamalan's The Happening comes one of his best films on Blu-ray, Signs. I honestly loved just about everything with this movie. This film excels at keeping the audience on edge and balancing all aspects of the production. This is a solid thriller that delivers great chills but does so with respect to the intimacy of each character. Few films have kept me on the edge as well as this one does and I love the character development and themes on faith. This still stands as probably my favorite film from director M. Night Shyamalan and is a welcome addition to the HD library.
Disney had been one of the best studios out there for presentation and they've done a great job with this HD transfer. This is a relatively newer film and the print seems to be in great shape. I noticed a few scratches here and there but overall I'd say it has held up well. From time to time I noticed a few shots that seemed a bit out of place in terms of detail and depth. Most of the time this is an extremely dimensional looking film with outstanding depth of image. Fine details are abundant and add even more to the striking imagery of the film. You can tell that they were going for a more personal and up-close filming style here and it pays off with the tone. I did notice some minor ringing from time to time and I do suspect that some minor DNR work may have taken place but overall this is a great looking catalog title that exceeded my expectations.
You could almost give the sound design of this film a cast position. It is one of the most effective elements of the presentation from start to finish and the sound designers nailed it. The balance of score, sound effects and uneasy quietness is just perfect. Too often directors are heavy handed when it comes to sound design on these types of films but that is just not the case here. Disney has delivered the soundtrack in 5.1 PCM and I was blown away by the detail and engaging soundstage. The constant sense of space really puts you into the movie and really helps put you on edge throughout. If I had a complaint it would be the slight amount of strain I heard from the dialogue in the latter part of the film. It was slight, but it distracted enough for me to notice. Overall though this is easily one of my favorite soundtracks from this genre and a treat in uncompressed sound.
Extras appear to be largely the same as the previous DVD release. You get a collection of deleted scenes and quite a few production featurettes. Some multi-angle storyboards are also included along with an early homemade film by the director when he was young.
This one gets a solid recommendation. This is one of my favorite thrillers of the last decade and Disney has delivered an outstanding A/V presentation. Fans of the genre and director should not miss this one.
<!- ----------------------- Tech Center Ads ----------------------------->
<!- ---------------------336x280 ADS------------------------------->
<!- ---------------------FIXED AD------------------------------->
<!- ---------------------336x80 ADS------------------------------->
<!- --------------------Sponsored Link Ads-------------------------------->
<!- ------------------------Bottom Ads---------------------------->