Short Circuit—Image Entertainment (Blu-ray)
Video: 3.75/5
Audio: 2.75/5
Extras: 3.25/5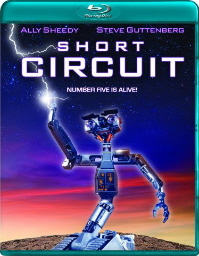 Short Circuit has always been a fun family film and I can't help but think Image jumped on the opportunity to get this one out right before Disney rolls out a robot that looks very similar to Johnny 5, Wall-E. It's been years since I've seen this film and it is still a lot of fun even if it does feel really dated. The heart is still there and Johnny 5 is still great for laughs. For those not familiar with the plot line Johnny 5 is a government funded military project that goes haywire after an exercise and escapes into the population. Once on his own he befriends a pet sitter and becomes more and more aware of his own existence. The themes are somewhat similar to what I, Robot touched upon in regard to artificial intelligence and when it reaches the point of self awareness.
I'm of mixed opinion on this video transfer. There are two things at work here. I don't think anyone can deny that this film has never looked this good on home video before, but the use of aggressive noise reduction is evident. This is becoming a growing debate in the enthusiast side of the home theater hobby and one that is provoking thoughts on both sides. This transfer is impeccably clean but fine object details are affected. The image retains incredible depth and dimension but it looks unnaturally clean and there is a subtle haze apparent through most of the film. Colors have that wonderful 80's quality and the HD presentation doesn't do the limited special effects and production design any huge favors, especially in the make-up department. I think most people would be overjoyed with how good this film looks given its age but I could see some purists also calling foul on the level of noise reduction. I'll let you decide. One thing of note though, this is the first 1080i Blu-ray transfer I know of here stateside for a feature film. That means that 1080p displays will need to support true inverse telecine de-interlacing of the 1080i signal to reap the full benefit of this encode.
The audio is presented in DTS-HD Master Audio 5.1. While I'm always grateful to see more and more support for high resolution lossless soundtracks, this isn't a film that boasts a reference quality sound design. You can tell this was made on a limited budget and the track never has the presence or quality of the newer films we've become accustomed to. Dialogue timbre is quite good though and probably the highlight of the mix. Dynamics are quite limited with little to no low end and obvious canned sound effects. The soundstage is largely front heavy and most of the surround use sounds a bit forced. I wasn't expecting a lot from this film so overall I would say it is on par for what I would expect from this film and its age.
Image has included quite the load of supplements on this Blu-ray disc. There is a feature commentary with the director and writers and quite a few production features that showcase creating the robots, interviews with the cast, and on-set footage. Also included are isolated music and effects tracks so you can hear just how limited this sound design was! A photo gallery and the theatrical trailer are also included.
This film has always been a lot of fun and I really hope the Blu-ray release brings this one into the limelight a bit more with the younger generation who may not even know about it. Image has done a good job with the presentation and supplemental package. Fans of the film will probably be quite pleased.
<!- ----------------------- Tech Center Ads ----------------------------->

SPONSORED TECH CENTER
<!- ---------------------336x280 ADS------------------------------->
<!- ---------------------FIXED AD------------------------------->
<!- ---------------------336x80 ADS------------------------------->
<!- --------------------Sponsored Link Ads-------------------------------->
<!- ------------------------Bottom Ads---------------------------->