Pirates of the Caribbean: The Curse of the Black Pearl
Johnny Depp, Orlando Bloom, Geoffrey Rush, Keira Knightley, Jonathan Pryce. Directed by Gore Verbinski. Aspect ratio: 2.35:1 (anamorphic). Two discs. 143 minutes. 2003. Dolby Digital 5.1 (English, French), DTS 5.1. Buena Vista Home Video 002543. PG-13. $29.99.
Picture***
Sound***1/2
Film***1/2
Yo ho! Shiver me timbers, matey! Who would have thought that a pirate movie (a genre that hasn't soared since Errol Flynn swashed his last buckle) would have been one of 2003's top box-office hits? And a pirate movie based on a theme-park ride, no less. It's usually the other way around, and in neither order is the outcome often pretty. But Disney's Pirates of the Caribbean—the movie, not the ride—packed them in during a summer movie season that was tepid for most studios, but was a big year at sea for the House of Mouse, riding a tsunami with both Pirates and Finding Nemo to its credit.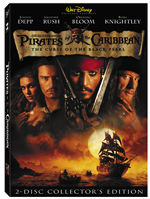 The plot is simple enough—a mixture of drama, comedy, and fantasy. Captain Jack Sparrow is out to capture the Black Pearl, a pirate ship stolen by his nemesis, Captain Barbossa. Thanks to their attempt to abscond with a cursed Aztec treasure, Barbossa and his men have been condemned to a goulish existence—they look normal in daylight or on moonless nights, but they're actually dead, appearing by moonlight as skeletal apparitions. Along the way there's the proverbial damsel in distress (who is, of course, the daughter of a colonial governor—they always are) and the young, ambitious blacksmith who loves her and obviously has a promising future on the high seas. And swords. Lots of swords. And things getting blowed up real good and real loud. This is, after all, a Jerry Bruckheimer–produced film.
But I mean that in the best possible way. Pirates of the Caribbean is nothing but pure fun from beginning to end. That end may be a little too long in coming (the film's length is one of its few weaknesses), but the cruise is well worth taking.
Thankfully, the producers were smart enough to know that it takes fine performances to sell this particular brand of hokum. And they got them. Geoffrey Rush—deliciously munching on the scenery as the villainous Captain Barbossa—is always a pleasure. Keira Knightley and Orlando Bloom are fine as the young damsel and her heroic smithy turned reluctant pirate. But it's Johnny Depp, who plays Captain Sparrow as a sort of weird cross between Bruce Willis action hero and Boy George androgeny, who owns the movie. It's a quirky performance that would generate Oscar buzz in a more "serious" genre. But in a pirate movie released in mid-summer? Don't hold your breath.
The sound is just a little bright (the DTS track is a little better-balanced than the Dolby Digital and—here's a switch—not as loud). But it's punchy and dynamic, with solid bass and highly active surrounds. The brightness is most obvious in the music score. And while that score is more than a little reminiscent of Gladiator's—which I found distracting at first—it's nevertheless a good one, and drives the action along in a rousing fashion.
The DVD's image quality is respectable but a little uneven—overly sharp in some places, a bit soft in others. There's also visible edge-enhancement, particularly on long shots. The transfer is acceptable, but should be better; the original source was clearly of very high quality. I first saw this movie in DLP at a D-Cinema reference theater in Los Angeles and spent the entire two-hours-plus with my jaw on the floor. It was, by far, the best-looking DLP presentation of a live-action film I'd ever seen. True, that theatrical presentation was high-definition and the DVD is not. But it's not unusual to find DVDs that challenge the quality of even a good theatrical showing, and exceed the quality of routine ones. Matrix: Reloaded is a pristine recent example. The IMAX theatrical "enhanced" presentation I saw of that film was enhanced all right—edge-enhanced. The DVD of Reloaded, however, has little of that, and, as a result, is significantly better-looking than either that IMAX print or the DVD of Pirates, despite Reloaded's darker, grungier, more difficult-to-transfer cinematography.
Extra booty is spread out over the two discs. There are three commentary tracks (from director Gore Verbinski and star Johnny Depp, producer Jerry Bruckheimer and stars Keira Knightley and Jack Davenport, and writers Stuart Beattie, Ted Elliot, Terry Rossio, and Jay Wolpert), a "Making of" feature, deleted scenes, a blooper reel, and more.
Don't let my few reservations about picture quality keep you from weighing anchor and setting sail for your nearest video store. There's treasure there and it isn't buried. It's Pirates of the Caribbean: The Curse of the Black Pearl.—TJN
<!- ----------------------- Tech Center Ads ----------------------------->

SPONSORED TECH CENTER
<!- ---------------------336x280 ADS------------------------------->
<!- ---------------------FIXED AD------------------------------->
<!- ---------------------336x80 ADS------------------------------->
<!- --------------------Sponsored Link Ads-------------------------------->
<!- ------------------------Bottom Ads---------------------------->