Integra Research RDC-7.1 Preamp/Processor
Are you looking for love in all the wrong places? Picking a preamp/processor is a lot like picking a wife. Lots of guys (not me – almost 25 years and ticking, thank you) can be fickle. You marry a girl and you're leaving the church, waiting to get into the limo and you look over and see someone who makes you think "Hey, I didn't see
that
one! " It's sort of the same thing with pre/pros. You get one and the next time you're back in the store, it's "Hey . . . " You get my drift.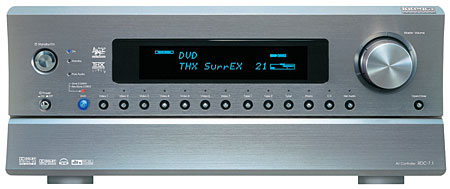 The Integra Research RDC-7.1 ($5,500, as reviewed) is sort of like the perfect wife. I mean that in the sense that if, a few years down the road, you're thinking you want to upgrade, you can do so without a complete chassis swap. That's because the RDC-7.1 is modular by design. In a way, it's future proof. So if you want to replace a pair of legs, er, video inputs, that are circa yesterday, with video inputs that are circa new (and firm) you can do it.
We don't know what the future will bring, but Integra Research is giving it a go. Usually you pay dearly for this kind of flexibility, but Integra Research gets the job done at a reasonable, but hardly bargain price. You could, for instance, buy a couple of top of the line receivers for what the RDC-7.1 and a multi-channel amplifier will set you back, but then you'd have to learn how to push a whole new set of buttons. I'm not so good with metaphors, but I think I've made my point.
Mod(ular) Squad
You can configure your particular RDC-7.1 on Integra Research's web site and then visit an authorized dealer with your "build " number (no "online " sales) to order it (although I'm sure any dealer worth his salt would prefer to step through the configuration process with you in the store). My review unit came with an HDMI switching module (two in, one out), a video module (four component, S-Video and composite inputs) and two multi-channel audio inputs. I passed on the Net-Tune module, the AM/FM tuner and an extra component input and output card.
As delivered, the RDC-7.1 was a feature-rich, high-end preamp/processor that is one-third of a trio of Integra Research separates that are massively over-engineered. The other two pieces, the RDA-7.1 multi-channel amplifier and RDV-1.1 universal disc player, are also in house and slated for future reviews.
At over 45 pounds, the RDC-7.1 bests many flagship receivers in the weight department. It took my son and me to get it out of the box and into the rack. Moving the 80 lb. shipping box around, we wondered if I'd been sent an Integra Home Theater receiver (a different division of Onkyo, complete with its own web site) instead of the requested pre/pro. But no, the RDC-7.1 is just a lot of processor.
The front panel is a solid 1 "-thick billet of titanium tinged aluminum with an oil-damped, drop-down door on the lower section. Across the front are 14 input selector buttons. The first of these is labeled DVD, and is reserved for use with the RDV-1.1 universal disc player. When correctly wired, pressing that DVD button on the RDC-7.1 "wakes up " the RDV-1.1 player. Selecting it inadvertently from the scroll wheel on the remote will do the same thing. More about that foray into the law of unintended consequences later.
Following the DVD input selector on the front panel are seven video-enabled inputs referred to appropriately as Video 1 through 7. Two tape inputs, the tuner (the button is there whether you have the option or not), a phono input (standard - moving magnet only), CD and a Net Audio input selector complete the front panel's horizontal array of buttons. Each button lights up blue when pressed. Above each is a single smaller LED that glows green if the input is being sent to zone 2, or red if to zone 3.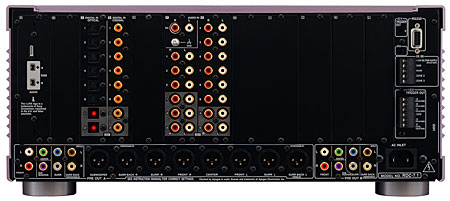 A large blue display window (dimmable with three levels of brightness, plus off) commands attention in the center of the front panel. To its left are the standby and hard power-on buttons. On the right is a large knob that is usually the volume, but in this case also performs other functions during setup when pushed inwards to indicate your selection.
The drop-down door is controlled electronically by a button at the far right of the input buttons. Behind the door are controls for accessing zones 2 and 3, tuner functions (including presets), DSP selection and a host of other things that are much more easily accomplished from the remote. We'll call this the "panic room. " Only go here if you lose your remote!
The rear panel is neatly laid out, considering the possibilities, with space for 12 vertically oriented modules (some optional, some included) along the top three-fourths of the unit. The bottom fourth includes an eight-channel array of balanced pre-amp outputs and two single ended eight-channel outputs. I used one of the latter in all listening tests.
When using Integra Research's own RDV-1.1 universal disc player or, presumably, any other i.LINK (FireWire) equipped player, the RDC-7.1 will accept a multi-channel DVD-Audio or SACD signal in the digital domain through its i.LINK input. That not only avoids the need for connecting six interconnects from the player to the processor, but also provides bass management in the digital domain for those sources without the need for the redundant A/D and D/A conversions. But i.LINK equipped players are the exception, not the rule. My Pioneer DV-45A universal player, for example, offers analog outputs only.
There are actually two i.LINK inputs on the RDC-7.1 if you and your system are so gifted. Otherwise, the RDC-7.1 offers a single-ended eight-channel analog input (or, optionally, two) that will accommodate any DVD-Audio and SACD player. If you mostly dabble in multi-channel music, like me, you can probably scrape by with an analog signal and the "Pure Audio " mode, which avoids converting those analog inputs to the digital domain.
More conventionally, the RDC-7.1 offers six coaxial and six optical digital inputs, as well as two outputs of each variety. The gripping power of RDC's optical inputs was egregious, even by Toslink standards. Every time I moved the cabinet forwards or back an iota, the optical connectors (one generic, one by Audioquest) would pop off and have to be reinserted while lying on the floor with my wife's cosmetic mirror in my outstretched arm, rubberized flashlight and seeing eye dog in hand.
A total of ten stereo inputs, including the dedicated phono input and five stereo outputs, guarantee that an RDC-7.1 owner shall want for not. For the record, not one of those RCA connectors ever popped off.
Surround Surround We Go
At CEDIA in Indianapolis this past September, I had an opportunity to speak to an uppity-up from THX. He told me some amusing stories about how many manufacturers, not just consumers, misunderstand the significance and difficulty of obtaining THX certification. In fact, at a press conference I had just attended a few hours earlier, one manufacturer, when asked if their new product was THX certified, replied "Yes, it will be, it just has to be sent in, a mere formality. "
Warren Mannsfield is the fellow from THX whose job, as it turns out, is to act as sort of a liaison between manufacturers and THX, laughed when I relayed the anecdote. We then spoke briefly about the THX certification process. THX is not just trying to make sure some specific frequency ranges or excursion limits are being met. They run equipment through the ringer to ensure the THX badge does not go on any product that isn't ready for prime time. It is not uncommon for an otherwise respected manufacturer to inadequately verify its processing logic, including those controlling bass management, surround selection, and any number of other facets. Though not necessarily "THX " territory per se, the seal of approval doesn't go on until the product is fixed. Kudos to THX for not putting its name on incomplete inventions.

The RDC-7.1 is THX Ultra2 certified. With the exception of one biddle-bug to be discussed later, which may lay more at the feet of HDCP protocol than anything indigenous to the Integra, I can say that this was the cleanest processor I've used since the (now discontinued) Aragon Stage One. And that processor didn't attempt a fraction of what the Integra Research accomplishes with aplomb.
When it comes to surround sound modes DTS and Dolby Digital are a given these days, of course, but the Integra offers several flavors of each. Adding a back channel to DTS's 5.1 setup, DTS-ES Discrete is a fully discrete 6.1 format found on a handful of DVDs, CDs and – according to the book – LaserDiscs (remember them?) sporting the DTS-ES logo. Although I doubt that last claim, as DTS-ES was seemingly born a few years after the demise of LaserDisc as a viable niche format, the fact that Integra Research remembers our previous favorite format indicates the company's knowledgebase is prodigious and intact. In a similar vein, Dolby Digital EX and Dolby EX provide 6.1 results from 5.1 material (the majority of what is out there), either by decoding a rear channel encoded in the two discrete surround channels (Dolby Digital EX), or by fabricating a rear one from those same channels (Dolby EX).
Of course, Dolby Pro Logic II and IIx, my hands-down 2004 winners in the getting-silk-knock-off-purses-from-a-sow's-ear category, are included here as well, in Music, Movie and Game variations. The biggest difference between II and IIx is that, while both modes do a fantastic job of taking two-channel sources and turning them into full fledged surround offerings, the IIx variant can fabricate two rear channels from the mishagosh as well, making it 7.1 compatible. Of course, DTS's competing and equally gifted NEO:6 format is included too; lacking a game mode, it does well enough with Cinema and Music variants, creating a 6.1-channel array (in a 7.1 setup, the single "rear " channel information is sent to both rear speakers).
Finally, the RDC-7.1 is maxed out in the THX department, with THX Cinema for 5.1-channel setups, THX Ultra2 Cinema for 7.1-channel setups, as well as THX Music, Game and THX Surround EX modes.
<!- ----------------------- Tech Center Ads ----------------------------->

SPONSORED TECH CENTER
<!- ---------------------336x280 ADS------------------------------->
<!- ---------------------FIXED AD------------------------------->
<!- ---------------------336x80 ADS------------------------------->
<!- --------------------Sponsored Link Ads-------------------------------->
<!- ------------------------Bottom Ads---------------------------->