Installations: Meeting the Criterion Page 2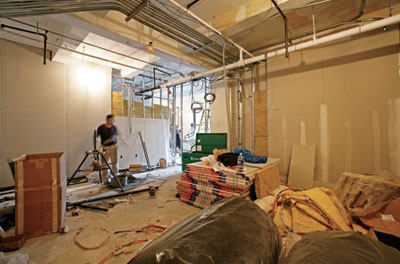 That question was easily answered one day recently when I visited the company's new headquarters. During a Lee-led tour of the facility, we stopped in one of the quality-control rooms. There, Betsy Heistand, a digital-restoration technician, was busy working on Overlord, a 1975 Danish film about a young soldier's participation in the Normandy invasion on D-Day. The film is fictional, but it incorporates plenty of actual World War II newsreel footage. And there's the challenge: Aside from the usual frame-by-frame touchups, Betsy needed to make all the scenes look like they belong to the same movie. "The director [Stuart Cooper] wants it all to look seamless together," Lee explains. "The movie is challenging because it's made up of so much archival footage - which is also why the images had a lot of shake. We had to steady that in many areas."
Meanwhile, over in the audio department, Garry Rindfuss is working on restoring the soundtrack of the 1962 Japanese film Pitfall (a.k.a. Otoshiana). "I'm going through and removing things like dirt that actually become audible when you run the film," Garry explains. "I've put it through an automated process called CEDAR, which gets the really bad stuff. And now I'm just fine-tooth-combing it by running the film and zooming in on the waveform. When I hear something, or something catches my eye, I can use Sonic Solutions' NoNOISE software to basically redraw the waveform. The software will look behind and ahead and - let's say there's a speck of dirt right there. NoNOISE will sort of figure out, well, what was probably there originally? And it will basically recreate the waveform for me."
Adds Lee, "We try to take the movie back to when it was released: the best possible sound the first time you would've actually heard it. And in this case, that was mono on an optical track. We're not here to turn mono into 5.1 - unless the filmmaker wants us to do it."
The 23-year-old company has yet to jump into high-def, by the way, shunning both Blu-ray Disc and HD DVD for standard DVDs. "We're waiting for the formats to figure themselves out," says Lee. "If we wind up liking Blu-ray but Casablanca is only on HD DVD, we don't want people to have to choose. And we also don't want to confuse them by siding with one format over the other, because it's not our place to decide. Both HD DVD and Blu-ray have merit to us, and both look really good."
Criterion, though, is all for taking the resolution of its releases to the next level. "We're ready to go," says Lee. "We've mastered in high-definition for years now. We just have to take the tapes and compress them in an HD codec. We did a Blu-ray test of one of our titles, and we're really happy with the results."
Screening-Room Criteria When the company moved into its new home, it built the space up from scratch. And with that effort came the inevitable minor mistakes. For instance, the shelf of one particularly long workstation sags in the middle, weighed down by heavy equipment. (It will soon be reinforced.) And the way another desk was situated near a wall caused anyone who passed by to collide with the person sitting there.
Criterion doesn't want to make the same kinds of mistakes with its new screening room. "The goal is to set it up properly and take the necessary time to do it," Lee says.
But there's already one hiccup. "It's got a drop ceiling - which is always a problem," notes S&V technical editor Al Griffin, who was enlisted to respond to Criterion's request for help. After evaluating the space, Al concluded, "The ceiling's going to rattle like hell when they put a subwoofer in the room. They're just going to have to do a lot of reinforcement and dampening to get rid of it."
The room might not be perfect, but Al feels they don't need perfect. "They're going for a casual experience. While they want to see how their DVDs are going to look in people's homes, they don't want the absolute perfect home theater. They want a real workaday situation, like something that the typical collector-enthusiast has. And I think that's fine. That's pretty much what I strive for."
What's needed now is the actual equipment for the screening room. All the consumer and professional disc and tape players are already in position over in the machinery room, where they're patched into the screening room. Missing are the video display, speakers, and associated electronics.
<!- ----------------------- Tech Center Ads ----------------------------->

SPONSORED TECH CENTER
<!- ---------------------336x280 ADS------------------------------->
<!- ---------------------FIXED AD------------------------------->
<!- ---------------------336x80 ADS------------------------------->
<!- --------------------Sponsored Link Ads-------------------------------->
<!- ------------------------Bottom Ads---------------------------->