Infinity Classia C336 Speaker System Page 2
The PSW310W sub has several tricks up its sleeve. First of all, it's capable of wireless operation, operating on any of four channels in the 2.4-gigahertz band. That removes the hassle of running an interconnect cable from your surround processor. It also potentially gives you more options in positioning the sub. (Note that the internal 400-watt RMS rated amp still requires a power connection.)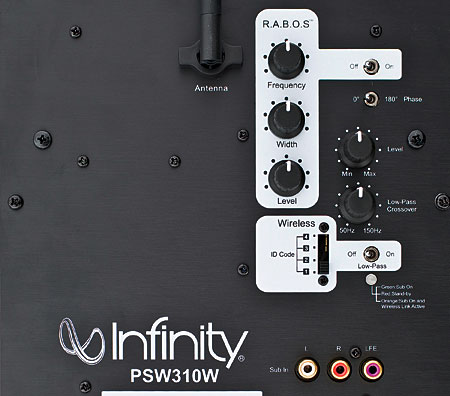 This is also one of Infinity's fabulous R.A.B.O.S. subs—that stands for Room Adaptive Bass Optimization System. The R.A.B.O.S. kit includes a test-tone CD, a bass-optimized sound meter, and other materials that you can use to test your room to determine the nature of its bass flaws. And believe me, most rooms have bass flaws, including mine. Once you've plotted the curves, you can use the sub's back-panel frequency, width, and level controls to dial in your corrections. I've done it more than once, and as long as you're patient, the process is not intimidating. It's optional—the sub will work without it—but I recommend that you invest the time. In less than an hour, your system will have a major performance advantage over your neighbor's.
Associated gear for this review included the Rotel RSX-1065 A/V receiver, Pioneer BDP-HD1 Blu-ray player, Integra DPS-10.5 universal player, Rega Planar 25 turntable, Shure V97xE phono cartridge, and NAD PP-1 phono preamp. All movie selections were on Blu-ray.
Car Chases, Explosions, Clowns
Beginning with Maximum Risk, a Jean-Claude Van Damme vehicle with a Dolby TrueHD soundtrack, the Classias made two immediate impressions. It was noteworthy in itself that they were immediate. One was a sense of anonymity—the music's opening musical hum didn't reveal any immediate coloration. It just felt right, as my notebook reminds me. The other impression was of ease. A roaring and clattering car chase kicks off the movie, remorselessly ripping through beautiful pedestrianized streets and alleys in the south of France. This gave the sub a chance to demonstrate its grace under pressure. Despite high volume levels in all channels, I didn't feel any particular fatigue. In fact, once the (first) car chase was over and I got a chance to hear some typically wooden Van Damme dialogue, I bumped up the volume and left it up through the loud passages to come. None of this was conclusive, but it was a good start.
Get Smart is yet another Warner title with a Dolby Digital 5.1 (as opposed to a hipper Dolby Digital Plus or Dolby TrueHD) soundtrack. And yet it's another brilliant comic performance by Steve Carell. The swaggering opening theme—implanted in my childhood brain and waiting to be reawakened—was a pleasure to listen to, with the instrumentation of the familiar riff fully fleshed out. The sub got another chance to emit low, violent pitches in a building that crumbles under an extended series of explosions. I noticed some bass guitar popping discreetly through the incidental music, which indicated that the sub was producing bass that was not only extended but detailed. Dialogue remained solid from any position on the sofa, thanks in part to a tweeter equipped with a computer-sculpted waveguide with a fancy name (Constant Acoustic Impedance, CAI). I got through the action-packed finale without even thinking of a volume cut.
Cirque du Soleil: Corteo tucked my listening room back into the loving arms of Dolby TrueHD and its sublime losslessness. The Cirque performs with a multi-instrumental band, so the soundtrack bristles with beautiful details: a solo violin here, a Spanish guitar there, campy choral vocals all over the place, and one especially funny scene that features a virtuosic whistler accompanied by humming wine glasses. I heard a touch of brashness, but I attribute this entirely to the mix of the live music, which was clearly intended to bring all its amusing details into the foreground. The Classia tweeter was boldly vibrant, not reticent. The mids were always lucid and could also be brash or smooth to suit the occasion. The visuals, which are based on the theme of a clown's fantasy life, brimmed with action, creativity, humor, and risk taking.
The Dutch Have All the Fun
Jan Akkerman is one of the world's greatest living electric guitarists, so I was pleased to snap up the DVD/CD set Live in Concert: The Hague 2007. The DVD's 5.1-channel soundtrack gives a detailed account of Akkerman's instrumental tone and provides a mix of vintage Gibson Les Paul and digital fuzz tone. Infinity's high-resolution CMMD tweeter and midrange drivers made the most of this complex information as it shifted from track to track (and within tracks). Although the rhythm section gets less prominent treatment in the mix than it might have, it still came through with a rounded bass guitar tone and a pleasing snap to the drums. When the other instruments fall away for the drum solo, the woofers and sub really went to town. It's great to have most of the tracks on CD as well as on DVD—it makes ripping easier.
Volume four of Richter the Master (on CD) captures the great pianist in live performances of Beethoven, both solo and with chamber groups. The chamber works are especially stunning when rechanneled in Dolby Pro Logic II. This opened up the soundfield and suddenly made me aware of the concert venue's walls. I could hear the sound of the strings and piano bouncing off the walls en route to the microphone as a tightly coordinated series of events. Thanks to the Classias' high-resolution presentation, the violins and cello were well separated, and I loved the thump that the 6-inch woofers gave the cellist's pizzicato.
I wound up, with vinyl—in this case, my old secondhand copy of Van Morrison's Hard Nose the Highway. The stereo mix is flat, precise, and in no need of surround magic. The Classias delivered their characteristic warmth and gorgeous instrumentation. This was most notable on the sweet, gentle double-tracked flute on "Warm Love" and the vibes of "Autumn Song." I monitored Morrison's expressive yelp as I changed positions on the sofa and found excellent timbre matching among the center and tower speakers. The slow-motion fade-down in "Autumn Song" gave the system a chance to show off its extremely coherent low-level resolution.
On the whole, I couldn't ask more from any set of speakers than I got from the Infinity Classia. The well-balanced performance of these great-looking and well-made speakers will provide standout performance in all cinematic and musical applications. Infinity also deserves special commendation for the equalized R.A.B.O.S. sub, which will mitigate the bass irregularities that plague most rooms. Infinity continues to follow some excellent trains of thought, and it hasn't run them into the ground just yet.

<!- ----------------------- Tech Center Ads ----------------------------->

SPONSORED TECH CENTER
<!- ---------------------336x280 ADS------------------------------->
<!- ---------------------FIXED AD------------------------------->
<!- ---------------------336x80 ADS------------------------------->
<!- --------------------Sponsored Link Ads-------------------------------->
<!- ------------------------Bottom Ads---------------------------->