Never Back Down—Summit (Blu-ray)
Video: 4/5
Audio: 4.25/5
Extras: 2.75/5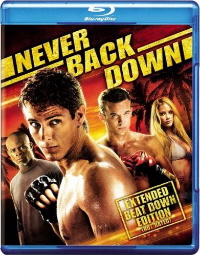 Jake is the new kid in school. When a beautiful girl befriends him, Jake thinks he's set. But instead, her fight-club boyfriend Ryan smacks Jake a bloody, black-eyed welcome. Jake then turns to a mixed martial arts (MMA) master, who teaches him how to fight... and how to walk away. But it becomes obvious that a brutal re-match is inevitable if Jake wants to stop Ryan and his bullying, once and for all.
When I first saw the trailer for this one I thought it was a modern day twist on The Karate Kid. While it isn't quite as motivational in story as the classic, it shares a lot of its themes. What I always find funny are these high school films with kids that have no parents around, TONS of money and kick the crap out of each other for entertainment yet no family members seem to notice. If you can get past that, there is some entertainment for fans of MMA.
This is the first Blu-ray release I've review from Summit Entertainment and I must say I was quite impressed with their presentation. The image quality on this one is excellent with great dimension and fine detail. Colors are on the stylized side and lean toward an amber quality but it lends to the Florida sunshine soaked locales. Contrast is excellent and really adds to the depth of image but I found some of the color saturation a little inconsistent. I don't know if this was supposed to lend to the mood of the film but I saw it a few times. Overall though this is a great looking transfer for a smaller film.
The audio is presented in 5.1 DTS-HD Master Audio and this edition is supposed to be amped up a bit to have more of a visceral impact on the viewer. The soundtrack relies a lot on the modern songs for its dynamics but there are some club sequences that have a great sense of atmosphere. The surrounds lend a lot to the spatial quality of the mix and dialogue is balanced perfectly with the rest of the track. Again for a modest production budget they did a great job on this A/V presentation.
Extras include a look at MMA and bringing it to the screen in a relevant way and a breakdown of the fights in the film. There is also an alternate angle feature allowing you to change views during the film during some of the fight sequences. Some deleted scenes and a feature commentary is also included.
Summit has come out strong with this Blu-ray release. The A/V presentation is great and the story was actually pretty good despite the basic replayed premise. Fans of MMA should definitely give this one a look.
<!- ----------------------- Tech Center Ads ----------------------------->

SPONSORED TECH CENTER
<!- ---------------------336x280 ADS------------------------------->
<!- ---------------------FIXED AD------------------------------->
<!- ---------------------336x80 ADS------------------------------->
<!- --------------------Sponsored Link Ads-------------------------------->
<!- ------------------------Bottom Ads---------------------------->