National Treasure and National Treasure 2: Book of Secrets—Walt Disney Pictures (Blu-ray)
National Treasure: Video: 3.5/5
Audio: 4.5/5
Extras: 4/5
National Treasure 2: Video: 5/5
Audio: 4/5
Extras: 4.5/5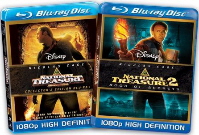 I hear mixed reviews on these films all the time from friends. Sure they are campy but I also think they are a lot of fun. Bruckheimer has a great eye for finding audience friendly films that end up starting a series, and this is one of them. In a way these films remind me a bit of the Indiana Jones series, though they are obviously toned down. Disney brings both to Blu-ray just in time for a day-and-date release of Book of Secrets, which was a solid follow up to the first film and, in my opinion, just as entertaining. It's rare to find an adventure/caper film that works for all ages, but somehow Disney has managed to deliver two of them!
I will split the video review portion into two because these films do look a bit different than each other. National Treasure isn't really an old film but it doesn't have the razor sharp appearance of the second film. Fine film grain is noticeable and the image has more of a natural film look to it than the noise free, super sharp second film. Unfortunately, I did notice a bit too much noise in some of the whites during this film. They almost look slightly clipped at times. Dimension is wonderful though and depth of image is always strong. Blacks are very deep and shadow detail is excellent all around. While the first film isn't quite as striking as the second on the video front, it is still a strong effort from Disney.
Book of Secrets has the increasingly popular look of most big budget Hollywood features these days; lots of contrast, razor sharp, and impeccably clean. I didn't notice any film grain or print noise at all with this transfer giving the image a razor sharp noise free look that makes you feel like you're in the room. Image dimension is outstanding and depth of image was as good as any HD release I've seen to date. Colors are noise free with outstanding saturation and add to the "through a window" effect. A reference presentation from Disney on this one.
Both movies feature first rate soundtracks. National Treasure goes the PCM route while Book of Secrets continues Disney's trend of moving over to lossless Dolby TrueHD. These are summer popcorn movies so the soundtracks stick to that theme and deliver big sound and fun. Surrounds are constantly engaging and dynamic range can be impressive at times. I thought the dialogue in the second film was a bit on the forward side at times, but overall balance wasn't bad.
All of the extras for both releases are themed after the films and the menu operation and breadth of features is pretty similar. Both films feature audio commentaries and in depth behind the scenes footage that include interviews with the cast and crew. Both films have deleted scenes and interactive features that give you more in-depth coverage of the film's subject matters. Production features are also included and cover the special effects, production design and more. Trailers are included on both releases.
Disney has done a great job bringing these films to Blu. There are some obvious improvements in picture quality with the second film but both offering a satisfying A/V experience. Highly recommended!
<!- ----------------------- Tech Center Ads ----------------------------->

SPONSORED TECH CENTER
<!- ---------------------336x280 ADS------------------------------->
<!- ---------------------FIXED AD------------------------------->
<!- ---------------------336x80 ADS------------------------------->
<!- --------------------Sponsored Link Ads-------------------------------->
<!- ------------------------Bottom Ads---------------------------->