Monster
Charlize Theron, Christina Ricci, Bruce Dern. Directed by Patty Jenkins. Aspect ratio: 1.85:1 (anamorphic). Dolby Digital 5.1, DTS 5.1. 108 minutes. 2004. Columbia TriStar 05552 R. $26.96.
Film *** 1/2
Picture ***
Sound ***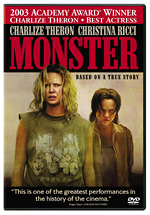 Monster was not the feel-good movie of 2003. It takes guts to make a film without a happy ending (kudos to director Patty Jenkins for that), and the story of Aileen Wuornos, a prostitute turned serial killer, doesn't have one. I'm not spoiling anything for you here; this story is based on a true one that happened in the late 1980s.
Like most films about serial killers, this one explores how the killer got that way. Also like most such stories, this one is grim. Wuornos (Charlize Theron) is an abused child who becomes a prostitute. When she's hit rock bottom and is about to shrug off this mortal coil, she meets Selby (Christina Ricci), a young lesbian who buys her drinks and gives her a warm bed to lie in, next to her. In a moving moment at a roller rink, they kiss, and are later seen desperately making out in a dark alley. Selby, repressed by a conservative family, has to leave, but they decide to get a hotel room the following night.
Aileen turns tricks to earn enough money for the room. The last trick goes awry, and, unable to bear the thought of her newfound girlfriend thinking she's been stood up, Aileen retaliates, and sets off down a path of murder and robbery. Her relationship with Selby, who knows nothing of Aileen's dark deeds, is thrown into a twilight zone; Aileen becomes Selby's desperate sugar mama, who will do anything to keep her.
Monster is harrowing, as is Theron's Oscar-winning performance. She transforms herself into an incredibly tragic victim who kills as a form of survival, fighting to hold on to the only form of true love she's ever known—at this point, she literally can't live without it. And she does it the only way she knows how, despite humiliating attempts at "proper" jobs. But through all her evil actions and shockingly misguided idealism—"People kill for politics and religion every day and they're heroes," she tells Selby—one almost admires Aileen's strength of spirit, even while pitying her.
The film is intentionally rough and grainy to complement the seedy story, but other than that I saw no obvious problems, such as artifacts or edge enhancement, in this 1.85:1 anamorphic transfer. The sound is presented in both DTS 5.1 and Dolby Digital 5.1. The DTS track sounded richer overall, with clearer dialog. The rather sparse list of extras include a "making of" featurette, an interview with director Jenkins, and a demo on mixing the film in DTS, along with theatrical trailers.—KR
<!- ----------------------- Tech Center Ads ----------------------------->

SPONSORED TECH CENTER
<!- ---------------------336x280 ADS------------------------------->
<!- ---------------------FIXED AD------------------------------->
<!- ---------------------336x80 ADS------------------------------->
<!- --------------------Sponsored Link Ads-------------------------------->
<!- ------------------------Bottom Ads---------------------------->