Megamind—Dreamworks Animation
Video: 3.5/5
Audio: 4.5/5
Extras: 4/5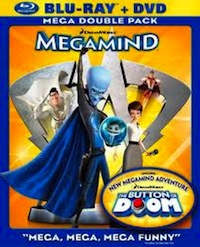 Megamind is the most brilliant super-villain the world has ever known... and the least successful. Over the years, he has tried to conquer Metro City in every imaginable way. Each attempt, a colossal failure thanks to the caped superhero known as "Metro Man," until the day Megamind actually defeats him in the throes of one of his botched evil plans. Suddenly, the fate of Metro City is threatened when a new villain arrives and chaos runs rampant, leaving everyone to wonder: Can the world's biggest "mind" actually be the one to save the day.
I frequently use Dreamworks Animated titles to showcase my home theater setup. Kung Fu Panda is a great example of just how good animation can look on Blu-ray with pure reference quality video. Unfortunately, Megamind is probably the worst looking title I've reviewed from Dreamworks. While CG animation is typically the highlight of the format, Megamind reveals some pretty nasty artifacts including line twitter and moiré. This is evident throughout Metro City as the camera pans around. There is even discoloration in the moire making it stand out even more. These kinds of artifacts are typically the result of scaling or some kind of filtering. It makes me wonder if someone turned on some settings in the encode that weren't supposed to be there since every Dreamworks' title before this has looked nearly flawless. But it doesn't just stop there, Megamind as a whole seems like a step back in animation prowess for Dreamworks. Aside from the absolutely horrible script (cringe inducing), the animation lacks the detail and dimension of their recent releases such as How To Train Your Dragon, Kung Fu Panda and Shrek Forever After. Fine object detail isn't even close to the level we see from those titles and environments seem rushed. The sound design fares much better with great dynamic range and plenty of surround effects, but it can't make up for the rest of production, which is probably the lowest I've seen from the studio.
The 2-disc edition comes with a DVD of the film plus quite a few interactive features. You get an in-movie picture-in-picture feature with storyboards and behind the scenes footage and you also get a pretty funny trivia track. There are plenty of interviews, behind the scenes fun and of course the how to draw feature we've seen with the other Dreamworks' titles. The big draw is the new animated short, which actually looks better than the feature presentation.
This was a complete stinker. Even if I could look past the obvious issues with the video encode, the lame story and almost embarrassingly bad attempts at humor just never hit a single note for me. I'm sure the younger audience will enjoy it, but with so many great animated titles available on Blu-ray right now I would be doing you a disservice in recommending this one.
<!- ----------------------- Tech Center Ads ----------------------------->

SPONSORED TECH CENTER
<!- ---------------------336x280 ADS------------------------------->
<!- ---------------------FIXED AD------------------------------->
<!- ---------------------336x80 ADS------------------------------->
<!- --------------------Sponsored Link Ads-------------------------------->
<!- ------------------------Bottom Ads---------------------------->