Mary Poppins 40th Anniversary Special Edition
Julie Andrews, Dick Van Dyke, David Tomlinson, Glynis Johns, Hermione Baddeley, Reta Shaw, Karen Dotrice, Matthew Garber, Reginald Owen. Directed by Robert Stevenson. Music by Richard and Robert Sherman. Aspect ratio: 1.66:1 (anamorphic). Dolby Digital 5.1. 140 minutes. 1964. Buena Vista Home Video 31167. G. $29.99
Picture ****
Sound ***
Film ** 1/2
The year is 1910. The Banks family of 17 Cherry Tree Lane, London, find themselves in dire need of a new nanny for young Jane and Michael (Karen Dotrice and Matthew Garber). The children write a letter—a song, really—that outlines in detail what is required for this "choice position." The ideal candidate for this "choice position" will have rosy cheeks, a cheery disposition, sing songs, and bring treats, among other duties. Mr. Banks —a no-nonsense banker—tears up the note, dismissing it as foolishness, but as the black-clad, sinister-looking nannies line up outside to apply for the job, they are blown away by a strong wind, and Mary Poppins (Julie Andrews in her first film role) floats down from the clouds with her umbrella and presents the tattered note to Mr. Banks.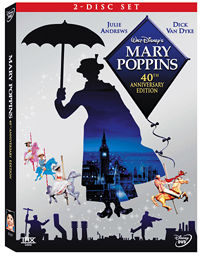 Mary is reluctantly hired, and in her world, every chore is a game and every day an adventure. She enlists Bert (Dick Van Dyke), a chimney sweep, to participate in their escapades, teaching the children valuable lessons along the way and bringing the Banks family closer together. When that task is complete, Mary vows to leave, "when the wind changes."
The video and sound quality are as good as I've seen and heard them, but no matter how good the transfer, the source material is 40 years old, so my expectations were lowered. Still, the vibrant colors of Cherry Tree Lane and the animation in the film were enjoyable, and the noise in certain areas of the picture wasn't too distracting. The soundtrack is Dolby Digital 5.1, and the toe-tapping, sing-along songs sounded good. Occasionally, I found myself adjusting the volume levels between the songs and the dialogue on the film. Dialogue sounded softer on my system.
No doubt you've seen this Disney classic, but hopefully, you have not purchased one of the previous two editions available on DVD, as the 40th Anniversary special edition tops them all. The extras on the disc are the real attraction here. The first disc contains bonus features that rely on the actual film, such as isolated songs from the movie that you can play on demand, audio commentary from Andrews, Karen Dotrice, Dick Van Dyke, and Richard and Robert Sherman, as well as "Poppins Pop Up Fun Facts," which you can turn on or off, and provides tidbits about the film. When I watched the film with this on, I found some of the facts rather unglamorous, such as who was playing every character on stage, and some interesting, such as the reason why Andrews turns her feet out when she is floating in on her umbrella. I also found the loud purple and yellow boxes plastered across the screen rather distracting.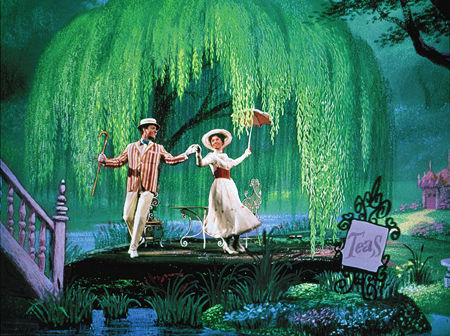 The second disc is filled with goodies. There are several features on the music in the film, the most noteworthy being "A Magical Music Reunion" with Andrews, Van Dyke, and Sherman, where the three of them discuss the film, play songs that were cut from the original movie, such as "Eyes of Love," and give great insight into the writing of such songs as "Spoonful of Sugar." There is a game called "I Love to Laugh," for kids, as well as a short done in the style of the chalk drawings in the film called "The Cat That Looked at a King," from Mary Poppins Opens the Door by P.L. Travers. Don't miss the deleted song, "Chimpanzoo," that shows storyboards along with lyrics. A 50-minute making-of featurette is good for those who really want to sink their teeth in. If you are a fan of the film, you won't be disappointed with this SE. Now, what to do with those other two Mary Poppins DVDs?—KR
<!- ----------------------- Tech Center Ads ----------------------------->

SPONSORED TECH CENTER
<!- ---------------------336x280 ADS------------------------------->
<!- ---------------------FIXED AD------------------------------->
<!- ---------------------336x80 ADS------------------------------->
<!- --------------------Sponsored Link Ads-------------------------------->
<!- ------------------------Bottom Ads---------------------------->