Mad Men: Season One—Lionsgate (Blu-ray)
Video: 3.5/5
Audio: 3.25/5
Extras: 3.25/5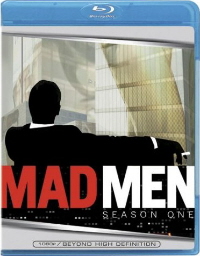 Set in 1960 New York City, "Mad Men" explores the glamorous and ego-driven "Golden Age" of advertising, where everyone is selling something and nothing is ever what it seems. And no one plays the game better than Don Draper, Madison Avenue's biggest ad man - and ladies man - in the business.
TV dramas are always really hit or miss with me. I don't watch a lot of TV and when I do I find a lot of shows that are just trying to be like the last one. Mad Men is a nice departure from the norm and delivers an interesting look at the drama of the early 60's. Not only do you get a look at the manipulation involved in the ad world, you see the striking differences in the way things like women's rights and home life were viewed. I enjoyed this one more than I thought I would and I'm looking forward to what the second season brings.
The HD image has a dated look that works well with the subject matter. Colors are stylized and often harsh and detail wavers considerably. Contrast is also a bit inconsistent with varied black levels and slightly overdone whites. All of this works well with the broadcast though and gives the viewer a "perception" of the time frame. Images still retain a good amount of depth and dimension, but you don't find that spit and polish that some of the other shows on BD have shown.
The audio is presented in DTS-HD Master audio but since this is a television series there wasn't a whole lot going on. The show's scoring does a great job of selling the time period and nuances of the environments. Dialogue sound good for the most part but I did notice a slight amount of sibilance from time to time. The balance with the rest of the track is solid though.
Extras include feature commentaries for all of the episodes plus a look at the production. Fans of the theme get a look at 60's media in another feature plus a look at the sets and costumes in a photo gallery. Last up is a sampler of the disc, a behind the scenes look at scoring the TV show and a sneak peek at the upcoming second season.
I loved the departure from the standard TV shows that this one delivered. AMC has taken a fresh concept and delivered a pretty solid adult-themed program. The A/V quality is good, though not the best looking I've seen for TV shows. Still, fans of the show will be pleased.
<!- ----------------------- Tech Center Ads ----------------------------->

SPONSORED TECH CENTER
<!- ---------------------336x280 ADS------------------------------->
<!- ---------------------FIXED AD------------------------------->
<!- ---------------------336x80 ADS------------------------------->
<!- --------------------Sponsored Link Ads-------------------------------->
<!- ------------------------Bottom Ads---------------------------->