House of Sand and Fog
Jennifer Connelly, Ben Kingsley, Jonathan Ahdout, Shohreh Aghdashloo, Ron Eldard, Frances Fisher, Kim Dickens. Directed by Vadim Perelman. Aspect ratio: 1.85:1 (anamorphic). Dolby Digital 5.1. 126 minutes. 2003. DreamWorks 90977R. $26.99
.
Picture ** 1/2
Sound ***
Film ***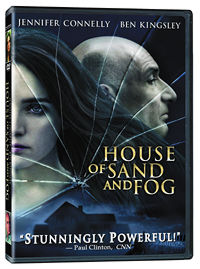 Based on a novel by Andre Dubus II, House of Sand and Fog is about Kathy (Jennifer Connelly), a despondent housecleaner whose husband has left her and who, through a tax oversight, has been evicted from the house she inherited from her father. She tries to clear up the misunderstanding, only to find that the house has already been auctioned off to Colonel Behrani (Ben Kingsley), an Iranian immigrant, his wife, Naderah, and their son, Esmail. Behrani, accustomed to a luxurious life in Iran but forced to flee for political reasons, now works two menial jobs to maintain his family's lifestyle and to keep his wife happy. The house, to him, represents a new life. To Kathy, it is her inheritance, and all she has left. She desperately tries to get her home back with the help of a sheriff, Lester (Ron Eldard), who, though married, takes a questionable interest in her situation. The situation escalates and emotions run high. Before long, there are threats and violence.
Connelly's and Kingsley's performances are effortless, as is that of newcomer Shohreh Aghdashloo, who plays Kingsley's wife. They are the highlight of this subtle, understated drama. What is perhaps most interesting about the film, however, is the way it's told. Never do we get a clear sense of who is the good guy, who the bad guy. The audience can sympathize with both Kathy and Behrani without having to choose which they think should "win."
The disc's technical quality is good but not great. Overall, the Dolby Digital 5.1 soundtrack is subdued, though James Horner's score is a little too intrusive in places where silence would have been more appropriate. The film is presented in 1.85:1 anamorphic widescreen in a pretty consistent transfer, though I saw some edge enhancement in several scenes. Roger Deakins' excellent cinematography generally makes up for the transfer's shortcomings.
The extras include: commentary from director Vadim Perelman, Andre Dubus, and Kingsley; a 15-minute making of featurette; deleted scenes with optional director's commentary; and Aghdashloo's audition tape, cast bios, and a photo gallery.—KR
<!- ----------------------- Tech Center Ads ----------------------------->

SPONSORED TECH CENTER
<!- ---------------------336x280 ADS------------------------------->
<!- ---------------------FIXED AD------------------------------->
<!- ---------------------336x80 ADS------------------------------->
<!- --------------------Sponsored Link Ads-------------------------------->
<!- ------------------------Bottom Ads---------------------------->