Hitchhiker's Guide to the Galaxy—Buena Vista
Zarquon! Not quite entirely unlike the book.
Video: 4
Audio: 4
Extras: 4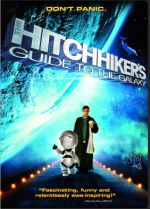 What can I say? I am, in fact, a hoopy frood who knows where his towel is. I am considerably more hoopy than, say, a kick to the head or even a greenish pile of putty. This movie, though, is much more clever and hoopy than anything I could come up with. So, before Douglas Adams becomes very much undead and attempts to beat me into silence with my own arm, I'm going to get on with things.
Making The Hitchhiker's Guide to the Galaxy directly into a movie would be impossible. There is no real story arc to speak of, no real bad guys, and enough bizarre asides to make an audience dizzy. Before he died, Douglas Adams had worked out a script, so most of what was added to this movie he added himself. Take this from a die-hard fan: The additions work, and, without them, the movie wouldn't.
The story follows Arthur Dent, whose house is about to be knocked down to make room for a bypass. Little does he know that his planet is about to be knocked down to make room for, you guessed it, a bypass. His best friend (who turns out to be an alien), knows how to hitch a ride to get off our blue-green marble before it ceases to be.
Casting for this cult classic was, in a word, perfect. Each character is the living embodiment of the character in the book. Production design—from how they approached all the entries in "The Book" to the look of the aliens—was all done extremely well. The 1981 BBC miniseries may still have charm, but this version is far more accessible.
The video quality (anamorphic 2.35:1) is excellent overall. There's a lot of great color, but recognizable elements (like skintones) never look fake. There is commendably little noise, and, for the most part, it's quite detailed.
Audio is also quite good. You can choose from Dolby Digital 5.1 or DTS. There is a fair amount in the surrounds, and the mix is balanced nicely. I would have liked a little more from the sub, but, really, it's not that kind of movie.
On the extras front, there is one that stands out above the rest: the Improbability Drive Button. This sends you to a random part of the disc. It may not sound cool, but it really is. Other extras include a making-of featurette, two commentaries, a sing-along, a hangman game with Marvin, and deleted scenes. Lastly are some deleted scenes that are just plain bizarre (and funny).
Whether or not you're a fan or have read the books, you owe it to yourself to check out this movie. I enjoyed this movie in the theater, but, when I watched it again on DVD, I caught a lot that I had previously missed.
<!- ----------------------- Tech Center Ads ----------------------------->

SPONSORED TECH CENTER
<!- ---------------------336x280 ADS------------------------------->
<!- ---------------------FIXED AD------------------------------->
<!- ---------------------336x80 ADS------------------------------->
<!- --------------------Sponsored Link Ads-------------------------------->
<!- ------------------------Bottom Ads---------------------------->