Find Me Guilty—20th Century Fox
Video: 3
Audio: 3
Extras: 1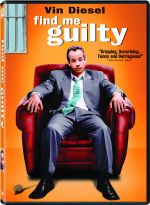 When a slew of his cronies are arrested, already imprisoned and now newly indicted mobster Jackie DiNorscio (Vin Diesel) is given a proposition—testify for the government and get your 30-year sentence reduced. He says no, and, not only that, he will defend himself against these new charges.
Based on the true story of the longest criminal trial in U.S. history, Find Me Guilty is an offbeat tale with a larger-than-life personality and star in DiNorscio. First vilified for his goofy, seemingly nonchalant attitude, his codefendants come to recognize him for his loyalty, sincerity with the jury, and almost-by-mistake adeptness at examining witnesses.
Under the direction of a true legend, five-time Oscar nominee Sidney Lumet, this unusual story never falls into caricature, and the grim consequences are never overlooked. Set almost entirely in the courtroom, with dialogue taken from the actual court transcripts, this tale is an enjoyable trip with a great central character to root for. The sets mainly consist of jail cells and the courtroom, which the 1.78:1 anamorphic picture illustrates well. There's minimal music, so the Dolby Digital 5.1 track has to make the words, inflections, and whispers unmistakable—and it does. A short featurette with Lumet and some trailers are the only extras. You get a sense of how it's going to end, but the real surprise is Diesel's capable performance. It's a complete 180 and a hairpiece away from his action-movie turns—flamboyant as well as nuanced and genuine.
<!- ----------------------- Tech Center Ads ----------------------------->
<!- ---------------------336x280 ADS------------------------------->
<!- ---------------------FIXED AD------------------------------->
<!- ---------------------336x80 ADS------------------------------->
<!- --------------------Sponsored Link Ads-------------------------------->
<!- ------------------------Bottom Ads---------------------------->