Face/Off—Paramount Pictures (Blu-ray)
Video: 2.5/5
Audio: 4/5
Extras: 3.5/5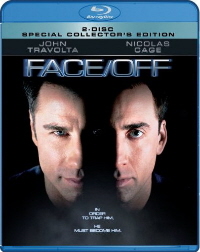 John Woo had definitely done some great action work over the years. But I will be the first to admit that not all of his films grab me. While I found this one entertaining, it was never one of my favorites by him. Probably because I went through a basic hate relationship with Travolta films for awhile. After Pulp Fiction it seemed like every other movie out there had him in it, and he always acted exactly the same. Since I've had a bit of a break from all that now, I will say the film sat a bit better with me this time around, but I still think it is one of Woo's weaker titles.
Despite a new Blu-ray encode, this release looks to have some of the same issues as the HD DVD release. This is one of those mixed bag transfers that is hard to rate. It is quite obvious that Paramount cleaned up this master quite a bit before this HD release. This pays off in some scenes, but hurts the release in others. The obvious noise reduction left a rather edgy looking image in most medium to long shots and ringing is evident. Detail suffers too, especially in motion where blurring is quite evident and at times distracting. There are moments when it paid off though with rich detail and a clean dimensional looking image. The problem is I know a lot of people who prefer their image clean and crisp and others who prefer a more realistic film presentation. I'm all about a razor sharp image if that was what was intended, but the obvious use of filtering here distracts. Since these same issues were apparent on the HD DVD, I imagine they are a function of the master used, and not encoding issues.
The Blu-ray release features the same lossy DTS-ES 6.1 and Dolby Digital 5.1 mixes as the HD DVD release. I was hoping that the Blu-ray version would include at least an uncompressed PCM mix. Both of the included tracks still sound good, though I thought the sound design was lacking a bit. There is plenty of dynamic range in the action sequences, but after awhile the shoot'em up style gets tiring. Dialogue sounds pretty good though, and the front soundstage is both open and airy, lending to a more natural soundstage. I still wish Paramount would have included a lossless soundtrack, but this one doesn't disappoint much.
Despite the art work available stating this is a two-disc set, Paramount has put everything onto one BD-50 disc. All of the features from the original HD DVD release are still there though. The features include a collection of commentaries. You also get seven deleted scenes in HD, a production feature in HD, a look at John Woo in HD, and the trailer in HD. I'm glad to see Paramount doing most of their special features in HD.
Other than the fact that this is on one disc instead of two I honestly couldn't find much difference between this release and the previous HD DVD release. The use of noise reduction on this master is still quite distracting and I would only recommend a purchase for hard core fans of the film.
<!- ----------------------- Tech Center Ads ----------------------------->

SPONSORED TECH CENTER
<!- ---------------------336x280 ADS------------------------------->
<!- ---------------------FIXED AD------------------------------->
<!- ---------------------336x80 ADS------------------------------->
<!- --------------------Sponsored Link Ads-------------------------------->
<!- ------------------------Bottom Ads---------------------------->